The island of Manhattan is enigmatic, as its streets are inlaid with invaluable gems of historic creativity. Artifice shows its multifaceted definition in the aesthetic principles of the artists who have found inspiration in the city, and more, who have inspired its residents and travelers from afar, and posthumously, from within.
New York City is almost synonymous with modern Jewish prosperity. It has become a physical and spiritual refuge for an ancient religious minority descended from a nation that barely survived modernity, and for its secular and faith-based traditions now preserved on an urban foundation unmatched in its forward speculation. New York itself is arguably the finest success story of modernism from its heights to its depths in the aesthetic evolution of its skyscrapers and subcultures. And yet, as it ascends to the future, its roots are strengthened.
Nicholas Stavroulakis was born in the American Midwest and lived mostly in England, Israel and Greece. Following his passing on May 19 at the age of 84, eulogists from Gabriel Negrin, the Chief Rabbi of Athens to The New York Times, remembered his life in great detail. Relatively little, though, is relayed about the special relationship he had to New York during his life, and that New York continues to have with him and his artistic legacy.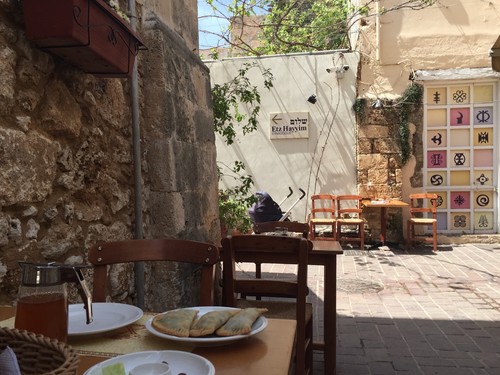 Etz Hayyim Synagogue is in the old city of Hania on the Crete Island, where a lost Jewish community thrived for over 2,000 years.
In 1965, the Museum of Modern Art in Manhattan acquired the second impression in an edition of five of his woodcuts titled "Beach Scene" from the Mr. and Mrs. Peter A. Rübel Fund. Stavroulakis was then exhibiting his paintings and engravings in one-man shows, beginning in 1960 at the New Forms Gallery in Athens, where he had moved to in 1958, and later in Paris, Tel Aviv, Jerusalem and London where he lived prior to study Islamic Art and Architecture. Among almost 200,000 works of modern and contemporary art collected at MoMA is the one woodcut impression by Stavroulakis. It is currently archived at the Department of Drawings and Prints and depicts an eerie scene of cartoonish family dysfunction. In sharp, ink-black lines, a child stands petrified under and between the aggressive grasp of a man onto the upraised arms of a woman, and they are barefoot with open mouths and whitened eyes. It is a rare and powerful example of his subtle and ingenious artistry set to a modernist subject, and is a stylistic prelude to his keenly researched historical illustrations.
Nine years after he began his promising career as a multidisciplinary visual artist with numerous international solo exhibitions, he returned to academic scholarship at the Hebrew University of Jerusalem, where he studied Byzantine icon paintings in one of the oldest inhabited monasteries in the world, Mar Saba in the West Bank. In the decade to follow, he co-founded the Jewish Museum of Greece together with Nouli Vital, Eli Almosnino and Ida Mordoh. As its director from 1977 to 1993, he wrote numerous books, among them the Cookbook of the Jews of Greece, published by Lycabettus Press in 1986 from Athens.
The sole bookseller in the United States carrying the Cookbook of the Jews of Greece is in the Lower East Side of Manhattan inside the second-floor museum at Kehila Kedosha Janina, the only active Romaniote synagogue in the Western Hemisphere. Its current museum director, Marcia Haddad Ikonompoulos, supported Stavroulakis in New York while he raised funds for the restoration of Etz Hayyim in the 1990s. In fact, she was inspired by him as he won recognition for the last Romaniote synagogue in Crete as "One of the Most Endangered Sites in the World" by the World Monument Fund. His personal encouragement led her to earn equal recognition for Kahal Shalom, the oldest still-functioning synagogue in Greece, located on the island of Rhodes. In that same year of 1999, Etz Hayyim was rededicated. The triumphant efforts they achieved symbolized resilience despite Nazi genocide and ongoing anti-Semitism in Europe.
More than 80 drawings by Stavroulakis are printed within the pages of "The Cookbook of the Jews of Greece." In it, he pictures all of the textiles, costumes, jewelry, and domestic and religious artifacts that he painstakingly collected and curated for the nine years that he had been director of the Jewish Museum of Greece until the publication of the book, which he also wrote in his refreshingly clear and densely informative prose.
In his opening note on the illustrations, drawn with pen and ink, he explains that they illustrate with historical verity what Jews would have worn from 1820 to 1900. To research the intersections of 19th century Ottoman Greek material culture, he traveled frequently between the markets of Athens and Istanbul, sketching houses of the period still standing in Greece especially. Admittedly, he avoided interpreting past settings that were absolutely unknown to his contemporaries.
In one of his drawings, an Ottoman Greek Jewish man reads from his "siddur" prayer book bound in his "tefillin" phylactery, a sign of morning prayer, as he slips off a "terlik" (slipper) wrapped in the loose-fitting robes characteristic to traditional Turkish-style clothing. Behind him is the artisanal woodcarving that furnishes much of interior Ottoman architecture, especially religious buildings, such as seen in the ark-shaped bema inside Ahrida, the oldest synagogue in Istanbul, and in the exquisite restorations at Etz Hayyim in Crete.
In another of his sketches, two caftan-heavy men venture from the Greek peninsula with an eye on Hagia Sophia in Constantinople, a perennial landmark for European Jews pilgriming to Jerusalem. And as is particularly important for a cookbook, Stavroulakis captured the tantalizing culinary quality of Greek Jewish fusion cuisine in simple black and white lines, recalling traditions refined for over two millennia by small, tight-knit family-oriented communities. There are Ottoman-era recipes for "sütlaç," "simit," "ravani," and even "ayran" by Greek Jews who he portrays in one example as a man wearing the fez while strumming an "oud," and on another page as the undressed and dancing women of the hamam.
An even more obscure collection of rare art by Stavroulakis is held uptown in Manhattan, further north from MoMA in the neighborhood environs of Columbia University at the Jewish Theological Seminary Library. A book of sixteen watercolors and accompanying texts by Stavroulakis titled, "Sephardi & Romaniot Jewish Costumes in Greece & Turkey" is retrievable by request from offsite shelves. Published in 1988, it is the accumulation of creative research that Stavroulakis gathered as director of the Jewish Museum of Greece, which also led to his essay, "The Jews of Greece," and a book of historical photographs, "Salonica: Jews and Dervishes."
The watercolors are highly informed and tastefully stylized examples of pre-modern fashion. They place into full color the garments that the Jews of Byzantium, Edirne (Adrianople), Istanbul (Constantinople), Janina (Ioannina), Salonika (Thessaloniki), Izmir (Smyrna), Rhodes and Larissa wore from the 10th to the 19th centuries. A 16th century woman from Edirne wears wooden hamam clogs. An 18th to 19th century man from Constantinople is heavily adorned in a white turban. A mid-19th century man from Ioannina wears the traditional red fez, while another mid-19th century man from Larissa is counting his tasbih prayer beads.
Beyond his work in Greece to revive cultural history through architectural restoration and museological curation, Nicholas Stavroulakis was first a unique individual artist whose international lifework mirrored his inner, spiritual creativity. He immortalized himself in the names and forms of the past as he envisioned his art closer to the roots of his earthly identity. And he lives on in Manhattan in a rare woodcut impression, inked pages and a book of watercolors that grace some of the more arcane special collections in the museums and libraries of Manhattan.