Liam Young is an Australian architect and filmmaker. His work explores the connection points of fiction, design and the future. In March this year, he had his first U.S. solo exhibition at Columbia University's Arthur Ross Architecture Gallery in New York. Less than five months later, that exhibition has arrived at Studio-X on Istanbul's Meclis-i Mebusan Caddesi, the quarters of the old Ottoman parliament.
The speed with which the exhibition traveled from one continent to another may remind some of drones – those curious technological additions to our daily lives are among the subjects of Young's show, "New Romance: Love Stories From the Machine."
The exhibition installation features a cinema-like space where, on a comfortable sitting area, visitors can view three short films on a loop. When I visited on a recent weekday, Studio-X was hosting a meeting upstairs, so the low audio was at times difficult to hear.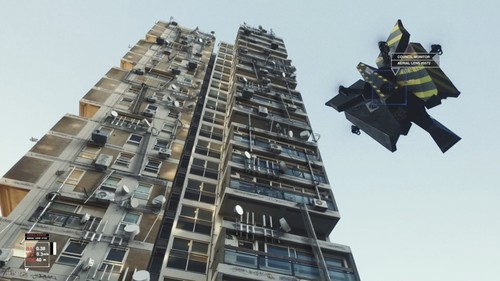 "In the Robot Skies," Young's 2016 exploration of the post-modern city, is arguably the centerpiece of the exhibition. It takes place in a council estate tower block in London. There, surveillance drones monitor estate residents. They fly around buildings, approach balconies, move into bedrooms. On their screens, they display information about residents: crime records, knowledge about whether they have showed antisocial behavior in the past. Some residents have restriction orders; others are more difficult to identify.
Shot with autonomous drones, the film tells a love story against the background of this dystopia. Jazmine, a drone hacker, knows how to hijack aerial cameras. She decorates one and scrawls a message on its surface with a marker. She sends the drone to Tamir, her boyfriend who lives in another tower block.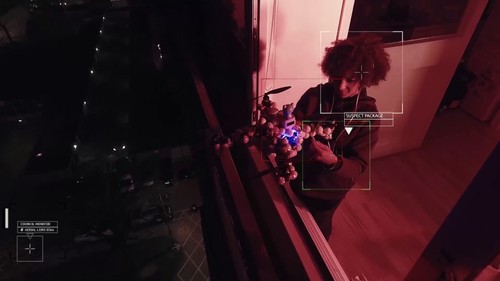 The film opens at the roof of Bentham Towers, hoodies approach the aerial camera and paint graffiti on it with their spray cans. The camera leaves them there and starts floating among flats. The effect of Young's filming style is dizzying. Jazmine and Tamir's digital romance is moving; Young has turned drones into couriers out of romances from the Middle Ages. The film ends in tragedy, as two policemen escort Jazmine to a van and close the door on her.
"Where the City Can't See," the second film in the exhibition has a more abstract narrative tone. The film is set in the Chinese owned Detroit Economic Zone. Young has shot the film with the autonomous vehicles that, like drones, are becoming increasingly widespread. The film tells the story of factory workers wandering the streets of Detroit in a driverless taxi. They know about their destination, but their car does not.
"They are part of an underground community that works on production lines by day, but at night adorn themselves in machine vision camouflage and the tribal masks of anti-facial recognition to enact their escapist fantasies," Young writes in the exhibition program. "They hack the city and journey through a network of stealth buildings, ruinous landscapes, ghost architectures, anomalies, glitches and sprites, searching for the wilds beyond the machine."
Captured with laser scanners, the film resembles a nightmare where one never quite reaches her destination. The city can recognize people's faces, knowing all about them in an instant; passengers use QR codes inside taxis; cameras in cabs scan posted flyers to learn about destinations. The most aesthetically striking scene takes place inside a stealth building, where the film's protagonist Kareem tries to figure out why everything is glitchy inside the old record and clothes store. The film ends in a forest where trees, plants and shrubs conceal behind them the ugly industrial architecture of the city. For Kareem, this space is an oasis where he can take refuge and disappear.
"Renderlands" is a mixed reality film. It combines scenes from a video game company in India with vistas of Virtual Reality produced by one of the programmers. The programmer falls in love with the digital model of a Hollywood actress, whose image he renders and rotoscopes for a blockbuster film. "He has lovingly airbrushed across every pore on her face, every strand of her hair, as he erases the stunt wires and 3-D models of her superhero silhouette, scene by scene, frame by frame, day by day," Young notes.
"By night, when the fluorescents are switched off and everyone else has hone home, they walk hand in hand through the streets of a city he has collaged together for them from scavenged VFX movie models, and the leftover 3-D game assets that remain on studio hard driver after a production is cancelled."
Young has based the film on real digital fragments he took from movie and game companies. His combination of the worlds of Hollywood and Bangalore, scenes of glamour and demolishment, is uncanny. The virtual reality (VR) headsets offer some respite from the precarious world of outsourced game programmers. But once the gadgets are switched off, reality returns.