The Istanbul Theater Festival, organized by the Culture and Arts Foundation of Istanbul (IKSV), runs from Nov. 13 to Nov. 26 for the 21st time this year.
First organized in 1989, the event presents local and foreign theater, dance and performance groups. The Istanbul Theater Festival used to run in May every two years since 2002. The festival returns to its original format this year and offers national and international, classical and contemporary performances.
There will be 18 theater, dance and performance groups, five from abroad and 13 from Turkey, participating in 55 shows, along with free activities such as readings, chats, book promotions, movie screenings, workshops and master classes.
The International Platform, first organized in 2014 to include successful examples of local theater stages in international festivals and programs of various associations and to promote them to wider audiences continues this year. The Istanbul Film Festival will first welcome guests from Nov. 16 to Nov. 19 in collaboration from the Istanbul Theater Festival and A Corner in the World X bomontiada ALT. Various theater professionals will get to watch the festival program with the support of the ONDA Association from France and then again from Nov. 23 to Nov. 26.
International productions
The legend of ancient Greek theater, Theodoros Terzopoulos
The latest work by the living legend of ancient Greek theater, director Theodoros Terzopoulos, "Encore," is his 30th year gift to the Attis Theater, which he founded and where he directs many plays. His plays were performed two days in a row in 1990 at the Atatürk Culture Center. In 1999, the director became known for his "Heracles Trilogy," the first international co-production of the festival, and this year festival audiences can watch "Encore," the final play of the trilogy that started with "Alarme" and continued with "Amor" on Nov. 14-15. Two leading actors from the Attis Theater, Sophia Hill and Antonis Myriagkos, will display an incredible performance with giant razors in their hands that become natural extensions as the play progresses. "Alarme" and "Amor" will be at the Moda Stage Cinema Hall before "Encore" as part of festival side activities and events.
Dazzling dance from star choreographer La Fresque
A star choreographer of both the classical balletand contemporary dance, French Angelin Preljocaj, will dazzle with his latest work, "La Fresque."
Becoming world famous for his groundbreaking, rebellious choreography, Preljocaj's work has become an integral part of famous groups' repertoires from Milano La Scala to the New York City Ballet and the Paris Opera. This time, he bases his choreography on a Chinese fairytale. "La Fresque" tells the story of two travelers who are invited to see a mural full of women by a monk they encounter on the road. The music was composed by Nicolas Godin, part of the French electronic duo Air, and costume design was by Azzedine Alaia. The show is poetic, yet strikingly harsh, courageous, contemporary and questioning. Produced by Ballet Preljocj, "La Fresque" is at Zorlu Performing Arts Center's (PSM) Main Theater on Nov. 18. Preljocaj will receive the festival's Honorary Award after the performance.
Incomparable experience for viewers of all kinds
Italian theater group TPO invites adults and children to look at the world through the eyes of butterflies. "Farfalle" offers a grand experience to viewers with lights, colorful shots and sounds of rain forests. Directed by Davide Venturini and Francesco Gandi, the play tells the miraculous story of butterflies. Veteran theater artist Tilbe Saran participates in the performance via voiceover. A delicate, naive and elegant world will be created on stage for this performance, welcoming all viewers above the age of four. The performance invites younger audiences to discover this world physically on stage. Butterflies will surround viewers of all ages at this event. There will be 10 performances at Zorlu PSM Studio from Nov. 21 to Nov. 26.
Gift to Istanbul from Portuguese director Pedro Penim
When Portuguese director Pedro Penim moved to Istanbul two years ago, he started pursuing the feeling known as "saudade" (melancholia or nostalgia), which Istanbul made him feel just like Lisbon. He was inspired by these words that made him feel at home when he was in Istanbul and started to write about the similarities. The result was "Before," a performance that takes audiences on a journey in time with the guidance of a melancholic atlas. Starring Bernardo de Lacerda, Frederico Serpa and Director Penim, "Before" can be viewed at the Moda Stage on Nov. 22-23.
Master writer and director Wajdi Mouawad
The art director of France's Colline National Theaters, Wajdi Mouawad, presents "Alone," which he wrote, directs and stars in. It is an emotional play that focuses on Mouawad's long, personal journey. It is the story of a child who has to immigrate due to war, build a new life and rebuild himself in a different language away from his home, habits and environment - in short, everything that makes him, and the longing he has to face. Performances will be on Nov. 24-25 at the Zorlu PSM Drama Stage.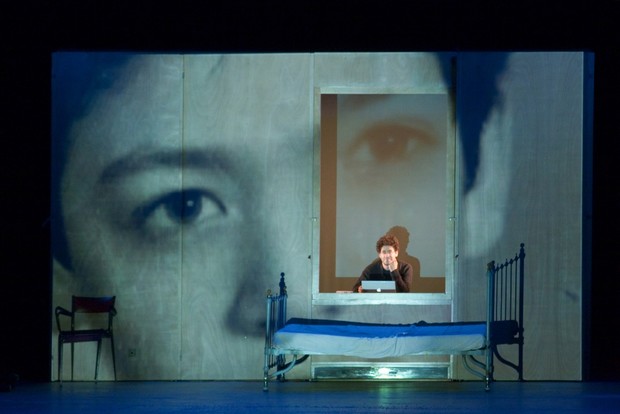 Local productions
There are 13 productions from Turkey at the festival. The first play is a contemporary version of Anton Checkhov's "Chayka" (The Seagull) by striking contemporary director Serdar Biliş, a production of the Pürtelaş Theater with a strong cast. "Yuva" ("Home,") which deals with immigration and communication, is produced by B Plan and written and directed by Sami Berat Marçalı; "Akşam Yemeği" ("Dinner,") from Semaver Kumpanya with Volkan M. Sarıöz in the director's seat was adapted for the theater from the book of the same name by Herman Koch; "Seni Seviyorum Türkiye" ("I Love You Turkey") was written by Ceren Ercan and directed by Yelda Baskın; and "Fırtına" ("The Tempest") by Kemal Aydoğan, who loves to play around with Shakespeare's plays, are not to be missed.
The festival also includes "Uyarca" ("The Collaborator,") written by Swiss playwright Friedrich Dürrenmatt, directed by star actor Ahmet Mümtaz Taylan and produced by the DasDas Stage; "Göçmenleeeer" ("Migraaants"), directed by veteran actor of Turkish theater Genco Erkal, focuses on one of the contemporary problems in the world; "When in Rome," a product of Yeni Metin Yeni Tiyatro, which has trained some of the best new Turkish playwrights by Galata Perform; and "Panopticon," produced by Şermola Performans and designed and directed by Mirza Medin, one of the leading names of the new generation of theater focusing on the possibilities of the body in his works.
Contemporary dance artist Canan Yücel Pekiçten is the story of three famous characters from three famous operas in "All About the Heart." Using her own concept and choreography, the contemporary dance duo focusing on the body, voice and rhythm, Taldans, brings "Güneşin Zaptı" ("Victory over the Sun,") the first Russian futuristic opera.
"İhanet" ("Betrayal,") by Nahid Sırrı Örik, a master of the dark side of Turkish literature, and which has not been performed on stage before, will be performed for the first time by Ankara State Theaters under the direction of Özen Yula.
"Carton City," a Zorlu Children's Theater production, by 9-year-old Gökhan Kızıklı, the winner of the One Dream One Play competition, has been adapted for the stage by Serdar Saatman and directed by Gaye Cankaya.