The AltCity Istanbul Project, which is being held with the creative and educational cooperation of the British Council and Digi.logue space at Zorlu Performing Arts Center (PSM), is showcasing the city's most creative exhibition titled "Across the Line." Having been organized in Sao Paulo, Mexico City and Bogota, AltCity is to have its fourth leg in Istanbul. The project aims to increase skills in producing digital art projects for artists living in Turkey and the collaboration potentials on this matter, focusing on digital arts.
Twelve participants, who are to utilize the opportunities of the digital world as part of the project, improved themselves full time at Zorlu PSM Sky Lounge for two weeks, attending workshops that supported technology-oriented thinking and production processes under the mentorship of Squidsoup, one of the most prominent digital art groups of the U.K.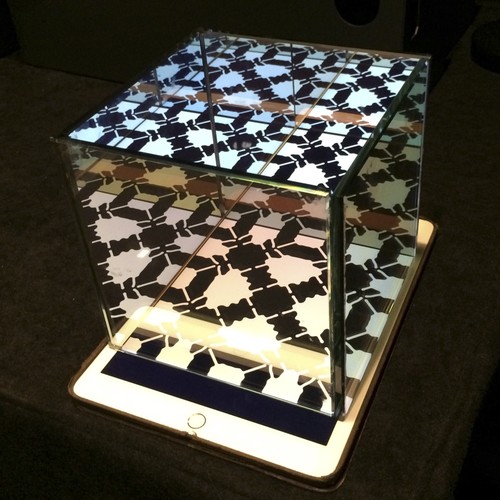 The artists produced eight digital artworks under the theme of Istanbul, together with creative and technical consultants, for the project. The project's producer is Quays Culture, comprised of Salford Quays-based digital art creators. The exhibition will start on Nov. 14 at Zorlu PSM's Digi.logue Space, and "Across the Line" can be visited until Dec. 25.
Works at Across the Line
The works of Özcan Saraç, Kerim Dündar, Gülfidan Özmen, Zeynep Budak, Bilal Yılmaz, Betül Aksu, Ethem Cem, Deniz Derbent, Hazal Döleneken, Ufuk Barış Mutlu, Ege Selçuk, Meltem Şahin and Squidsoup's creative team take center stage at the exhibition.
The mathematical Datamation titled "Equation Pi" of Saraç, who makes conceptual searches with scientific and technological structures in order to question human relations with the global system, operates through people being numbered and categorized. Benefiting from process-driven algorithmic designs in his work, Dündar emphasizes the level that digital art has reached in his visual installation titled "Organic Geometry."
Özmen and Budak comment on the relation between Istanbul and night through buildings, reflections and light symbols through the joint perspective of an architect and a glass artist. Taking inspiration from the simplicity and creativity of childhood memories, Yılmaz creates his work out of a large-scale lighting system. Aksu turns the conversations that she has recorded in Istanbul into an image, sound and light system with her work titled "In conversation," which is designed with Squidsoup's Ocean of Light software and spiral light technology.
While Cem reveals the psychological effects of urbanization on time and space with his visual and audio work "Concrete," "No:8," which is the kinetical installation of Derbent, Döleneken, Mutlu, Selçuk and Şahin, takes inspiration from Istanbul's city structure, reviving the city's chaos and voice.
"Responsive Bloom #1," which was designed by the Squidsoup art group, comprised of Anthony Rowe, Liam Birtles, Chris Bennewith, Ollie Bown and Sam Fergusson, includes 24 well-lit globes.