Rabih Mroue, born in 1967, in Beirut, is an actor, director, dramatist, and artist. In his work, Mroue focuses on his native country, Lebanon and its long and complex history of violence and religious conflicts. Collective memories and collective amnesia are recurrent themes in his work. Mroue came to Amsterdam as part of the International Documentary Film festival Amsterdam (IDFA) to present his last lecture-performance called "Sand in the Eyes." The work questions politics of image and image politics on war. We got together to talk about his work and his practice at EYE Film Museum.
Daily Sabah: What can you tell us about the work you have presented at EYE film museum? What are the connections between the lecture-performance you gave at Istanbul Biennale 2009 and the exhibition you had at SALT?
Rabih Mroue: This work, "Sand in the Eyes," (2017) is a continuation of a long-term project that I started many years ago. It is still going on and it is related to the images of war and the representation of death. How does one talk about death and how death represented in these images.
So it started a long time ago with the main work, which called "Main Posters" (2000) and it continued with "Pixelated Revolution" (2012) and Inhabit of Images (2009). Therefore, "Sand in the Eyes" is another episode in this research series.
D.S.: So, could you tell us about the aesthetic you see in the type of propaganda videos made by Daesh? Because most people say, they are imitating Hollywood, is that true?
R.M: Let me tell you something, I have seen some of them and I don't encourage anyone to go through all the videos because they are horrific and have a huge range. A lot of them, as you said, have Hollywood's aesthetic and cinematographic language. They follow the mainstream media also, like the CNN, and documentaries. But also there are others that are really shaky and very poorly made. But it is interesting how they produce so many videos in these three years. Some of them were for a targeted group or audience. Some of them were made for Syria or Iraq. While some were made for European countries, like Germany, Netherlands, and France, using specific languages.
They know how language works, therefore, they play with it to recruit young people. But I have to say, the work that I am doing doesn't talk about this stuff. I decided not to go through with the technic, the aesthetic and the classifications of the video that they are producing, although it was one of my concerns.
D.S.: So, in the performance, you don't talk about the mainstream look at the Daesh videos. You are going to talk about "representation of war and death."
Exactly, because I am taking two models. I mainly talk about Daesh's decapitation videos and as a study case, drone strike videos. Since 2001, there is a war going on against terrorism, the "war on terrorism." Here terrorists and the ones who fight against terrorism are in question. They both produce images. Of course, the war is on the ground but there is another war going on through images. And in this war, somehow both sides look equal.
D.S.: You always deal with the conflicts, war and their effects in the Middle East and your works are always in between theater and visual art, documentary, and fiction. How do you make the connection? How do you blend them?
To be honest, I don't choose my genres. I try to work with as much freedom as possible. This means I don't put restrictions on myself like it should be a fiction or a documentary. There are also documentaries, which are fictional. There is always this idea that, documentary deals with the truth but in the end, it is all machinery and manipulated images in the good sense or the bad. I mean, you edit, and you choose, you cut, you put the voice over. All of this makes it really subjective.
D.S.: So you say reality is already post-produced.
Exactly. I must admit it. I don't choose. All the time, what is interesting for me is to deal with what is fiction and what is non-fiction, what is fabricated and what is not, what is real and what is unreal. I play with them, not to cheat the audience or spectators.
Everything is chosen and made by my decision. And you need to be very careful about deciding what to show, what not to show. What to talk about, what not to talk about. It is subjective and objective. There are infinite numbers of points of view. I am playing, I am pretending to tell you the truth but it is not. I am pretending to tell you the fiction but it is not. So this helps the audience and the spectators to be distant. It makes you think and formulate your own questions, ideas, and opinions. I use this sharing for the relationship that I have with my audience. When I do a work, I do share my thoughts, research, ideas and my doubts with the spectators. Because I believe, with sharing, you also have a right to say, "I am not interested in this topic. I am not teaching or trying to open the eyes of spectators on a topic they don't know."
D.S.: Is it possible to represent violent images?
For me, it is a problematic question as it is important at least to know about them. So the problem is that there is this trend again after 2001, media should never show people who are wounded.
D.S: But when it comes to the Middle East, they still show this type of images!
Yes, but some media organizations warn people now before showing violent images. There are a lot of restrictions. They don't print such images on newspapers for example. They show a bit but not the whole thing. There are many reasons why they don't show graphic images. It is about two things, being ignorant about what is going on in the world and the second thing is living in a denial. For me, it is important not to fall into these two things. So, to refuse, as kind of resistance against violence, is important. It is different than denial. We should not watch them but we should know about them. It is paradoxical. We cannot close our eyes towards these issues by saying I don't want to see, I don't want to know.
War on images and images of war cross at 'Sand in the Eyes'
"Sand in the Eyes," the latest lecture-performance by Mroue, was at EYE Film Museum's part of the International Documentary Film festival Amsterdam (IDFA).
The lecture-performance ran for one hour and it was divided into three parts. As usual, Mroue was sitting behind a desk where a reading lamp lit his papers. The theater was full.
"Sand in the Eyes" began with the story how Mroue ended up working on this topic. One day, he found an envelope with no name; no address on it. Inside there was a USB drive full of Daesh propaganda videos.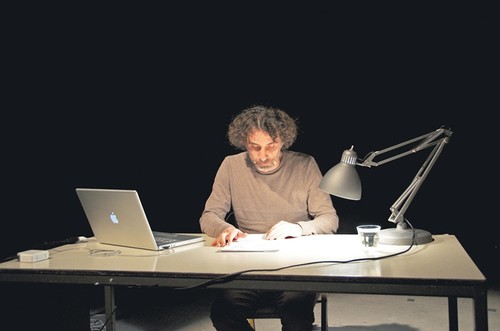 Mroue concluded the performance by comparing drone strikes images and Daesh propaganda videos, the war on terrorism, terrorism, shot and counter shot.
It was obvious that his background in performing arts helped him direct and play with the attention of the audience. The stories that he told could be real or fiction, about how he got the USB drive, especially in the era of post-truth.
The line between reality and fiction in the "Sand in the eyes" is quite vague, which is an intentional choice. Today, our sense of reality is post-produced and this sense of reality reproduces itself through images, screens, and social media accounts. The artist uses this post-produced narrative to tell his stories.
Mroue's performance does not focus on the cliches of the terrorist propaganda videos. He chooses a different way to talk about them and focuses on the war of images. He compares the violent images and how we perceive them.
His lecture-performance was surely one of the strongest works this year. How he deals with the subject itself looks like quite objective and at the same time subjective. He even doesn't accept that he doesn't want to teach something with his works. He merely opens a space for his audience where people can question or discuss.
It felt like his works were there to confuse the audience because I also believe when you are confused you start questioning. He wants to build up a conversation and one-to-one dialogue. If you encounter with "Sand in the Eyes," anywhere in the world, don't miss the opportunity to "get confused."
The choice for the title could not be any better because Mroue wants to throw some sand in our eyes, and maybe this can helps us rethink about the images we encounter.