This year Amsterdam art weekend featured two Turkish artists' solo shows, Yeşim Akdeniz at the Gerhard Hofland gallery and Leyla Gediz at the Akıncı Gallery. It was great to see the Turkish art scene as a part of this big art weekend event in the Netherlands. I was quite curious to see Leyla Gediz's solo show "Parabens," therefore my Amsterdam art weekend journey started from the Akıncı Gallery. The exhibition focuses on a turning point, as she exchanges her home from Istanbul for Lisbon. Gediz's solo show "Parabens" can be seen until Jan. 13, 2018.
As I entered the gallery space, I was immediately caught by music from a well-known Afro-Turkish singer Esmaray's song "Unutama Beni" (Do not forget me) from the 70's. My homesick feelings were directly triggered because of the melancholic song and it reminded me of my hometown of Istanbul. This song is sort of indicating the starting point of the "Parabens," "do not forget me." The title of the show means congratulations in Portuguese, as I learned from the press release.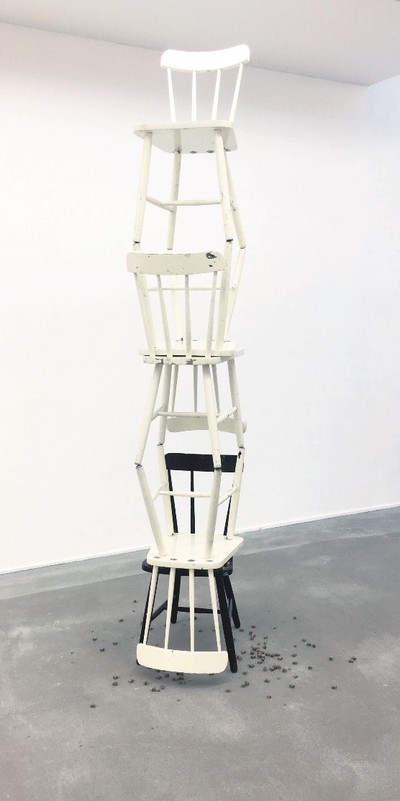 The artist uses brown sugar cubes as part of her wooden chair installation. These chairs are from Leyla Gediz's former studio in Istanbul and symbolize her homeland and origin, while the sugar cubes "welcome" Gediz to her new city Lisbon.
Gediz is well-known with her paintings and site-specific installations. On the right side of the entrance you see a painting called "Steady Diet" (2017) with a structure that consists of brown cubic figures that look like sugar or fudge. However, later on we understand that they are sugar cubes with the four-meter wooden chair sculpture "Assemblage I" (2017). The artist uses brown sugar cubes as part of her wooden chair installation. She worked with four white chairs and one black, and the black one carries all the upside down chairs as a foundation and we see brown sugar that spreads around the black chair on the floor. These chairs are from Leyla Gediz's former studio in Istanbul and symbolize her homeland and origin where she was living for a long time and all the sugar cubes "welcomes" Gediz in her new city of Lisbon.
Moreover, this can also be said for the painting, "Collaboration" (2017), a table divided into two, seeming like one part of the table alludes to Lisbon and the other part to Istanbul. The feeling of in-between is quite powerful during the whole exhibition; the paintings and the installations suggest two different realities. She explains in-betweenness in the catalogue as "it is what happens in-between that is essential. In-between object and viewer, in-between moments, in-between what is shown and what is suggested." The installation "Assemblage II" (2017) that is next to "Assemblage I" is on a table with sugar cubes again in-between two stools as if they are like cement mortar that keeps two different pieces together. Yet this time, she made sort of a structure look like a place where you can call home. Leyla Gediz builds up an intangible relation in-between two cities, Lisbon and Istanbul, the viewer and the artworks.
In addition to these, there are also paintings of a black woman who carries a basket on her head, titled "Encounter I" (2017) and "Encounter II" (2017). "This was an object from my new house in Lisbon, where the previous tenant left behind," said Gediz. Probably this was the first object that she owned in her new environment, which she can begin, as first bound to Lisbon. Her intimate relationship with the object is quite obvious, which leads us to a personal story through objects from both places such as chairs and tables. Gediz's paintings traces a time and space where they seem like there is no direct relationship among the paintings. They are "echoes of each other," says the artist. I believe that there is an order in the exhibition, which can be a chronological one, or not, from Istanbul to Lisbon or vice versa.
The exhibition can be seen as a way to say farewell to the homeland and welcome the new land, as we finally encounter the source of the song in a special room where the video "Parabens" (2017) is projected on the wall. For the artist, the medium of a video is a new challenge: "The video is a work of an amateur in the field, which is something I like. I like the sense of freedom this entails, this sketchy, raw feeling that counterpoises any stiffness or stubbornness embedded in oil paintings." Her shy manner toward the medium of the video is visible. I think that is why she chose to use a stop-motion video where she mostly used archival photographs of the singer Esmeray. However, I believe that she should use this medium more, because the end result is quite successful. The sadness and melancholia of starting a new life in a new environment and leaving loved ones behind is a hard job. Therefore, the artist's explicit choice and the sound of the video carries a melancholic effect during the show, and it is a strong end for "Parabens," as the artist tells her loved ones "do not forget me."