The application process has been completed for Resource Utopia, a long-term photography and video workshop organized by the Goethe-Institut Istanbul under the mentorship of Andreas Rost, Michael Biedowicz and Volkan Kızıltunç.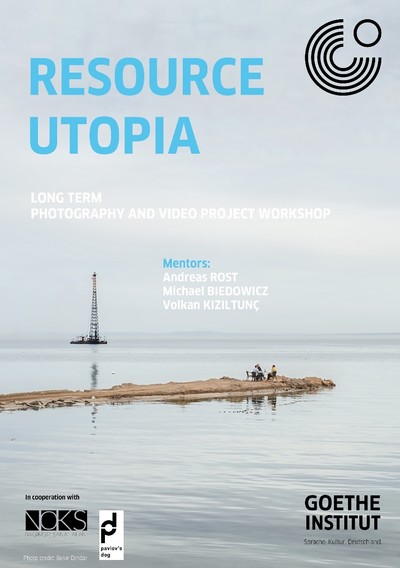 Among 42 applicants from 15 cities who shared photographs and video projects with the theme "Concerning Utopia," 13 applicants were selected: Altay Tuz, Beril Ece Güler, Burak Dikilitaş, Cansu Yıldıran, Egemen Tuncer, Erhan Arık, Ezgi Tok, Larissa Araz, Murat Kahya, Müge Yıldız, Öykü Canlı, Serhat Kır and Sevinj Yusifova.
They will be attending three series of one-week workshops between January and July 2018. In addition, their work will be displayed at exhibitions in Istanbul and Berlin and also in a booklet that will be published.
Resource Utopia is a regional exhibition project in Turkey. It aims to create visual stories that reflect reality at a meta level and convey past experiences that can be metaphors for what the future holds.
The project consists of three workshops over six months, a photobook and exhibitions in Istanbul and Berlin. It is based on the cold stream and hot stream concepts of German philosopher Ernst Bloch.
Cold stream is a simple, direct, clean, near or far analysis of social conditions and their progress trends, while the principle of hope lies at the center of the hot stream concept concerning the wishes and expectations of the public.
TRAINERS
Andreas Rost is a photographer, curator and academic who lives in Berlin. He is also the Institut für Auslandsbeziehungen (ifa) photography representative of the Foreign Relations Institute.
Michale Biedowicz is the photography editor of ZEITmagazin and co-founder of Pavlov's Dog photography gallery in Berlin.
Volkan Kızıltınç is a photographer and video artist who lives in Istanbul. He is also co-founder of the NOKS Independent Art Venue.
CONCEPT
When discussing the future, everyone might add something that may be concerning to them. Worries regarding inevitable economic, social and political limitations and pressures display current reality as something to be feared and to be obedient to.
There is nothing to endure other than reality. However, the hope of a way out grows inside and dreams become important and a utopia, a point of impossibilities is sought.
However, something that resembles a part of humanity like a utopia belongs to dystopia from another point of view. For example, genetic engineering or artificial intelligence might be the cause of welfare or mean the enslavement of the human race.
A discussion about utopia becomes a power struggle between different desires. Since there are many failed utopic ideals such as communism, many people deny that a utopia can be successful. However, utopian ideas have a power that many cannot deny. The history of utopia can be traced back to Plato.
While it is not possible to come up with final answers at the Resource Utopia workshop, it offers the chance to discover the incredible energy behind the concept and start from there.
Selecting the art of photography and video as a tool of expression has a special appeal as both of these forms of art focus on the now instead of the future.
When you click the shutter button, the moment is in the past and images verify our memories. Again, the visual worlds created can be used to analyze the future in the now and the now in the future.
Just as Robert Jungk wrote in 1952: "The morning is already in today yet it looks harmless; it has hidden itself behind the familiar and displays itself from there. Future is not a utopia separated completely from the now. The future has already started. However, if determined now, it can still be changed."