Artist Fehim İbrahimhakkıoğlu is the first representative of an interesting and unique art form, using pebbles in his drawings. His works are displayed at prominent museums and private collections all around the world. "Pebbles carry a mystery that draws people to them," says the artist, who picks the stones he will use in his works meticulously. He travels to find the right size of flat pebbles to use in his work, and goes on long walks on various beaches to find them.
Whenever his students visit him, he asks for pebbles and not any other house gifts. On why and how he uses pebbles in his drawing he says: "While it may not always be visible and evident, pebbles carry almost all colors; from white to gray, black to brown. There are 15 to 20 tons of white. Blue contains grays and for red I use tones of brown. I use pebbles in my drawings instead of paint. While other artists put the paint from their pallets onto the canvas, I place pebbles from the table onto the canvas."
Effort, Love and Value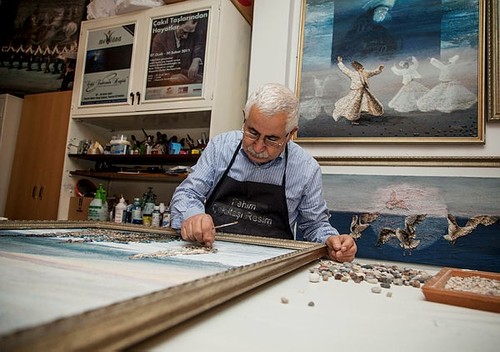 Artist Fehim İbrahimhakkıoğlu uses pebbles for his images instead of paint.
The artist said he shows effort and care for making his paintings by using pebbles, and his technique is first drawing the painting he envisages in his mind onto the canvas, then placing the pebbles in the right place. "When I place pebbles on my canvas, I feel like a person reuniting with their lover and I have to wait for the painting to finish rekindling with my lover," says the artist about how he feels when creating his paintings. He also notes that any pebble that is not in its right place stands out and bothers the eye, which means he would have to dismantle the whole painting and start all over again. If he has an audience, they are usually surprised by his technique.
"People get really excited when they see my paintings as pebbles draw people to themselves; there is a soul connection with them," he said. His paintings can take from four months to two years as he believes it is not the same as painting with paint and canvases. "You need to show effort, love and value to the pebbles so that the aesthetic appearance will be appealing. I wanted to give my answer to those who challenged me in making paintings with pebbles. It is not the same as painting with oil color and I can make up to 10 paintings a year," added İbrahimhakkıoğlu.
PORTRAITS OF LEADERS
While he mostly prefers painting scenes from nature, his work on Mustafa Kemal Atatürk is a must-see. His portrait of President Recep Tayyip Erdoğan is currently displayed at the Municipality of Ümraniye. He has painted portraits of the Thai king and queen, the duke of Luxembourg, Libyan President Muammar Qaddafi and Iranian leader Ruhollah Khomeini, Russian President Vladimir Putin, and former U.S. President Barack Obama.
"You need to be able to speak to the portrait, you speak to the painting and it speaks to you in portraits. The most precious parts of portraits are the eyes. I want them to be full of love. They need to prove that everything in the world is about love," said the artist.
İbrahimhakkıoğlu has also created a painting of the resistance of the public to the coup attempt on July 15 by using pebbles and sand.