It takes time to enjoy Nejat Satı's paintings. One can easily appreciate their techniques and acknowledges the artistic skill that produced them, but it is difficult to be moved or disturbed by them. Too often, they offer but moods, setting the tone in the rooms that exhibit them. His "Hypoglottis" series from 2008 to 2012 were inventive, psychedelic and at times carnivalesque. Traces of Yayoi Kusama and 1960s music enliven their canvases. Another set of paintings, named State of Mind, were more formal in their geometrical designs. Both offered experiments in perception. It is always difficult to guess Satı's next artistic move.
His latest exhibition "Light in the Dark" is even subtler in tone and yet more ambitious in Satı's own muted way. Black serves as the background for all the canvases on display. The color gives a certain weight to the work alongside its pessimism but also seriousness.
The first series in the exhibition, eponymously titled, "are composed of layers of black and white paint that, through his use of pearlescent and incandescent shades, appear like radiating cosmic rays," according to the exhibition text.
"Due to his technique of rendering illumination with light and dark tones, different light strains arise at various times of day. Two more bodies of work will also be exhibited. In 'Aurora,' subdued jewel tones sweep across the canvas and past its edges, not unlike the sublime natural phenomena of the aurora borealis. In the last series, which is a continuation of 'Cracks,' black paint gives the surfaces the effect of shards of glass and contemplates individual and social violence. In these new bodies of work, the distribution of color creates depth, adding to their sense of mystery, whilst the use of light that unites all of them, most importantly, symbolizes hope."
Satı worked on these three series for the past year. "Some paintings I finished only three days before the exhibition," he said in an interview last week.
"Others had been in the making over many months. I must say my mood has helped forge the shape of this exhibition."
Satı used acrylic mediums for the show. "This helps me produce a plastic effect in the paintings. They are quite outside of classical painting traditions. I use big trowels. I use brushes only to paint background colors."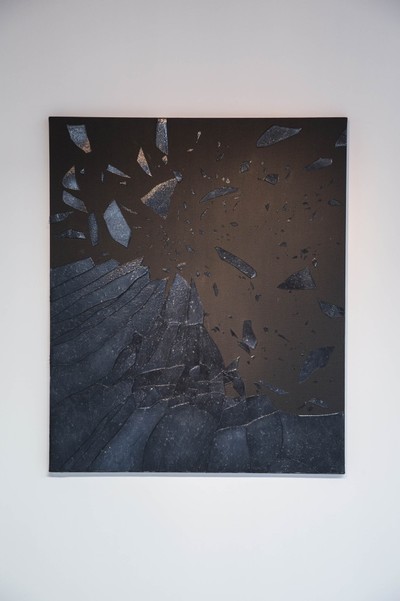 In "Light in the Dark," he "tests the surface of the canvas, oscillating between different levels of density using a simplified color palette," according to the exhibition text. "The artist leaves the viewer with a sense of unlimited possibilities, reflecting the movement of our emotional world through light transitions, and at times leaving us in darkness and at others revealing a light through that darkness."
Satı says a question inspired the exhibition. "I wanted to learn how light could be articulated in a painting, outside color and form," he said.
"For many years I have intensified my focus on color. But in recent years, world events have touched me and led me to put the color black in a more central place in my work."
This was nothing less than a spiritual transformation, and Satı decided to put light at the center of his new series of paintings. He wanted to explore how light made us see colors.
"The 'Cracks' series presents the original, transparent state of my material, and it is colorless. As its title suggests, it reflects a state of mind that is melancholy. The series represents glass and is illuminated by spot lights. I wanted to produce a deep and minimal effect through cracks in the light."
Over the past decade, Satı tried to produce what he terms "a plastic effect" in his paintings. "I think contrast produces a sharper and deeper effect through this transparent gel," he said.
For Satı, the trick is to produce a three-dimensional work through a two-dimensional medium. "The gel that spreads from the canvas produces that effect. Through the transparency of the medium, I manage transitions between colors and the overall contrast."
Born in 1982, Satı is a graduate of Dokuz Eylül University in Izmir. One of his first group shows, "When Ideas Become Crime," was the talk of town in 2010. In 2012, his work was exhibited in Seoul in the "Encounters, Turkish Contemporary Art in Korea" exhibition. His solo shows, "Organic Abstract" (2012) and "State of Mind" (2013), were both exhibited at Pi Artworks, and in 2014, Yallay Gallery in Hong Kong showed "Istanbul Art Scene," another solo exhibition by Satı.
Almost a decade ago, curator and writer Didem Yazıcı visited Satı's atelier in Izmir's K2 Contemporary Art Center. "This was a dazzling experience, and I felt disoriented, as if stepping into Alice's Wonderland," she remembered in an essay on "The Transformation of Nejat Satı's Works."
"Satı opens up his studio to the viewer as part of his concern to be a 'more modest' artist. The reason behind the transformation of his work is his intuition about social and individual experiences, which are conceptualized here in a romantic manner. In contrast to artists adopting a certain form early in their career, which they repeat over and over again in later works, Satı's exhibition heralds his discovery of a simpler language in which his artistic explorations continue ... His work honors material that remains after the process of production has ended. This emphasizes how the material used in artwork is part of its production process."
In 2016, the London branch of Pi Artworks showed "Cracks," and the artist has fond memories of the exhibition.
"Like this new exhibition, 'Cracks' had a minimalist style. It was an exciting and enjoyable experience. I got quite a positive reaction in London."
In an essay, Turkish curator Necmi Sönmez pointed to how Satı uses form as an element that supports his statement. "Satı's imaginative inclination is the motivating factor in his work," Sönmez wrote. "The events [from music to performance, dance to kinetic sculpture] that the artist hosts in his studio with his prevalently artist friends, which he renders a kind of agora, defend the necessity of a utopia."
"Since Nejat Satı defines colors not by their cooling or warming effects, but by their prominence in the Turkish middle class bourgeois life, the ripple of color that, at first glance, is received as pleasant and 'perky' is actually a symbol," Sönmez explains. "It is an index that points out 'daily life.' For it is through his designation of 'forms' over the conceptual elements alluded to by color, that the artist determines the second point of the triangle."
For Satı, light is a potent symbol, and it reflects hope, trust and belief, values that give meaning to life. "I've been melancholic, and I picked this as the new direction for my artistic life," he said.
"In the history of painting, many artists have interrogated light. I've carried on that interrogation through modern materials and in new, more experimental forms."