Gallery Diani is an art space aiming to bring together people and several art organizations in the Cihangir neighborhood. Always ready to host art lovers, the gallery works with Turkish and foreign artists who embrace all artworks whether concrete or abstract. One of those foreign artists is Iranian Hemad Javadzade, who met the owner of the gallery, Telga Südor Mendi, two years ago.
Mendi heard about Javadzade and his paintings at the 26th Istanbul Art Fair at TÜYAP from her mother Gülseren Südor, who is also a painter. Visiting and observing his works at the fair, Mendi also searched for the artist on social media. The only thing that she could find was his mesmerizing paintings. She wanted to meet the owner of these artworks which had evoked admiration in her. The duo, whose story started like that, have known each other for two years. Keeping in mind that good works always get their due praise, Mendi gives special importance to hosting new and young artists at her gallery. She said she wanted to present Javadzade's works to her gallery's collectors as he is a new and young artist trying to hold on to the art life in Turkey and he has a great talent deep inside.
Javadzade has been living in Istanbul for nearly six years while continuing his art life. Having come to the city after a sudden decision at the recommendation of a friend, Javadzade said his basic reason was freedom. He was living in a small city in Iran and planning to go to Tehran in order to be freer and have more opportunity while creating his art. However, he changed his route to Istanbul after visiting the city to observe and to understand whether he could live there.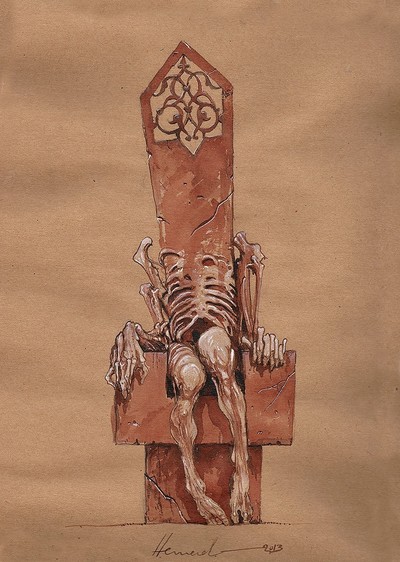 The exhibition features several pieces of surrealistic compositions of the artist's passionate character synthesizing oriental culture and art.
The artist expressed that he liked the city from the very first moment. He moved to Istanbul at the end of 2012 after being educated in the graphics department at both his high school and university in Iran. Having always been interested in painting, he stressed that the support of his family inspired him to take up painting. Not wanting to let his family's efforts go to waste, he attended serveral competitions and was successful. His first exhibition was in 2011 in Iran at a renowned gallery.
According to Javadzade, his life went into a very different direction after that gallery exhibition. He lost one of his artist friends and abandoned painting. During this time he focused only on graphic works and was unable to reflect his ideas or share his feelings on canvas. However, he got through that phase and went back to painting. As a productive artist, he continues to create many inspirational paintings in Istanbul now.
Not confining himself to only painting, Javadzade also does illustrative works in collaboration with various famous publishing houses such as Yapı Kredi and Eksik Parça. He says: "In Istanbul, I feel both free and comfortable. While there I can paint after my own heart, and also create illustrations for adults with the cooperation of publishing houses. Therefore, my future plans involve being here. If I go abroad, I don't believe that I will be as comfortable as I am here."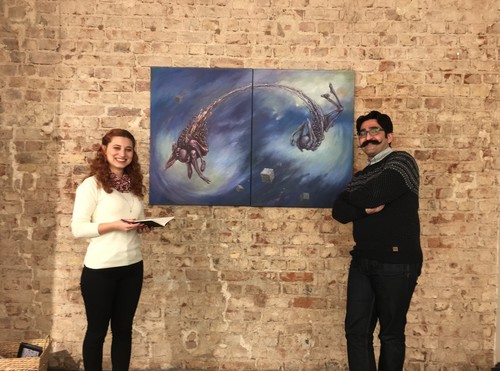 Daily Sabah's İrem Yaşar (L) with Hemad Javadzade.
Javadzade generally uses traditional materials and techniques in his works such as ink, paper, gouache and watercolor paints. Diversifying them with oil and acrylic paints in his larger works, Javadzade remarked that the hardest part about using several materials in painting is to know how to apply each one differently. According to him, an artist firstly needs to know the material that she or he will use in detail to be able to complete his or her work of art. During painting, knowing what material to use and how it is applied is really important.
"Therefore, the usage of several materials needs a lot of experience. The more you produce, the more experienced you get. This makes your work easier," said Javadzade.
The artist, who said human psychology has always attracted his attention, is generally inspired by psychological and individual elements in his paintings. Javazade continued: "Before creating any work, I mull the concept over for two or more hours at first. Then, all my thoughts are put on paper as a sketch with a sudden creative inspiration."
Javadzade indicated that the most difficult part of living as an artist are financial issues. Artists who paint used to produce their art without any monetary consideration in the past. In the late 1800s, painting was adopted as a profession. Expressing that creating art and earning your keep from it is difficult in both his homeland Iran and Turkey, he added: "The point where Iran and Turkey are separated is the concept of painting. While abstract paintings are more common in Turkey, those focusing on natural elements and objects are mostly seen in Iran."
Improper Time
"To decide between two things is undoubtedly the moment of truth. And this moment is the most improper time," says Javadzade.
"Improper Time" by Javadzade is his first solo exhibition in Turkey. The exhibition features several works created by mystical and surrealistic compositions of the artist's passionate character synthesizing oriental culture and art. Even if he says he has always focused on the surrealistic world of painting, running away from the real world, he creates his surrealistic worlds, using very realistic elements in his paintings.
Regarding his style of art, he said the concepts in his works have changed over the years. Having had more surrealistic concepts in the past, the artist benefited from realistic objects for his surrealistic worlds in order to attract the attention of Turkish art lovers. He implied that art lovers in Turkey love less disturbing creations and demand more colorful works even if they are interested in abstract paintings. Recently, natural figures like snakes, red stones and skeletons have found a place in his creations because of this reason.
Saying he especially admires and appreciates the works of Swedish artist Hans Rudolf Giger and Polish artist Zdzislaw Beksinski, Javadzade does not actually present dark worlds as much as these two renowned figures. On the contrary, he uses many colors in his paintings and makes people get lost in these colorful worlds, some examples of which will be on display at his latest exhibit to sweep visitors off their feet. Along with the surrealistic worlds, in "Improper Time" visitors will witness that Javadzade, who continues to do illustration works in the meantime, combines his talent in painting with his education in graphics. Those who see his works can clearly observe the graphic effects which enrich his works in terms of variety.
The painting titled "The Horse" is a good example if you want to get an idea about the exhibition. It both shows his surrealistic style through realistic materials and reveals graphic traces in his works. When you look at the painting from a distance, you just see a wild horse running left, however, when you get closer, you realize that the horse is comprised of many skeletons drawn of thin stripes reminiscent of graphical lines. You can evaluate it as a war phenomenon or you can associate it with nature.
When Daily Sabah asked the artist about the painting, his perception was different. He thinks skeletons are the barest form of humans and thus, they eliminate all burdens, removing all differences such as nations and sexes. Describing human beings just as human and sweeping all discrimination aside, the artist especially focuses on horses, which have been a friend to people since the beginning of time. Approaching the issue from a sociological angle, he wants to present the connection between horse and human. He says this bond exceeds any restrictions since it involves all of humanity, and thus, contributes to his integrative perspective about people in his surrealistic worlds.
If you want to hide in a surrealistic world, but you are also interested in realistic works, visit the exhibition, which will be on display until March 3. You will discover extraordinary and different meanings behind this dexterous artist's paintings.