Borusan Contemporary will be hosting two exhibitions beginning Saturday. The first is "Mika Tajima: Aether." Japanese-American artist Tajima's work will be displayed at Borusan Contemporary with the cooperation of New Museum. The second exhibition, "Twilight," presents a selection of works at the Borusan Contemporary Art Collection and also salutes the work of poet and painter Metin Eloğlu who died in 1985.
Tajima's work will be exhibited until Aug. 19, 2018. The exhibition is curated by Margot Norton and organized by Borusan Contemporary and New Museum and brings together four pieces that focus on how invisible forces surround us, saturate our environment and inevitably affect our bodies and behavior.
The "Negative Entropy" series includes woven textiles that transform acoustic data into abstract compositions. Her other work, "Meridian" ("Istanbul)" is a light installation that responds in real time to the mood of the population through Twitter feeds. "Force Touch," a wall sculpture that sprays pressurized air through Jacuzzi nozzles, and "Human Synth," a video installation that uses predictive computer algorithms to create variable images of smoke, are the other two pieces at the exhibition.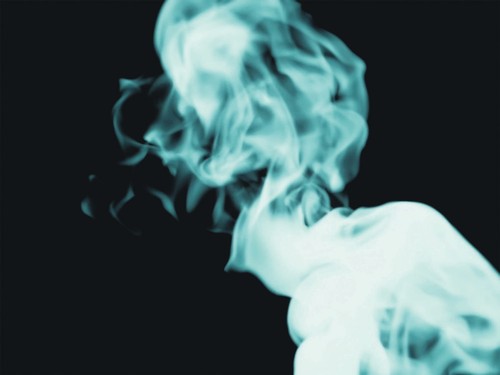 Mika Tajima's "Human Synth" is a video installation that uses predictive computer algorithms to create variable images of smoke.
The exhibition describes matter that cannot be touched according to ancient and medieval science. People once believed that this matter covers the earth and transfers light and electromagnetic waves. Since it is invisible, just like technology and data, the aether penetrates all matter. Using digital information, which does not contain any matter but can be measured, Tajima questions this strong force shaping our perception, decisions and emotions.
Born in 1975 in Los Angeles, Tajima currently lives and works in New York. The artist produces sculptures, paintings and installations and uses technologies and techniques that are developed to shape and control corporeality, productivity and undiscovered desires. Her work is in between transient and intangible and through architectural systems, ergonomic designs and psycho-geographical data, highlighting the network of complex power and submission networks we experience with our physical bodies and virtual identities.
Celebrating a
poet: Twilight
The other exhibition, "Twilight," will offer striking examples from the Borusan Contemporary Art Collection's media art section while at the same time focusing on poet and painter Metin Eloğlu. The exhibition is curated by Dr. Necmi Ersöz, who presented the work from the collection with inspiration from Turkish literary figures Leyla Erbil, Tezer Özlü, İlhan Berk, Tomris Uyar and Oktay Rifat.
An extraordinary artist, Eloğlu was an unconventional painter and indescribable poet. He started abstract painting at a time that can be described as early for its time. Eloğlu improved the language he took over from poet Orhan Veli in his poetry book, "Düdüklü Tencere" ("Pressure Cooker"), published in 1951. His language, colors and lines were inspired by unexpected sources and the artist clawed his way up in both art and literature circles. There is discomfort and ill temper in everything he painted and wrote.
This collection was inspired by his poem "Loş" ("Dim"), published in 1983. Eloğlu's references to the dim and dark are on display with a new presentation technique on the third and fourth floors. These floors were turned into dark spaces in order to better view and examine video and light installations and sculptures to show the holistic nature of the exhibition. As it is not easy to understand Eloğlu's poems, "Twilight" is a unified collection that cannot be understood clearly or classified under certain titles. Each floor has been designed as a whole.