In Virginia Woolf's "Mrs. Dalloway," the chimes of Big Ben connects destinies, desires and destitutions. The hero of that 1925 novel, Clarissa Dalloway, is both enchanted and frustrated by Big Ben's sounds. They take her out of her routine but also impose their ruthless structure on her hours. Woolf describes Big Ben's chimes as "leaden circles dissolved in the air" and it is from this phrase that a new exhibition at Istanbul's Elgiz Museum takes its title.
Over the last decade, the title of the exhibition has been lingering in the mind of Ferhat Özgür, a professor at Düzce University's Faculty of Art, Design and Architecture, who curated the show. Özgür first read "Mrs. Dalloway" in 2008 with what he calls a "great passion." Since then, he had been poring over the book every year, and he ended up imagining an exhibition around the book's interrogation of time. When Elgiz Museum invited him to do a show, Özgür finally got his chance to salute Woolf and her most famous novel.
"Mrs. Dalloway" takes place in a single day, but of course for the life of the mind a day is made up of many days, sometimes months and even years. The way Woolf interweaves two ostensibly unrelated storylines inspired Özgür: He was reminded of both the potentials and the restrictions of time."These 'leaden circles dissolving on the air' restrict the characters, dictate where they should be at certain points of the day, remind them of their responsibilities. It structures and organizes their days, daydreams and memories," Özgür said in an interview last week.
"In Woolf's leaden circles one sees an intersection of different characters. When I brought together artists whose techniques range from video and photography to installations, I wanted to focus on three themes: Time, memory and place. I, too, created an intersection of different figures. This was my way of alluding to Woolf's sentence in the novel."
Özgür's show features works from different generations and the curator surprised me when he said he realized the connections between them only while setting up the exhibition.
"My main concern was to juxtapose artists from different generations," he said. "Ahmet Elhan, Kezban Arca Batıbeki, Tanja Boukal, Güneş Terkol and Chulayarnnon Siriphol are all acclaimed artists. I worked with some of them in previous exhibitions, and I am rather familiar with their works. For Ezgi Tok, Sefa Çakır, Fatma Çakmak and Seda Oturmak, the situation was different. This is the first time they are participating in a group show." Özgür has been following their work "closely" and he said he finds their works "rather promising."
In her installation, Çakmak uses watercolor, transfer ink and photography to recreate images depicting military memories she found on the internet. Tok's "Flow" interrogates time and duration: The video projected on the wall features hands of numerous clocks. But the work reaches completion only through physical nails Tok has placed inside her installation. Oturmak's "If Two Ride on a Horse, One Must Ride Behind" is filled with humor and irony. In those paintings, a group of men fights over a spot on a couch. Meanwhile Çakır's installation contrasts underground and elitist cultures in urban Turkey.
Not all the works in the show were commissioned. "But Ahmet Elhan, Fatma Çakmak, Sefa Çakır and Seda Oturmak were able to create brand new works for this specific show," Özgür said. "Works by other artists were already available. Still, works by Siriphol, Terkol and Boukal are being exhibited in Istanbul for the first time."
Contemporary art, in Özgür's view, "is a challenge to change our viewing habits toward the phenomena surrounding us." He points to Tok's video as a perfect example of that challenge. "Her installation is based on the reverse of our time perception of the same surface: homogeneous and heterogeneous time," Özgür said.
In contrast, Boukal's fragile "knitting-paintings" shift according to the visitor's viewing angle. "Images transform from abstract, monochrome and decorative surfaces into concrete and visible women portraits," Özgür said. "Women portrayed in Boukal's fascinating knitting surfaces are normally victims or sufferers, sometimes angels, who help the victims in their bitter times. Here women are fighters and heroines, devils and villains. In this way she puts women's literal role the other way round. Siriphol's captivating, poetical and meditative film presents a possibility of togetherness between different cultural backgrounds: a love between a monk and a motorcyclist. Terkol's patchwork installations contain slogans and offer us an indirect reading of the letters and signs, manipulating our general consensus."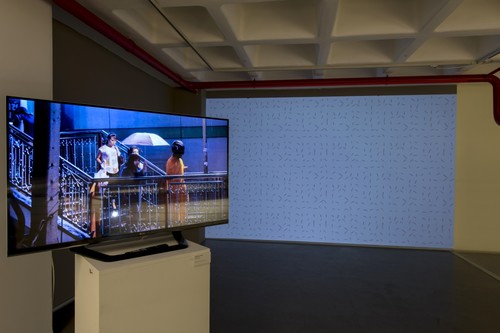 Chulayarnnon Siriphol, "Monk and Motorcycle Taxi Rider," 2013, single channel HD video, 15'.
Elhan's fragmented photo series, meanwhile, corresponds to Woolf's fascination with taking walks in the streets of London. "He refilters observations about nature, human and the city in his photographic series," according to the exhibition catalog. "His photography focuses on details that create depressive, claustrophobic, and pessimistic atmospheres."
Although the exhibition is based on a famous sentence by a leading modernist, Özgür warns against evaluating the show as a visualization of Woolf's vision.
"A title can spark more than one issue at a time like political crises, war, nostalgia, social collaboration or solidarity, democracy and migration," Özgür said.
"It might sound an abstract analogy but I would say that just as the novel covers one day from morning to night in one woman's life: an upper-class housewife who walks through her London neighborhood to prepare for the party she will host that evening, so the artists in this exhibition 'stroll' around the above-mentioned matters like Woolf. In a way the exhibition is an indirect challenge or task derived from Wolf's attitude with a current emphasis on contemporary crises."