Mini Turkish Cuisine, which gains attention on social media and metro bus screens, is a project started by social media supervisor Burcu Aydın and her husband videographer Anıl Aydın to introduce Turkish cuisine to the world in a different way five or six months ago.
The Aydıns, who are the pioneers of this current trend in Turkey, which was started by Miniature Space in the world, started to attract attention on social media with cooking videos that they shot.
Their channel has 27,000 followers on YouTube, 55,000 on Instagram and 12,000 on Facebook.
In Mini Turkish Cuisine, which brings people to a fairy tale world resembling toy kitchen, the food, which is laboriously cooked, is real. Burcu Aydın prepares many traditional foods, such as çiğ köfte, lahmacun, baklava and yaprak sarma, on a stove made by a miniature artist that works with a candle. Her preparations are shot by her husband and presented to followers through social media accounts.
Challenges in miniature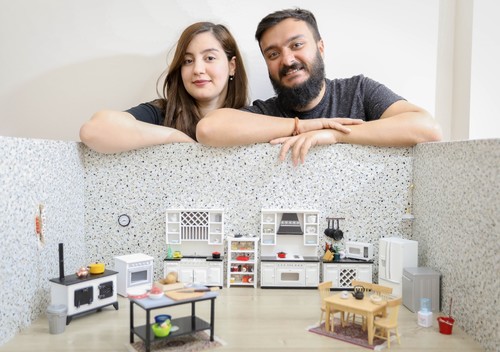 Burcu Aydın (L) and Anıl Aydın (R) pose behind their Mini Turkish Cuisine studio.
Burcu Aydın said that they have seen similar examples of Mini Turkish Cuisine abroad and decided to conduct this project in Turkey.
Implying the preparation part of the project continued for two years as they turned one of the rooms in their house into a studio, Aydın said they installed the mini kitchen here and started to make videos and started to share these videos on social media channels five or six months ago.
Noting miniature cooking is more difficult than normal, Aydın said: "I am good at cooking, but the miniatures were difficult for me. I started Mini Turkish Cuisine with two beautiful Turkish recipes: baklava and sarma. I tried thousands of times for sarma. It was hard to find similar sizes with normal foods. I managed to do it after much effort. It is hard to find something in the kitchen, to cut something and catch the similar kitchen image. This is why it is much more difficult than normal cooking."
Since they generally get materials they use from abroad, Aydın indicated there are some miniature artists who do this in Turkey. "Far East countries love this job. There are many materials in the kitchen. I generally order them from abroad. This is how I formed my kitchen."
Since it was hard to define their job when they started to make videos for the project, Aydın said: "My aim was to introduce Turkish cuisine in a different way when I first started. It is fun to present it with these entertaining videos. It became a joy for me. I got positive reactions from people. Sometimes they ask why I cook in miniature sizes and say maybe it will be better and easier for me to do it in normal sizes."
Introducing Turkish cuisine
Anıl Aydın indicated that they had some difficulties in the beginning since everything was very small. As they improved over time, Aydın said that they get positive comments on social media and they address everyone interested in food and can enjoy these videos. "Our aim is to introduce Turkish cuisine and present recipes to the world on the global scale. The Anatolian region has a large cuisine. We want to present them in small sizes instead of normal or bigger sizes. Thus, we prepared many delicious foods. It is an interesting introductory method. Since it is a cultural project and we prepared it to introduce our country regardless of any financial worries, we can collaborate with the Ministry of Culture and Tourism."
Aydın indicated that their followers on social media had great importance in the introduction of the Mini Turkish Cuisine and highlighted they prepare much more studiously when they get nice comments.
He said shooting took seven hours in the beginning, but decreased to two hours with practice.