Recycling artist Adnan Ceylan has been sculpting in Antalya for seven years. Ceylan uses old, wood pieces that have a story. Pieces of dead cedar trees are the main material he uses in his art.
Finding pieces of these trees is not an easy task. Ceylan first goes on a journey in the forest and wanders for days to find the pieces he wants. If he cannot find what he is looking for, he goes to the forest again with his friends to search as a team.
His search for the perfect piece can last a few days to a week depending on the statue that the recycling artist will make. "The best pieces of cedar can be found deep in the forest at 2,500 feet above sea level. This is why I cannot make a mistake while collecting the pieces. If you collect the wrong pieces, you have only collected firewood. I take great care to collect the proper pieces," he said.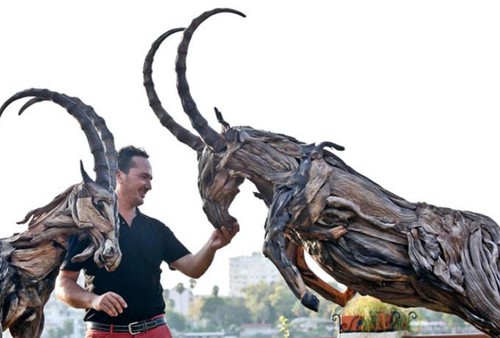 Ceylan's wild goat statues are on display in Antalya's Kaleiçi Park.
The artist depicts rearing horses, the nobility of eagles in the air, the obstinacy of wild goats and angry bulls in his works. He sculpts with enthusiasm at his workshop in Antalya.
Horse and bull statues
The artist has only one aim: "My works should look like they were not made by a human hand, but instead crafted by a divine power. Instead of creating a statue by carving a wood block, making these kinds of works is more exciting."
Ceylan prefers cedar trees because their wood lasts for years. He says the
structure of the tree is similar to leather and gives good effects to his statues. The artist mentioned that he finds a story to create his wooden statues. "For example, I reflect the reaction of a bull to something that draws its attention or an eagle perching on a branch after failing to catch its prey with the wind in its wings."
He places the cedar pieces on his statues by using an iron frame that mimics the muscle structure of the animals in his workshop. However, it is not an easy task. He starts with the biggest piece and adds it to the main body of the statue that he has strengthened with an iron frame. Then, he adds other small pieces.
Mentioning about how he sculpts in his workshop, the artist said: "I add some pieces to my statue every day. Sometimes, I change the placement of a piece to create a perfect work. I can change the whole statue sometimes, as well. For example, I need to remove five or six pieces if I want to change
the placement of a knee on the statue. It should look like real muscle. It is difficult to make these statues."
Objects and displays
Ceylan travels around Turkey and the world to collect old goods to use in his art. He is happy when he uses materials that are simple, natural and have had experience. He says he can exhibit the stories of people in this way. He explains: "The reason why I use old materials is their potential to be turned into objects that can make you happy when you use them properly in a decorative context. They are formed as elements that have a story to tell you instead of fabricated goods. The main factor in both goods and statues is recycling for me."
He creates his statues over two or three months, according to their size. The artist's eagle statue is exhibited in Rahmi Koç Museum and his wild goat statues are on display in Kaleiçi Park in Antalya. Some of his statues are on display in Dubai, as well.