International performance arts festival A Corner in the World takes place at bomontiada this year May 2-13 with the theme "World Flat?"
The festival brings together artists who create their artwork in nearby regions but have limited means to experiencing each other's work or collaborate. This year, the festival program includes art works, visual arts events, workshops, performances, meetings and music programs from Turkey, the Middle East, Southeast Europe, North Africa and the Caucasus.
Is the world flat?
The theme this year is "World Flat?" inspired by feminist author Andrea Dworkin's quote: "Women were taught that the world is flat for us and that if we move further we can fall. Yet, some did go further but we haven't fallen off until now. My belief, my feminist belief is that we will not fall off." A Corner in the World is celebrating perspectives that always "go too far" and that cannot see the world as flat from wherever they look.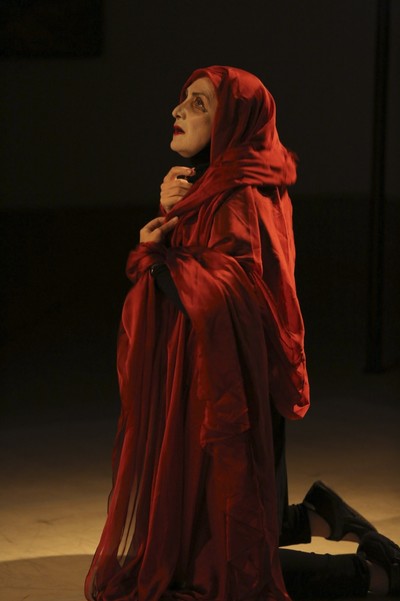 An image from Hanane Hajj Ali's performance about her daily exercise to avoid osteoporosis, obesity and depression.
Performances
A Reason to Talk
In "A Reason to Talk," Belgian actress of Iranian descent, Sachli Gholamalizad stands out with her one-woman performance questioning her troubled relationship with her mother. She digs out the past of her family and confronts both her mother and grandmother. The actress, who has received various awards from the Edinburgh Fringe Festival, the Theatre Festival Ooestende Circuit X and Amnesty Freedom of Expression, combines various sources, from her home-recorded tapes to her dairies, from her memories to favorite books and sound recordings to present an uncommon performance. The many layers and contradictions in the lives of these three women are revived on stage. The performance takes place at bomontiada ALT today.
Train Him Up For Me
Lebanese choreographer Nancy Naous will present a new performance that is between theater and dance for the first time in Turkey after France. In her performance, Fa'addebhouli examines the concept of the male body, which is so passionate about freedom, which glorifies and terrifies it at the same time. The performance scrutinizes the male body as once a very conservative, historical, hereditary and assuring concept, yet at the same time can be so open and inventive. The performance, which will analyze a body full of contradictions and shaped by insecurities, takes place at Mimar Sinan Fine Arts University Bomonti Campus, Contemporary Art Department, Şebnem Selışık Aksan Stage today.
Jogging
The performance is about Lebanese actress 50-something Hanane who has to exercise daily to avoid osteoporosis, obesity and depression and how she visits her dreams, wishes, hopes, realities, characters and roles on this road. While the character wanders around in the city under transformation, two different hormones are triggered in her body: the destructive dopamine and constructive adrenaline. Right in the middle of a city that destroys to build and builds to destroy, these two hormones alternate in Hanane's body.
Hanane Hajj Ali's one-woman performance, which has been displayed around the world, will be presented at Mimar Sinan Fine Arts University Bomonti Campus, Contemporary Art Department, Şebnem Selışık Aksan Stage tomorrow.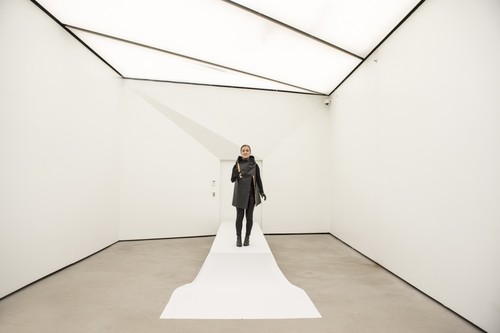 An image from the performance "Light Theory."
Light Theory
The "Light Theory" performance by Onur Karaoğlu imagines how the marks that are left on our lives, which fade away in time, shape our common future, while we are on the obligatory journeys of our lives and can be viewed at bomontiada ALT on May 5.
Walk Around the Corner
Organized for the past three years by A Corner in the World in different neighborhoods in the city, the walk brings together short works of young creators at corners, which are not typical performance venues. The performance invites visitors to develop a new perspective on the texture of different neighborhoods, while offering a small portrait of what lies beyond the corner in terms of performing arts. The walk will start from the yard of bomontiada and the walkers will get to view short performances at various locations in the district of Bomonti on May 6.
Ha!
Inspired by the Persian poet and Sufi mystic Mawlana Jalal al-Din Rumi, the founder of the whirling dervishes order, "Ha!" explores madness. Bouch Ouizguen sets on a journey in Morocco to discover the bodily and spiritual obsessions of everyone in these lands. Four female performers from Aita song and dance cabaret tradition, which according to Ouizguen hosts the most essential and free performance artists, will take viewers on a journey of senses, rhythms and madness on May 7 at Mimar Sinan Fine Arts University Bomonti Campus, Contemporary Art Department, Şebnem Selışık Aksan Stage.
Unikat
Multi-award winning young artist Astrit İsmaili, whose creations integrate visual arts and theater, focuses on the relation between image and sound with UNIKAT. The starting point was to investigate before and after the 1999 Kosovo War when Astrit and his sister Blerta were child pop stars. Using the speculative fabulation method, the performance moves from historical facts to fiction and will be performed May 9-10 at bomontiada 4th floor.
Handmade
The Movement Atelier offers handmade experiences such as getting really angry, touching with compassion, criticizing, laughing, being startled, drawing attention, watching in silence, feeding the soul, warming the body, renewing the mind and diving into play together for other things, approaching to what is outsider without worrying about what others may say, meeting, collaborating to witness, passing things onto others. The performance is at bomontiada on May 10 and 13.
Sur Le Fil
The Algerian choreographer, Nacera Belaza, who has an Art and Literature Chevalier medal from the French Ministry of Culture, created "Sur Le Fil," which can be translated as "walking on a tightrope," to create a renewed awareness by re-weaving lost connections with our surroundings. However, the performance also highlights that only then, when you are walking on the rope, you will give up on knowing.
A submission where the mind and body give up and move without any limits, where bodies poetically dance with all other elements on stage, "Sur
Le Fil" will be performed at Mimar Sinan Fine Arts University Bomonti Campus, Contemporary Art Department, Şebnem Selışık Aksan Stage on May 11.
Farci.e
Farci.e tries to find answers to the question what if we were from a neutral world and suddenly everything had a gender. Iranian dancer Sorour Darabi offers a personal answer. He has continued to find ways to adapt to a world where everything is either masculine or feminine ever since he started living in France. Focusing on the concept of gender, the performance takes place at bomontiada ALT on May 13.
Encounters
Lebanese actress, mother and activist Hanane, who is not afraid to speak her mind about any subject is at bomontiada ALT today with "Preparation to Jogging/Conversation with Hanane Al Hajj Ali."
Corner Pro, the professional encounter bringing together local and international artists in performance arts to enhance the visibility of Istanbul, Turkey and artists and creators working in and around the region takes place May 4-5 at SALT Galata. The encounter aims to enhance the visibility of independent performance initiatives and artists living and working in Istanbul and to enable them to present their works to international professionals.
Leica Gallery Istanbul hosts the "A Room of One's Own" exhibition displaying works by Cansu Yıldıran, Charlotte Schmitz, Tahmineh Monzavi and Meltem Işık. Inspired by this exhibition within the scope of the festival, Nihal Koldaş will be presenting a 20-minute short performance from the story titled "Mut..." by Sevim Burak on May 5.
A residency program to establish a relationship between displaced artists and host communities, AMARRE offers a safe working environment to artists to develop their projects and share them with local audiences and offer them professional networks in their new environment. For the pilot edition to take place in Lebanon, Turkey, France and Belgium, three projects were selected in Turkey on an open call, and the artists were granted a month's residence. "Bir Kez Daha ("One More Time"), "Mahkeme" ("Court") and "Randevu" ("Rendezvous") performances will take place on May 7 at bomontiada ALT.
"Resurrecting Women of Istanbul," which focuses on two very special female figures in Istanbul - Poet Nigar and Painter Mihri, with two different presentations, takes place on May 12.
Workshops
The Choreographic Research Workshop with Nancy Naous focuses on discovering efforts between contemporary dance and theater. Through a series of exercises, participants from Mimar Sinan University will get the chance to develop more body awareness and experience improvisation and creation tomorrow at Mimar Sinan Fine Arts University Bomonti Campus, Contemporary Art Department, Şebnem Selışık Aksan Stage.
A dance and rhythm workshop with Bouchra Ouizgen is a rhythmical, deep journey to encounter the other, a work on attention, polyphony, silence, space and time and contains warm-up exercises choreographer and company dancers usually practice. The workshop is only for Mimar Sinan Fine Arts University students and takes place May 8 at Mimar Sinan Fine Arts University Bomonti Campus, Contemporary Art Department, Şebnem Selışık Aksan Stage.