Daron Mouradian does not paint history. His recurring symbols are not inspired by psychology. Fish float with mechanical fins, birds are witness to human madness, and beasts of burden are halved into prototype vehicles. It is art: the pure and unadulterated act of novel creation. It is the alchemical magic of making something from nothing. Mouradian holds the philosopher's stone, immortalizing his life's work through designs of color, through reformations of light.
Words, documents and artifacts are not welcome in the alternate worlds that Mouradian visualizes, albeit while surrounded by Armenia's rich cultural heritage, rooted in the aesthetics of Dark-Age mysticism, Byzantine icons and the Gothic affinity to refashion common ugliness into otherworldly beauty. His technical mastery with brush, paint and canvas penetrates to the source of perception with ingenious insight. Every piece that he has created throughout his brilliant career for the last three decades invites the viewer into a universe of nonverbal puns; of preindustrial exoticisms; of the fantasies of unbounded invention.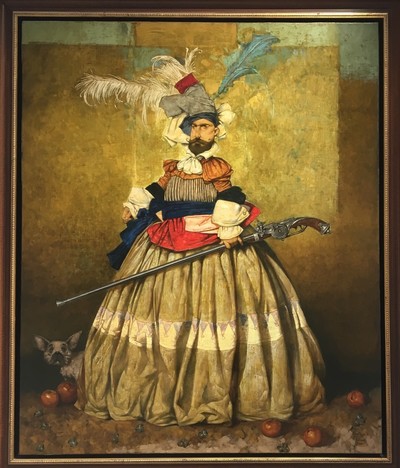 "Hunter I" (2011) is a brilliant example of Daron Mouradian's deep sense of humor as steeped in his classical Armenian painting style.
"Open Hidden Game" will run until July 1 to exhibit a panorama of 24 paintings made from 2002 to 2017. Inside a circular promenade, and under high ceilings within the lofty, intellectual airs of one of Istanbul's more distinctive private universities, the Daron Mouradian retrospective offers serious students, curious colleagues and all open-minded oglers a tantalizing variety of visual experiences. They picture action-packed scenes filled with uninhibited mirth and violent pride on the edge of anthropomorphic realism.
The artwork appears to be steeped in the color and life of the paradigm shifts and sociocultural transitions that have defined Western civilization since the dawn of the Medieval era. His meticulously trained eye seems to have distilled the earliest chapters of modern history into simmering, satirical illustrations born of an unfathomably voracious appetite for research in the fields of clothing, folklore, ethnology and manufacture. In reality, the artist defends his creative originality by asserting that he has simply made it all up off the top of his head.
The artist as trickster
"There are a couple of reasons why I wanted to show Mouradian's works in Gallery KHAS [at Kadir Has University]. Contemporary art is extremely important. It is political. It covers the whole world. It brings out new aesthetics. These are all valid points; however, the aesthetic is usually behind the message that it conveys. This brings out the constraint that the craft is not in the work in anymore. This is the post-Duchamp case," said its curator, professor Hasan Bülent Kahraman, who first saw Mouradian's work at the Gallery 77 exhibition during Contemporary Istanbul art fair where his paintings were displayed in the years 2015 and 2016. "I'll spend my life thinking about difficult art, but this sort of craft and aesthetic [in Mouradian's painting] does not exist anymore. This is not classical painting. It uses the images and techniques of Renaissance painting even. This is very Armenian in that sense."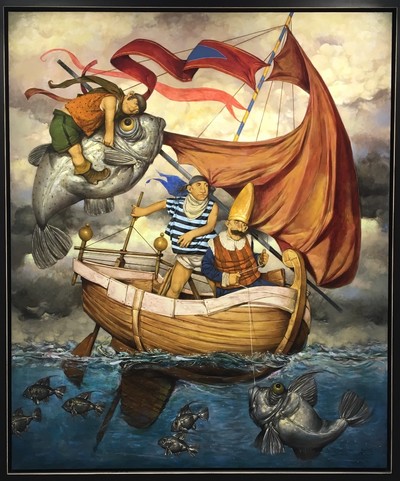 "Fisherman" (2017) is the latest piece from the Daron Mouradian retrospective, and the first that viewers see when they walk into Gallery KHAS for Open Hidden Game.
Kahraman wrote two essays to preface the "Open Hidden Game" exhibition, appearing in the catalogue book publications of Gallery KHAS and Gallery 77. His opening piece is titled, "Manifesto: Daron Mouradian." It is a succinct, piercing call to look through the artwork, and by doing so, to see the world differently. It is a cautionary tale, reminding all with vision that there are worlds beyond the appearance of things, and that these worlds are not only accessible through logical reasoning and its kindred sciences of material transformation, but through the transformative powers of metaphor, art, faith and ecstasy. The characters in Mouradian paintings are jesters and entertainers, jack-in-the-box puppets and windup dolls. Saint George (2004) kills a dragon on a toy rocking horse. A pair of undersized men joust saddled on fighting roosters.
His portraits are utterly realist and swathed in lush folds of naturalism, studies in still life, emotive facial expressions in his animals; a frightened puppy; a mad lizard, an eavesdropping bird. His overdressed men and scantily clad women are deadpan with an eternal comic timing, such as Hunter I (2011). Its subject is a man with a cold, hard stare whose seriousness is contrasted by his ostentatious clothing. He dons a puffy bouffant and is outlandish from top to bottom, holding a long musket for a pose. His head is topped with a feathery fez cap. His ensemble is as bold as it is ridiculous, descending over layers after layers of fine, stripped and patterned vests, lined with loud ruffles from shoulder to wrist.
Aesthetics and tradition
"I wanted to put these works before an audience who would like it very much. I returned their right to like something [in contemporary art] back to them. There are layers in these works. It is grotesque, ironic, satirical and critical. I was expecting some sort of acceptance, but I didn't expect this level of admiration and fascination. I am happy with that," said Kahraman, who often curates exhibitions that are more challenging to the eye, whereas he enjoys the opportunity to show Mouradian, one of the most prominent artists of Armenia. "There is also a kind of surrealism, going deep into the works. On the surface, you have a painting that is wonderful and entertaining, but when you think about it there is more. He is very successful in monochromatic paintings, as well as in the polychromatic ones. This is very rare. Most artists cannot do both."
Mouradian only paints about 10 works a year due to the complexity and intricacy of his detail and the discipline required to execute his techniques. That said, although much of his painting looks entirely calculated, he in fact improvises to a
great extent. His figurative proportions are reminiscent of the signature style of the Columbian classic modernist Fernando "Botero" Angulo. In such dramatic caricatures as "Cocotte" (2015), "Trainer II" (2015) and also in "Heavy Artillery" (2003), he stylizes the plump curves of the female form with a stunning, cartoonish glory. He is a master of the photographic still in paint, focused on gargantuan, larger-than-life women and childish, belligerent men who uphold imposing and enigmatic airs, drawn as out of the stale breath of a forgotten past, and exhaled with all of the accent and authenticity of another age, one hopelessly dated and stuck in the hoarding of its narrow window of time. Turkey has a kindred artist in the irreverent works of Mevlüt Akyıldız, who painted the rose-tinted early years of the Republic with a fiery wit.
"From which point does an artist move from a composed, complex background to an abstract background, or the other way around? This is a question which has been analyzed by different scholars. Mouradian never worked as an illustrator," said Kahraman, standing before the Mouradian retrospective, likely the first, which shows a marked progression from color abstraction to landscapes and interiors in his backgrounds since 2013.
"This is traditional painting in Armenia. It comes from the icons of the Middle Ages. If you go around Anatolia you can see all of these churches full of icons, mosaics, paintings and that still continues in the transformation in the works of present-day Armenian artists," he said.
Mouradian is also considered to be an important artist of the French scene, as he has held a number of his most important solo exhibitions at Gallery Mouvance in Paris from 1993 on after graduating from the Yerevan Academy of Fine Arts. In his professional photos, he is straight-faced in his studio behind a fan of brushes, with a cigar stub in his mouth, looking back with worn, sensitive eyes. He is not known to interview well, often responding with one-word answers and through interpreters, as he is said to be unilingual Armenian. His works have all of the evidences of a true workaholic recluse; someone unfazed by the public spotlight. He draws his art from the wells of time's deepest mysteries and emerges with the dirtied hands of a worker out to remake creation, only faithful to the truths and lies of the "Open Hidden Game."