Created on polystyrene and strengthened with sand and normal plaster, the paintings of art teacher Serkan Akkuş from Elazığ province are quickly gaining attention.
Discovering his passion for relief work on polystyrene, which are foam-like plastic materials, in university, Akkuş uses sand plaster mixed with acrylic glue - a material usually used on external walls of buildings - to make his paintings more durable.
To make the colors permanent, he also applies plaster to the polystyrene.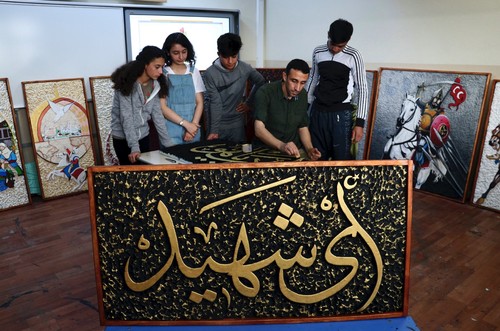 Akkuş teaches his unique technique to his students.
Working at Mollakendi Secondary School, Akkuş, 36, told Anadolu Agency (AA) that he started painting on polystyrene 13 years ago when he was in university through the guidance of a professor.
Explaining that his polystyrene technique was developed through trial and error, Akkuş continued: "There was a delicate nature to my polystyrene works. They weren't durable. I had to figure out a way to make them last. Therefore, I sprayed sand plaster mixed with acrylic glue on them. This made them much more stable. Later, I apply plaster on it while the mortar is still wet to make the surface smooth and to prevent the colors from fading. This gives them a fresco-like style. I've created a unique art form that incorporates both relief and fresco techniques."
Calligraphy, miniature, illustration and marbling on polystyrene
Akkuş explained that he mostly creates calligraphy, miniatures, illustrated manuscripts and marbling on polystyrene to show his support of traditional painting methods.
Noting that he tries to pass on social messages through his art, Akkuş stated he has paintings depicting the July 15, 2016 coup attempt and Operation Olive Branch. He also reported that he honors historical Turkish soldiers in his pieces.
"When I adapted traditional arts to polystyrene, more effective art was shaped. Calligraphy, marbling, illustrations and miniatures can be easily created on the surfaces that I create," the art teacher added.
The plaster that he uses on the polystyrene protects the works' colors for years and Akkuş stressed that polystyrene are great because they are inexpensive. He remarked: "I teach this technique to my students, as well. I want to introduce it to people and open some courses. I exhibit my art in Elazığ and other cities for this purpose."