A Spanish church was under fire Wednesday over the "frightening" restoration of a 16th century wooden sculpture of St. George which left it looking like a cartoon character according to social media reactions.
The statue of St. George charging a horse in the San Miguel church in the town of Estella in the northern region of Navarra had turned a dark brown with age but images shared online after its restoration showed the warrior now has a pink face and sports flashy red armor.
Some Twitters users likened the restored statue to Belgian comic character Tintin or Woody from "Toy Story", and compared it to the botched restoration by an elderly parishioner of the "Ecce Homo" fresco of Jesus Christ in 2012 in the town of Borja which resembled a pale-faced ape with cartoon-style eyes.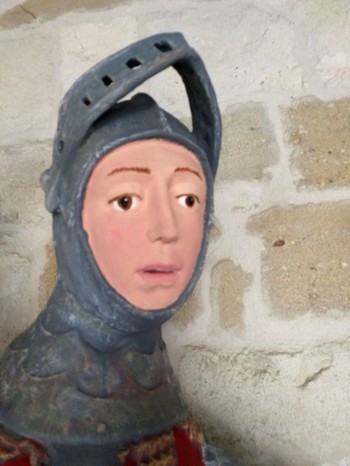 The restoration was carried out "without control or professionalism" by a local crafts business, the director of the regional heritage service, Carlos Martinez Alava, told AFP.
"They covered the paint from the 16th century with new paint, it also seems that scraping and sanding was done, which are not techniques used in restoration nowadays," he said, adding his team was trying to figure out how to "undo" the restoration.
Spain's art conservation association (ACRE) threated to take legal action against the unauthorized restoration of the statue.
"We cannot tolerate more attacks on our cultural heritage," it said in a statement. "It shows a frightening lack of training of the kind required for this sort of job."
Media from across the country flocked to Estella, which is home to around 13,000 people, but the statue is now covered by a sheet and the chapel where it is displayed is closed to the public.
"We don't want (the church) to become a place of pilgrimage like Borja," said Estella mayor Koldo Loez.
Thousands of Spanish and foreign tourists have traveled to Borja to view the botched restoration of the "Ecce Homo" fresco, which inspired a comic opera that was staged in the 16th-century Sanctuary of Our Lady of Mercy where the painting is encased on a wall.
The fresco's restorer, Cecilia Gimenez, has even had her own art exhibited and signed a licensing agreement for the commercial use of the image of her "Ecce Homo" restoration on mugs, t-shirts and other souvenirs.