Actor and producer Michael Douglas enjoyed great success by creating smart, flawed, sympathetically human characters. In addition to his movie star status, Douglas was well known as a film producer, garnering a Best Picture Oscar for his first outing in "One Flew Over the Cuckoo's Nest" (1975). We met with Michael Douglas and talked about his long career, success and versatility.
Daily Sabah: I would like you to go back in time to your first paycheck. What was it for?
Michael Douglas: My first paycheck was like $85 for an off-off Broadway show. My first movie paycheck was paid by Steve McQueen who was the producer and it was a movie called "Adam at 6:00 a.m." I think I got $3,400 for the whole movie but also in the movie I drove the tangerine orange Porsche. It's a beautiful car and when the movie was over, Steve said congratulations and he held up the car keys. I remember like a kid and so that was my reward. He gave me that Porsche.
DS: What did you spend the $85 on?
MD: Back then I was sharing a one room apartment with Danny DeVito on the Upper West Side, so it was on food or booze. It wasn't on laundry (smile).
DS: Looking back on your amazing career, Mr. Douglas, what do you invest in? I believe that you were very much into art and you were a collector. Do you still keep that as an investment or a hobby?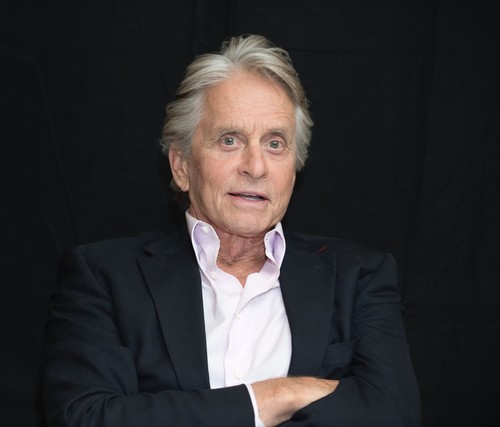 For a while I invested in art and initially I loved German Expressionism. I love German Expressionism and then I realized even back in 1975 it was really expensive. So I started getting what's called the Hudson River School, American Art Movement. I collected artists like Albert Biersadt, Moran for a while and then one day, I was looking at a painting on the wall and as beautiful as the painting was. It was next to a window which had a lovely view and I found myself looking at the beautiful view and so I started buying land (laughter). I realized that I enjoy much more the environment and houses. I am now in the process of downsizing so if you know of anybody who wants to buy a beautiful farm in Majorca let me know (laughter).
DS: Have you been investing on Wall Street all these years? Are you good at it?
I thought I was. I thought I was during the tech boom in the 1990s and I used to invest myself. I do have friends that I've known for years and from school who are investors but since then and since the 2007-2008 crisis in which you could understand how quickly one can get hurt I'm very conservative. I sort of turn this over to people that are more knowledgeable than I am, so I have three or four, both funds and people, that invest my money.
DS: With everything that is going on right now in the world, how do you give your own values and your own thoughts to your children?
The best way I could answer that, there's so much division between countries and areas, our neighbors, to imagine my latest movie "Ant Man and The Wasp" is going to be seen around the world, it's going to be a big success, people are going to laugh in about 60 different languages and it's a reminder for me about how wonderful and magical this business is that we're all involved with. The movie business finds films that have a common language and reminds us of how close we are rather than how far apart we are.
DS: Your co-stars in 'Ant Man and The Wasp' said that when you start to talk and the structure in the room starts to change. First of all, are you aware of this superpower of yours? How are you dealing with that?
That's very, very nice. Yes, I got a few movies. I've been doing this for a while. I think that as a producer and somebody who's starring in most of my pictures I know what the responsibility is at #1 on the call sheet to create the most comfortable environment I possibly can. Some actors try to intimidate other actors. I embrace them. I want them all to be as good as they possibly can because the only thing that matters is a good movie. I don't want to be good in a bad movie, right. When the movie is good, everybody benefits so I think if you're a younger actor my intention is only to make them comfortable, quickly.
DS: When you act in a movie where there is action, there are a lot of special effects and then when you act on something like drama this changes. How do you feel as an actor? Are they both the same or do you really feel a difference?
That's a good question. It's the variety, it's the mixture. When they came to me with the Ant-Man I had never done a green screen movie. Never. All my movies were character-driven pieces and I'd never done this genre so I was anxious to do that. Obviously, you know the history of Marvel, why not be in a worldwide successful venture? Also, they orchestrated my time, so I wasn't like hanging around for long periods of time. Where do I sign up? You know, I'm 73 years old. I'm happy to know people still watch me. But going back to your question, I like to mix it up. It's variety.
DS: We have talked about your work but what do you on your downtime?
Golf. Golf. Yeah, I love to travel a bit but no I love golf. I'm debating, I'm trying to get talked by my wife into getting a catamaran. I am curious about catamarans, sail catamarans. Really, I'm trying to think about chartering a catamaran. She's not too high on the idea, I'm working on that, but golf is obviously my major avocation.