Anna Laudel Contemporary will showcase "Empires Ago" by the Italian artist Daniele Sigalot, who is well known for his unique large-scale installations and unconventional mosaics Sept. 13 to Oct. 26. Recognized for his innovative use of different materials and interdisciplinary techniques, Sigalot will exhibit new works produced in Istanbul.
Sigalot is famous for large installations of aircraft, apparently made of paper, but actually aluminum. The artist enjoys playing with the ambiguity between the perception of the materials used and their real nature, aiming to create contrast, which is the key to reading his artworks. He investigates contradictions, irony, the ambivalence of both words and materials, and he produces works full of surprises and alienation, which also reflect the emotions of our times.
"Empires Ago" takes its inspiration from the Roman and the Ottoman empires. Sigalot is from Rome, and he grew up in a city that still lives under the legend of the empire. He finds the impact of the Ottoman Empire on Istanbul similar to the one he experiences in Rome in that both cities used to be the capital of an empire and very powerful, and both empires disappeared long ago, yet Italians and Turks still have pride in their empires.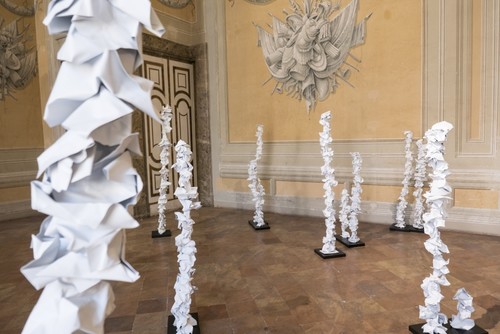 Daniele Sigalot, "16 good ideas above, between and under 467 bad ones," displayed in a geometrical order, 2017, Acrylic varnish on aluminum.
Sigalot created a series of maps of Istanbul and Rome, which are made of stainless steel. The maps have a mirror effect, reflecting the faces of the viewer with views from past and present. The artist said: "I find such a big echo of the past to be both beautiful and sad. The truth is that those glorious days are so far away, and it is not sensible to feel that we are still part of that past. I like the contradiction of these mixed feelings. For this exhibition, I am producing a series of maps of Istanbul engraved on stainless steel. These maps will be a faithful representation of the streets of different vital and significant areas of both current and ancient Istanbul. The city has been growing and changing through time, and I want people to look into their city and see their own reflection in it - into its past, its ancient glory and its very present. I am interested in how a city shapes who we are, and my artworks aim literally to reflect this idea. Come and see how Istanbul shapes who you are."
Sigalot has been working at his temporary studio in Istanbul for the last two months and will present works produced here. One of these works is a large-scale installation, "Everything That Could Have Been But Wasn't, Now Is" to be presented for the first time in this exhibition. The artist describes his work as a "redemption" process that turns bad ideas into good ones.
Sigalot enjoys creating contrasting emotions and using prolific techniques. For this exhibition, he produced a new installation piece made up of unconventional material. "The ambivalence of words matches the ambivalence of the materials I interact with. I like using unconventional materials that we normally do not tend to work with, I embrace the highly tactile effect materials provide once piled up together and enjoy turning artificial items crafted by mankind into something that actually resembles fully natural and organic matter once again, underlining the fascination I have for any sort of contrast. For the exhibition at Anna Laudel Contemporary, for instance, I'll be using sponges for the first time. Some 3,900 of 13 different colors to be precise, and with them, I'll be literally crafting a landscape and make it fit into one room. I look forward to diving into it," he noted.
The exhibition will also showcase recent works by the artist, including the trademark of his artistic production: the world-renowned Sigalot installation, 140 paper planes made from stainless steel and rusty iron; an installation, "Enough," which has a countdown timer that will last 1,000 years, not a second more, showing that installations can challenge time, just as much as paintings. Another work, "This pen only had good ideas," had a fundamental role of reorganizing ideas for the artist that only have good intentions. Additionally, a series of totems, reflecting on the allegory of the creative process, and finally,
a series of letters and post-it notes that again play with the perceptions of materials and appearances.
Opening on Thursday Sept. 13, the exhibition will run parallel to the Istanbul Foundation's 4th Istanbul Design Biennial of Culture and Arts. It will be held on three floors of exhibition space at Anna Laudel Contemporary in Istanbul until Oct. 26. The selected works by Sigalot will also be displayed at the 13th edition of Contemporary Istanbul Sept. 20-23 at Anna Laudel Contemporary's booth.
ABOUT THE ARTIST
Daniele Sigalot was born in Rome in 1976. He was a creative in the field of advertising where he worked for seven years at several agencies in Italy, Spain and Great Britain. In 2007 he left Saatchi & Saatchi London to spend his time on the Blue & Joy artistic project, which he founded with Fabio La Fauci in 2005.
The name of the project became for years a true pseudonym of the duo Sigalot/La Fauci, which until 2013 continued a prolific four-handed production. At the end of 2014 the duo ended its partnership, and Sigalot now continues his solo career by focusing on installations. His research centers on the ambiguity between the perception of the materials used and their real nature, making that contrast the core of his entire production. His most recognizable works are certainly the large aircraft installations. Along with these fleets of planes, Sigalot literally flew around the world with his planes, bringing them to more than 30 cities in the four corners of the planet. He lives and works in Berlin in a studio he named La Pizzeria.