Sixty-four-year-old traditional Turkish decorating and handicraft artist Mehmet Atışan turns cattle and water buffalo horns into jewelry with precious stones.
Working alone at his workshop in Güneyköy village in Yalova province, master Mehmet works hard to complete the orders he receives.
Speaking to Anadolu Agency (AA), Atışan noted that gold and silver embroidery making is common in Güneyköy, established by Caucasian immigrants.
He indicated that he learned horn engraving from Zeynel Abidin, who is from the same village, when he was working at the Grand Bazaar in Istanbul during the 1960s and that he has continued this tradition since 1969. He uses traditional methods and relies on patience to create jewelry and ornaments made of horns, as it is a meticulous job.
Tedious process
Atışan applies various procedures to separate the horns, which he obtains from slaughterhouse, from flesh and bone. He explains the process he follows after:
"Afterwards, I leave them for eight months in the loft away from the sun where there is air circulation. It should be totally dried. When you wait for eight months, the movement of horns is limited. We have other materials such as crystal soda we obtain from Lake Van, and we disinfect the horns because the natural materials constantly produce bacteria. Then, we cut and shape it, and we have to wait for another month because it expands as we use oil-based materials. We fix them with heat. Then after resting, we draw the template and cut and shape these materials with a fretsaw."
Highlighting that it takes a long time for horns to become products, the master added:
"The process takes exactly nine months. Then, there are few more days. It is like the process in a mother's womb. Each piece of jewelry is like my own child. Sometimes visitors ask, 'Which one do you like the best? I say, 'You cannot discriminate between your children. They are all like my children.' These are pieces of jewelry that have been worked on for months."
Unique products
Atışan said that not finding an apprentice was one of his major problems as it means that the art will not continue after him. "Today, who can we take to the slaughterhouse? What will their reaction be when we say, 'We will cut the horn? Then, clear the scent. We will place it in the loft for eight months after cleaning the flesh and bone tissue. And then, they will rest.' They will be like, 'Are you kidding me?' And they are right, as well. This is a work of dedication."
Since he is planning on leaving the workshop in 2020, Atışan said:
"It is not possible for a nation without a culture to survive. What will you pass on? We are like the last generation of dinosaurs. Hopefully, I will quit in 2020. I will quit working at the workshop and work freely in the garden of my own house. I will create a nice corridor display hall. It is not possible to find a second example of any products I make. I will cut the connection with the outside. I will work on my tomatoes, my own peppers and flowers. There is not much to do."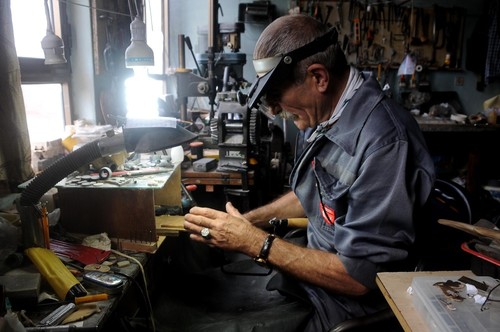 Master's works presented to royalty
Atışan noted that he gets up early and works till late in the night trying to prepare the orders, and some of his works have been presented to statesmen.
Through the Ministry of Culture and Tourism, his jewelry was presented to the Queen of Spain.
Atışan added that the Queen of Spain said it was the most beautiful gift she has ever received. "I was invited to Madrid for an exhibition by the Ministry of Culture and Tourism in 2014. Our minister sent his undersecretary to thank. I again joined another exhibition. And these pleasant events took place. Then, I created a piece by attaching three emeralds and jades to the leaves of a date palm in the shape of a double cross sword for the deceased King Abdullah, the former king of Saudi Arabia. He kissed it three times and then took it. There are other statesmen to whom my products have been presented as gifts, including President Recep Tayyip Erdoğan, Abdullah Gül and our Parliament Speaker Binali Yıldırım. Top bureaucratic statesmen and many of our ministers have my products."