In the year 1905, little four-year-old Fahrelnissa sat prim and proper for a family photo. She folded her hands neatly in her lap, and looked out from under her bouquet of dark hair, bow tied in pigtails. The verdant stretches of Büyükada were lit with its signature reflective sheen, bouncing off the Sea of Marmara, as sun rays drifted over the sails and spires of Istanbul's mythic shorelines. Literally from the Turkish for "the big island," Büyükada is one among the forested, metropolitan archipelago where her illustrious, Ottoman family bore and raised her into a life of aristocratic dignity and humanist valor.
Behind her stood Cevat, her oldest brother, who she admired. They would lounge together, she at his feet, surrounded by his unrestrained taste for Damascene furniture, gleaming with geometrically patterned mother-of-pearl inlays set into the polished brown wood. For the rest of her 90 years, she would never forget how inspired she felt while listening to him scratch his quill pen onto paper as he sketched the beautiful girls he had met at the American college in Istanbul, and at Oxford University where he studied history. Although she had not the knowledge, or wherewithal, to sketch then as he would, she remembered those somnolent hours as the birth of her stimulus that led her to pursue a life in art.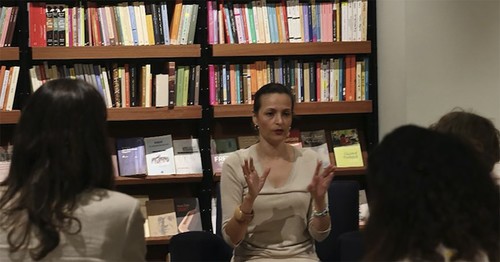 Dr. Adila Laidi-Hanieh, biographer of Fahrelnissa Zeid, who wrote "Painter of Inner Worlds," published in 2017 by Art Books in London, during her talk to coincide with the release of the Turkish translation (photo by Özge Aslan).
And interestingly, not a decade later, Cevat would fire the national intellect with an upheaval of the moral imagination. For reasons yet resolved, he shot his father dead in 1914. Despite his stormy relationship with his family and the law, he went on to become the prolific writer, ethnographer and mythologist known as the Fisherman of Halicarnassus. It was one of many examples of her family members rising to heights of infamy and heroism. Notably, her sister, Aliye, became an important female artist, as did her niece, Füreya Koral, a name synonymous with the birth of modern ceramics in Turkey. In painting, Fahrelnissa would transcend orientalist cliché to peerless renown throughout the world, as a woman, a Turk, a human being, an artist.
A passionate biographer
Dr. Adila Laidi-Hanieh, general director at the Palestinian Museum, is the perfect biographer to have written, "Painter of Inner Worlds," the utterly comprehensive book on the life and art of Fahrelnissa Zeid, a woman who lived up to her name, which from the Arabic means, "the glory of women." Not only are her passages on Zeid's late life firsthand, but also her access to family documents and private collections makes for a depth of art historical analysis that is unsurpassed, both for scholarship on Zeid and on the wider subject of modernism in Turkish art. Her writing sensitively and respectfully observes how her stylistic developments and life changes commingled. She has an uncanny ear for the symbiotic relationships that Zeid sustained between her work and her many roles as a celebrated artist, an independent woman, a mother, wife and princess, to name only a few.
In many ways, Zeid was a woman and artist of the world. She planted roots in Paris, London, New York, Baghdad and Amman as sincerely as she would vitalize her professional and personal connections with Istanbul. It is no surprise that her biography appeared first in English, published last year by Art Books in London, where Fahrelnissa earned one of her highest distinctions as the first woman from anywhere to ever hold a solo exhibition at the cutting-edge Institute of Contemporary Art (ICA) in 1954. The ICA hosted living legends of the day and till now - such as Picasso, Max Ernst and Henri Cartier-Bresson - and the Institute would not give another woman the recognition that Zeid held for another 20 years.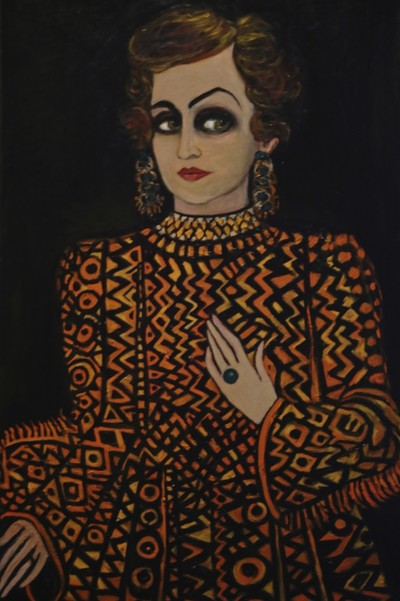 "Someone from the Past" (1980), a late self-portrait, oil on canvas, 210 x 116 cm, by Fahrelnissa Zeid.
For her current, posthumous retrospective, Dirimart collaborated with Tate Modern and Deutsche Bank KunstHalle to show her works ranging from early Fauvist, figurative painting inspired by French artists like the 19th century orientalist Jean-August-Dominique Ingres, to her mid-career Abstract Expressionism and the portraits she painted throughout her long and very social life. The gallery-led publishing outfit, RES, respected for its world-class art criticism periodical, released the inaugural Turkish translation by Esin Berktaş & Çiçek Öztek on the opening day of Ode to Passion.
The sophisticated Ottoman lady
With her father dead and her brother in jail for murdering him, Fahrelnissa and her sister Aliye walked to an expensive private school in patched, worn clothing. In turn, Fahrelnissa painted postcards and sold them to buy art supplies. She was a young teen with the voracious mind of a creative entrepreneur in love with learning, individuality and expression. Dr. Laidi-Hanieh references her voluminous diaries throughout the biography, as they are likely the richest primary source on her life. Zeid was a tireless diarist who journaled profusely, like a real lady of culture born in the wake of the turn-of-the-century and its waves of promise.
As the chapters of her life turn with effortless absorption, it is clear that Zeid had a gift for writing almost as monumental as her visual talents. Her prose is as ecstatic and refined as the masterpieces she saw and created. It was only natural, as she exposed herself to the works and personalities of the greatest souls of her generation, and simply read everything from Jung to Spinoza, Kierkegaard, and especially Rimbaud, whose verse provoked her to write poetry that her concert pianist friend Koharik Gazarossian set to music, all while she started two novels.
Outside of painting, her love for literature was only comparable to her avid enjoyment of a good, long swim. She was practically a fish on land at times, as she often stopped at nothing to submerge herself in the cooling currents of aquamarine locales like Ischia in the Bay of Naples, seeking refuge and revitalization in the living landscape. Dr. Laidi-Hanieh offers a keen, critical touch that gently, and yet still powerfully conveys Zeid as a person whose towering spirituality and creative energy could only be encompassed by her whole, undivided world. She never fit into presupposed and stereotypical compartments, whether in the countless reviews that critiqued and adored her work, often in repetitive orientalist terms. Even then, she did not force others to see her work as she did, even when her sources and muses might have been as different from outsiders and critics as Byzantine mosaics are to aerial landscapes.
In fact, her famous approach to semi-representational, large-scale abstraction arguably crystallized when she first looked out of the window of an airplane during her maiden venture to New York in 1950, and not, as was generally assumed, by the entangling intrigues of her eastern background. Yet, she does also mention a trip to Baghdad in 1938, during which time she painted a group of traditionally dressed Bedouin women. The waving forms of her thickly colored palettes are reminiscent of Gauguin, Matisse, a characteristic blurring of the lens that incited increasingly contemporary artists to pursue pure subjectivity, to prioritize the art over the thing towards an art without things. In the years of 1944-45, her oils, "Bedouins Selling Yoghurt" and "Bedouin Women (Towards Abstract)" mark the watershed of her most substantial transformation, in aesthetics and technique.
An ode to the artist
Zeid was woman of her own making, who emerged from the Ottoman society to follow her bliss beyond the possessive traditions of her home and nation, to live a life at work on the labors of love that she gave to the world, and that will be praised for as long as the art of painting is seen and felt. It all began with the addition of a women's division to one of Turkey's first art schools in Istanbul founded in 1882 by the initial movement of Turkish painters influenced by European techniques, among them Osman Hamdi Bey. It was four years after offering enrollment to young, upper-class women when the rebellious 17-year-old Fahrelnissa ferried her way every morning from Büyükada to learn such skills as linear perspective.
As a young Turkish lady, she wore the customary "chador" wraparound garment over her shoulders, though, as a secular woman, not the veil. She was vibrant, and radiated charm. Soon, she was a mother of two children with a prominent man of letters for a husband only five years after entering art school. Then tragedy struck. It came with the scarlet fever that killed her firstborn Faruk, and sent her into a whirlwind of depression that she would suffer in various forms and concatenations until her final day. She could do nothing except paint to ease her pain. And paint she did.