In its 13th year, Contemporary Istanbul opened its doors with 84 contemporary art galleries from 21 countries and the newest works of 650 artists. The exhibition will be held until Sunday at Istanbul Congress Center, Lütfi Kirdar International Convention and Exhibition Center. As it has been for the last 12 years, the international art fair is full of surprises. Besides international artists from all over the world, talented young Turkish artist are the focus of attention at this year's art fair as well.
One of these extraordinary artists is Emre Yusufi, or as his fans call him "Hercules." He completed his education - certifications, bachelor and master's degrees in art in Italy and Turkey. In the first years of his career, he started to become known in Italy where he participated in various fairs and exhibitions. After exhibiting his art abroad for many years, Yusufi made a big impact with his Hercules series at Contemporary Istanbul in 2016.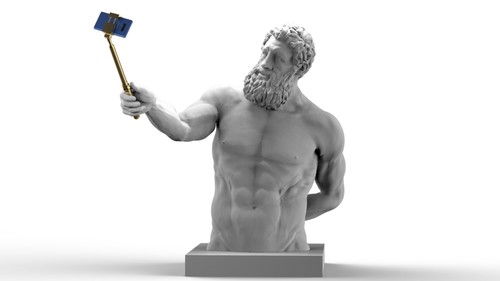 Emre Yusufi's work "Divine Selfie."
Another version of the 2016 Hercules series will be at Contemporary Istanbul this year.
Yusufi told me about his idea 10 months ago. It's nice to see his dream come true today. The statue of Hercules tells the story of the famous character, who enjoys being semi-human by experiencing worldly pleasures.
This year visitors are able to place their own mobile phone in the hands of Hercules and take a photo of themselves. Artist Emre Yusufi describes this project as follows: "The most shared photo art work of last year was Hercules with a gold glove. People were competing with each other to take photos with him. Either they put their head in front of Hercules' fist, who is dressed as a boxer or just like Hercules, they hold their fists tight like a boxer. However, the important thing is that whatever you do in today's world, whatever you experience, you do so while sharing it on your social media accounts. Starting with this idea, which is that today it is so important for people to take a photo with artwork, I said to myself, the best angle of the photograph should be in the statue itself. If you're going to get a photo with him, you take the photo with his camera. If you want to share that photo on social media, repost it from the social media account of the art work."
Very creative and digitally integrated! I strongly suggest you visit Emre Yusufi's gallery during the fair and get your picture with the immortal Hercules!
Another artist who demonstrates extraordinary ability is Çağatay Odabaş. His unique "pointist" technique reflects famous movie artists with thousands of points in a very unusual way. Odabaş describes his technique as "lego work" and says "pointist technique is very similar to lego. In the beginning you dream and design something in your head then every other step leads you to the final work. In the start it looks meaningless and silly but when you move forward you realize that every point is part of the big picture. Otherwise my little points really look odd to many people. When you get closer to my paintings you can see how much work and passion it takes to make every single point to finish the final art."
Most of Odabaş's paintings have scenes of unforgettable Hollywood movies such as Superman, Batman and many others. The work "Gentlemen Hunter" with
the image of legendary artist Marilyn Monroe is getting quite a bit of attention by visitors. The last artist who really got my attention duringthe fair is Serdar Akkılıç. He graduated from Oslo National Academy of the Arts and describes himself as autodidact artist. He says he is mostly inspired by the art of northern cultures and their ethic codes. At Contemporary Istanbul 2018, the artist shows three different paintings combining futuristic art with classical objects. Each painting of his reflects the harmony of historical landmarks of Istanbul such as Galata Tower, Dolmabahçe Palace and Maiden Tower with Star Wars spaceships. Very creative and artistic. I congratulate Akkılıç for his extraordinary approach and great art work.