Istanbul Modern has prepared a new workshop program that will bring children and their families together with artists. The program will bring together artists producing in various contexts from painting to sculpture, serigraphy and design, together with art projects that they have prepared specifically for children and their families.
The workshop program will be attended by parents who would like to spend different and quality time with their children on the weekends. It will start with the tour of the exhibition "In the Pursuit of the Present," accompanied by an expert. The families will also get a chance to meet with the artists of the collection.
While children develop their creativity at the workshops, parents can experience how artistic development can be supported. The workshops will take place with the participation of Ardan Özmenoğlu, Nermin Er, Seçkin Pirim and İsmet Değirmenci but be quick to sign up because it will be limited to 10 families.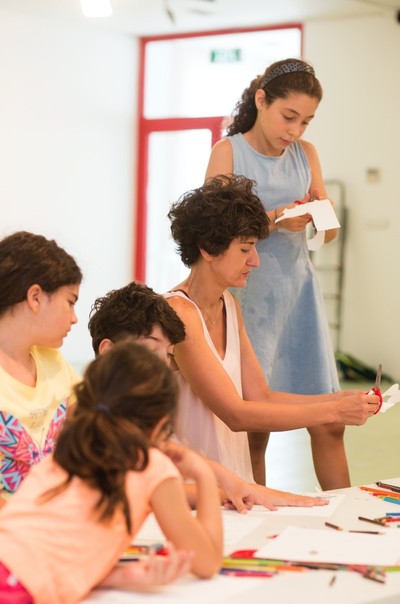 The participation fee is TL 250 ($40) for a child and an adult, TL 50 for the second adult and the second child each. A 10 percent discount will be applied to Individual, Family, Silver, and Golden members and young Istanbul Modern members.
Serigraph Workshop with Ardan Özmenoğlu
This workshop program focuses on the serigraph technique, which is widely used in a number of areas, in particular in the textile industry, graphic arts and lithography. The families, together with the artist, will carry out serigraph works by transferring pre-made designs to fine silk. The event will take place on Sept. 23, Oct. 21 and Nov. 18. Participants will first visit the silk printing exhibition at the workshop and then conduct serigraph works themselves.
Painting Workshop with İsmet Değirmenci
İsmet Değirmenci is inviting children and their families to reflect on some landscape paintings that represent different periods in art history. The families will start working themselves after discussing composition values and are introduced to painting techniques.
The families will be producing landscape paintings using various paints including watercolor and acrylic. The event will take place on Oct. 14, Nov. 11 and Dec. 9. The participants will get a chance to first participate in the exhibition tour with an expert and then produce their own works.
Imaginary Universe and Imaginary Universe Creatures
This unique workshop invites people to rediscover the materials often encountered in daily life such as paper, buttons and much more. Participants will bring together everyday objects by cutting them and piecing them back together. Kids, and adults alike, will get a chance to use their imaginations to make arrangements and add meaning to objects that they will transform into anything they want. The event will take place on Sept. 30, Dec. 2 and Dec. 16.
Sculpture Workshop with Şeçkin Pirim
At this workshop, children, together with their families, will set out from "Twenty Thousand Leagues Under the Seas," a science fiction novel by Jules Verne, which was published in 1870. Together they will read and interpret certain parts of this masterpiece written in a period when there were no modern submarines and the underwater world had a lot more secrets than it does today.
They will bring the underwater world's mysteries to the surface with the imaginary fish sculptures they will create with cardboard. The event will take place on Oct. 7, Nov. 4 and Nov. 25.