Described as an exhibition lounge, creative atelier, academic platform, music lounge, an integrated domain combining life and business practices in addition to being as a joint work and cooperation platform with a focus on architecture, design and arts, The Circle will host "Watershed" after recently hosting the exhibition "How it is to be a heart?" exhibition by Slovenian artist Joni Zakonjsek in September.
Founded through the leadership of Avcı Architects and its collaborators as a platform focusing on architecture, design and arts, The Circle will host the opening of "Watershed" on Thursday, Nov. 1 at 7:30 p.m. Consisting of works conducted under the context of the PITCHAfrica project, which was founded by professor David Turnbull and has constructed sustainable drainage basin systems in Eastern and Western Africa over the last 10 years, the exhibition will be on display until Dec. 2, 2018 at The Circle. The exhibition will also be supported by a symposium, which will be held at Istanbul Technical University's (İTÜ) Taşkışla Campus on Nov. 2 at 4:30 p.m. to offer solutions to ecological problems and to raise awareness about water conservation. The "Watershed" exhibition is also one of the parallel events being offered in the context of the Istanbul Design Biennial.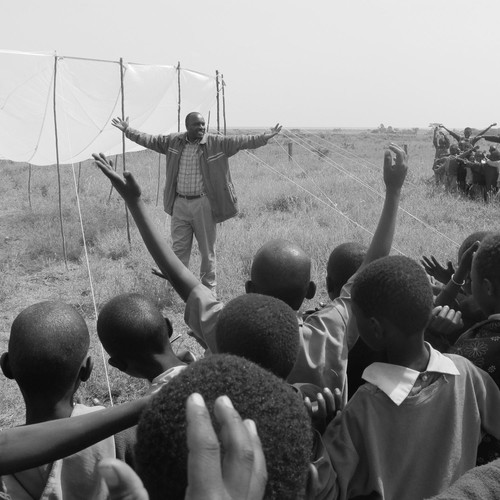 The symposium will start with an opening speech by David Turnbull at 4:30 p.m. The event will close with a panel under the tutelage of Selçuk Avcı and Yüksel Demir, featuring contributions by Aslıhan Demirtaş from Kadir Has University, Akgün İlhan from Boğaziçi University, Pınar Mengüç from Özyeğin University, Nevzat Sayın and Zuhal Ulusoy from Bilgi University.
PITCHAfrica: Sustainable water systems
Despite the fact that Africa receives 13 times the rain the whole continent needs, nearly 400 million Africans have only limited access to safe drinking water. The PITCHAfrica project aims to found water systems by creating awareness about and effective use of water resources on the continent.
Constructing water storage in the areas facing water crises thanks to a system called "water banks," PITCHAfrica believes that architectural structures such as schools and stadiums can be transformed into water banks, not only in Africa, but everywhere facing water shortages. What they offer is reformative design and construction regardless of geography.
So far, numerous innovative projects have been launched and various large-scale architectural solutions have been established thanks to the nonprofit organization PITCHAfrica. Founded with the cooperation of the Zeits Foundation in Kenya in 2012, PITCHAfrica's first water bank school has been described as "the greenest school on Earth" and listed as one of the top 100 sustainable projects in the world by Sustania, a Denmark-based sustainability advisory group. It was also awarded the INTERFACE support prize in the 2013 Buckminster Fuller Challenge. The first Waterbank campus of the project was chosen as one of the "Best Designs of 2015" by London Design Museum. In the context of the campus project, a football stadium and a school were transformed into water drainage centers and an "Ecological Environment Center" was founded. The PITCHAfrica project also constructed small-scaled rainwater drainage centers at small locations. For example, "rain-chute" is one of them. Resembling a parachute, it is an easy-to-use rainwater drainage system. Under the context of the project, training on the importance of access to water resources were organized.
The exhibition "Watershed" will also present an installation by Sinem Dişli, who conducts work on water resources and the relationship between people and nature near the Euphrates and the general region. For the installation, Dişli features the issue of water resources in Turkey's Urfa province by using recycled objects and flashy-blues to represent the atmosphere. The work reflects the issues on water control systems by exploring the life cycle and the transformation of Earth through human intervention.
Demonstrating that any structure can be transformed into a watershed through sustainable solutions, the exhibition aims to bring architects, designers and academics working on the issue together to find solutions for similar problems in Turkey. The exhibition will be open at The Circle, which was founded in the leadership of Avcı Architects by Selçuk Avcı, Sanja Jurca Avcı, Markus Lehto, Eda Çarmıklı, Yüksel Demir, Kemal Seyhan, Nurgül Türker, Dilara Tekin Gezginti and Yunus Tonkuş.
About David Turnbull
Professor David Turnbull is the director of ATOPIA Research/PITCHAfrica, which is based in New Jersey, and works to find solutions for ecological and social problems.
Also working as a professor at many distinguished architectural faculties for nearly 30 years, Turnbull focuses on design problems in general. Starting his academic career at The Architectural Association in London in 1989, Turnbull has held positions at world-renowned universities including Yale, Toronto, Columbia and Bath. Currently at Cooper Union in New York, Turnbull continues to conduct projects and events focusing on sustainable architecture and innovative design at various corporations and institutions.