Engin Altan Düzyatan started appearing as the historical character Ertuğrul, the father of the founder of the Ottoman Empire, in December 2014. The rest, as they say, is history. Originally planned as a three season series, it is now going strong in its fifth, and is being broadcast in more than 15 countries. And that's not taking the internet into account. In Turkey, the series has been entering millions of households every Wednesday night with particularly a younger audience sitting in front of their screens into the small hours.
It seems pretty appropriate, then, that Düzyatan was invited to the Sixth Edition of Ajyal Film Festival in Doha, designed to encourage young people's participation in the world of cinema, both as critics and filmmakers. I managed to catch up with himat the festival press office after his hero's welcome on the red carpet on the opening night. Yes, one can say he is particularly popular in the Arab world. Seeing fans that seem to come out of the woodwork to take selfies with him, I decided to scrap the question "Can you tell me a little bit how you are received in international festivals?" and to go straight to the question of what he makes of the Ajyal Film Festival as someone whose face has become a symbol of heroism for a younger generation.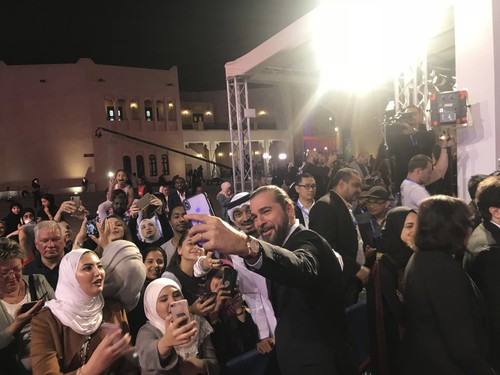 Engin Altan Düzyatan taking a selfie with fans in Doha.

"I think such initiatives that encourage young people to engage with cinema are very valuable. There are jury members here from eight to 21 years of age, they are teaching them how to watch films from different parts of the world." I suggest that it would be great to have such a festival in Turkey to which he agrees emphatically. "We should have a similar festival that focuses on investing in the young generation. This could provide an example. Cinema is a power that can influence societies, and a great opportunity for younger people to prove themselves as individuals, to develop their creativity, and their world view."
I remind him that he is a great influence on the young generation in Turkey, including my nephews and nieces, and that there will now be a generation of people who have grown up associating his face with Ertuğrul, the historical role model for our times. I ask him who his on screen heroes were when he was growing up. "To this day I haven't been a great series watcher," he laughs. "I have always been more interested in cinema and theater. I like things that start and then finish." As someone more or less his age group I ask him if he's watched the 80's series "Kuruluş," about the beginnings of the Ottoman Empire, with Cihan Ünal as Fatih Sultan Mehmet. His answer is a surprising "No," but he is quick to add that he is a Yeşilçam kid, that he has grown up on Malkoçoğlu and Cüneyt Arkın: "I find it hard to commit myself to a particular time on a given day of the week, I am too free-spirited for that. I guess with internet it's easier now to watch series, but we didn't have such things when we were children."
Düzyatan then talks about the difference between feature films and series, and the amount of work that goes into the making of "Diriliş": "We work incredibly long hours, six days a week, 140 minutes of film, two teams, five to six cameras, 300 to 500 strong crew, organizing all that... I mean sometimes our audience gets angry with us for starting the season late," at which point I suggest shorter episodes might be better for everyone, thinking of my younger nephew struggling to stay awake so he can watch Ertuğrul laying down the law against the baddies on Wednesday nights. "Yes, I hear what you are saying but you know there are other concerns; in order to meet production costs you need to have advertisements, it's a vicious circle that's hard to get out of. We could produce even better quality things if we didn't have to race with time." I say he might then even have time for a private life. He laughs: "Only the one valuable hour I have with my wife and children when I get back from work. Hanging out with my friends is something that has totally been eliminated from my life."
Having had such success with Ertuğrul and defining a historical era in the viewers' minds, I ask him if he would like to act in historical drama again: "I take great pleasure in it. It is not like preparing for a contemporary character. You have to do research and learn a lot. That is why it is much more exciting." When I insist that he name a particular period he mentions possibly earlier nomadic periods and more recent history: "As long as the research is done properly and enough time is taken for preparations. I do not like being part of projects that are bound to fail. It's a tough job." I say that it seems like that once that research is done and the world of the series is created, it is difficult to let go, season follows after season... "Yes, even if you want to stop, it doesn't leave you. We had started off planning three seasons, but because of the immense following we had to reconsider and decided, as the whole team, that we had to continue."
I come back to the question of whether there's a particular role he would like to play: "Yes, it's the classical question, and I have actually thought about it in order to have an answer, but I can never find an easy answer for it. I have a team, I am now in the production business myself. We are discussing which project would be best for us, which project would be a worthwhile challenge. There are of course offers from the outside that we are considering. Still difficult to say..." he pauses, "I would like to play Atatürk," which I find exciting, and we try to remember the last actor to have portrayed him. There doesn't seem to have been a definitive portrayal of the country's founder as yet. "In any case, I am looking for a role that will challenge me, a role that I will contribute something to with my own acting abilities, a role that will help me learn more, a role that will stay in in people's minds."