KUALA LUMPUR
— U.S. President Barack Obama said on Sunday that the United States was fully committed to providing more assets to assist in the search for missing Malaysia Airlines Flight MH370 in the southern Indian Ocean.
U.S. Navy submersible drone scanned a remote patch of the Indian Ocean seabed on Sunday in its so far fruitless efforts to find signs of the missing plane, but bad weather prevented an air and sea surface search.
More than eight weeks after the jet carrying 239 people disappeared enroute from Kuala Lumpur to Beijing, and six weeks since the search moved from Asia to the Indian Ocean, authorities are now regrouping to decide how to proceed.
Malaysia, China, Japan, New Zealand, South Korea, Britain and the United States are assisting Australia in trying to solve the most expensive search in aviation history.
The undersea search is set to be extended beyond this small area if the U.S. Bluefin-21 drone fails to find anything, the search authority said on Saturday.
'Malaysia's diversity can brighten its future
'
U.S. President Barack Obama expressed Saturday his belief that both the U.S. and Malaysia could provide the next generation with a better future by benefiting from their ethnic and religious diversity.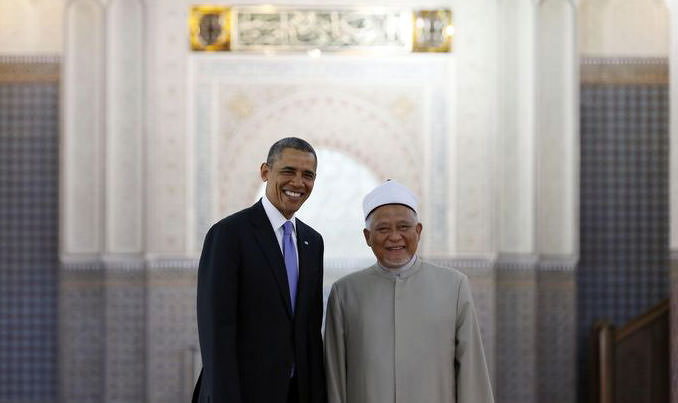 "I believe that whether we come from a remote village or a big city, whether we live in the United States or in Malaysia, we all share basic human aspirations -- to live in dignity and peace," he said at a state banquet hosted by Malaysia's King Tuanku Abdul Halim Mu'adzam Shah at the Royal Palace, according to Malaysian media.
Obama's trip to the Southeast Asian nation of 30 million people had to be postponed last October due to a budget standoff that led to a partial U.S. government shutdown.
Prior to his arrival in Malaysia, Obama had visited Japan and South Korea, where he paid his condolences to the victims of the April 16 ferry disaster that has left over 300 passengers dead or missing.
Obama will leave for the Philippines -- the final leg of his Asia tour -- later on Monday.