Indian Prime Minister Narendra Modi has joined around 37,000 people performing yoga postures and meditation in a massive yoga event in the Indian capital on Sunday to celebrate the world's first International Day of Yoga.
Modi spread his mat among rows of people, including his Cabinet members and foreign diplomats, at New Delhi's main thoroughfare, which was transformed into a sprawling exercise ground.
"Today is not just the first-ever International Yoga Day, but the beginning of a new era that would inspire humanity in its quest for peace and harmony," 64-year-old Modi, a yoga practitioner, told a gathering of approximately 37,000 people.
The street was closed to traffic and covered with green carpets and colourful yoga mats, upon which schoolchildren, bureaucrats, students of yoga schools and paramilitary troopers practised asanas; postures like the tadasana, or mountain pose; and the makarasana, or fish pose.
Thousands of people dressed in white sat on yellow mats under the Eiffel Tower, and similar events were held in Bangkok, Kuala Lumpur, Seoul, Beijing, Manila and other places, as well.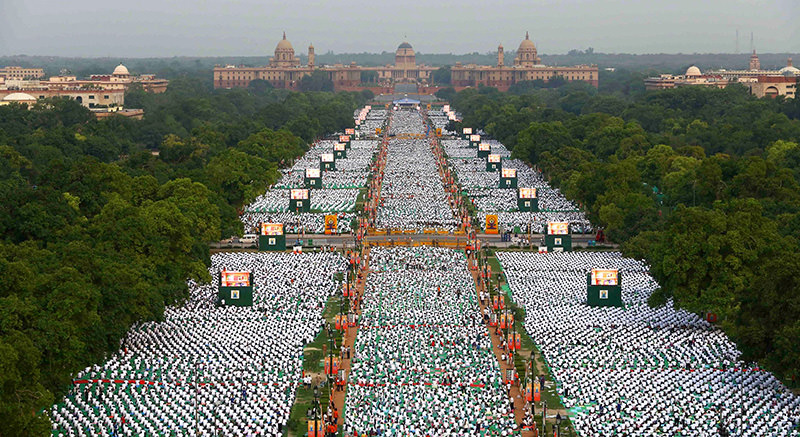 Many believe that yoga, the ancient form of exercise, is the best way to calm the mind and the best form of exercise for the body.
Indian officials said more than 35,000 people participated in the New Delhi event that was also an attempt to set a Guinness World Record for the largest single yoga class at a single venue. Guinness representatives said they hired more than 1,500 members of a global accounting firm to count participants.
The UN declared June 21 as international yoga day after PM Modi appealed to the international body last year.
Of 193 UN member countries, 192 were scheduled to host yoga events, with the exception being Yemen, which is in the midst of a conflict. Many of these events are being sponsored by Indian missions in their countries and by yoga schools.
Indian Foreign Minister Sushma Swaraj was scheduled to attend yoga day celebrations at the UN headquarters in New York with UN Secretary General Ban Ki-Moon.