At least six people were killed and 48 were injured after a magnitude-6.5 earthquake shook north-west China's East Turkistan (Xinjiang) region Friday morning, the official Xinhua news agency reported.
The epicentre was 164 kilometres (102 miles) northwest of the city of Hotan and 131 kilometres southeast of Shache, known as Yarkand in Uighur, the language of the local mainly Muslim minority.
The quake hit Pishan County in Hotan Prefecture at 9:07 am (0107 GMT), the official Xinhua news agency said, citing the China Earthquake Networks Center.
Li Hua, a worker at a state-owned farm in Pishan, which has a population of 258,000, mainly Uighurs, told Xinhua that he felt the quake strongly, with his fourth-floor apartment shaking for about a minute.
"I'm feeling dizzy," it quoted Li as saying.
State broadcaster China Central Television showed footage of items falling off shelves in a local supermarket when the quake struck, and cracked walls at a fire station.
Three thousand houses were destroyed or seriously damaged, Chinanews.com reported.
Shortly after the quake the area was hit by smaller tremors measuring between 3.0 and 4.6 magnitude, Xinhua reported.
An airport in Hotan has been closed and communications networks have been disrupted, reports said.
The closest city to the epicenter is 95 kilometers away, according to the local sources.
The location given by USGS put it on the edge of the Taklamakan desert, a vast and uninhabited region.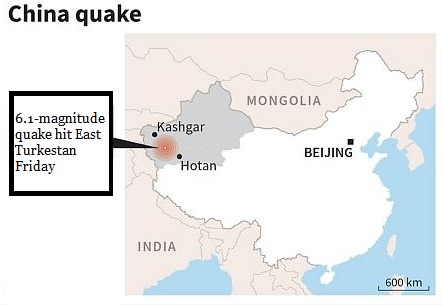 USGS gave the estimated depth at 10 kilometres, a default setting for mid-continental tremors when data is limited.
China is regularly hit by earthquakes, particularly in its southwestern provinces of Sichuan and Yunnan.
Neighbouring Nepal, on the other side of the Himalayas, was hit by a devastating tremor in April which killed more than 8,800 people.
In May 2008, a 7.9 magnitude quake rocked Sichuan, killing more than 80,000 people and flattening swathes of the province in China's worst earthquake for more than three decades.
Last October, hundreds of people were injured and more than 100,000 displaced after a shallow 6.0 magnitude tremor hit Yunnan province, close to China's borders with Myanmar and Laos.
And last August, a 6.1-magnitude quake struck Yunnan, killing more than 600 people.