Thousands of people protested the violence against Rohingya Muslims in Asian capitals of Bangkok, Dhaka, Kuala Lumpur and Jakarta on Friday.
Around 200 people gathered in front of Myanmar's embassy in downtown Bangkok. Some shouted their support for Rohingya, while others wore shirts emblazoned with slogans calling for action in Myanmar's troubled Rakhine State, where dozens of people have died amid military operations launched after fatal attacks on police stations last month.
In the capital Dhaka, around 5,000 Bangladeshi Muslims demonstrated after Friday prayers to accuse Myanmar of ethnic cleansing and genocide in its northern Rakhine state. The Dhaka protesters gathered outside the Baitul Mokarram mosque, the country's largest, to demand an end to the violence, denounce Suu Kyi, and to call for Bangladesh to accept fleeing Rohingya.
Around 500 Malaysians and Rohingya marched through a heavy tropical downpour from a Kuala Lumpur mosque to Myanmar's embassy carrying banners denouncing the Rakhine "genocide."
Abu Tahir, a 60-year-old Rohingya man who demonstrated with a chain coiled around his body, said he had been cut off from his family in Rakhine since he fled two years ago. "The Rohingya are being treated like dogs, and are being killed," he said, tears rolling down his face.
In Jakarta, around 200 demonstrators from Indonesian Islamic organizations protested outside Myanmar's embassy. They called for the government of Indonesia -- the world's most populous Muslim nation -- to break off diplomatic ties with Myanmar and for Suu Kyi's 1991 Nobel Peace Prize to be revoked.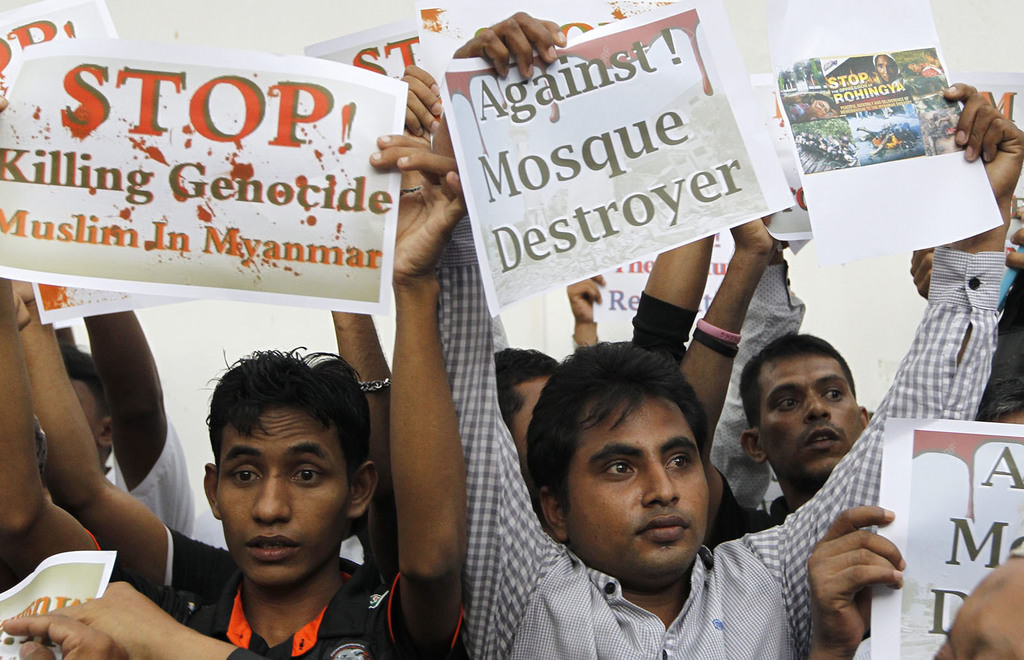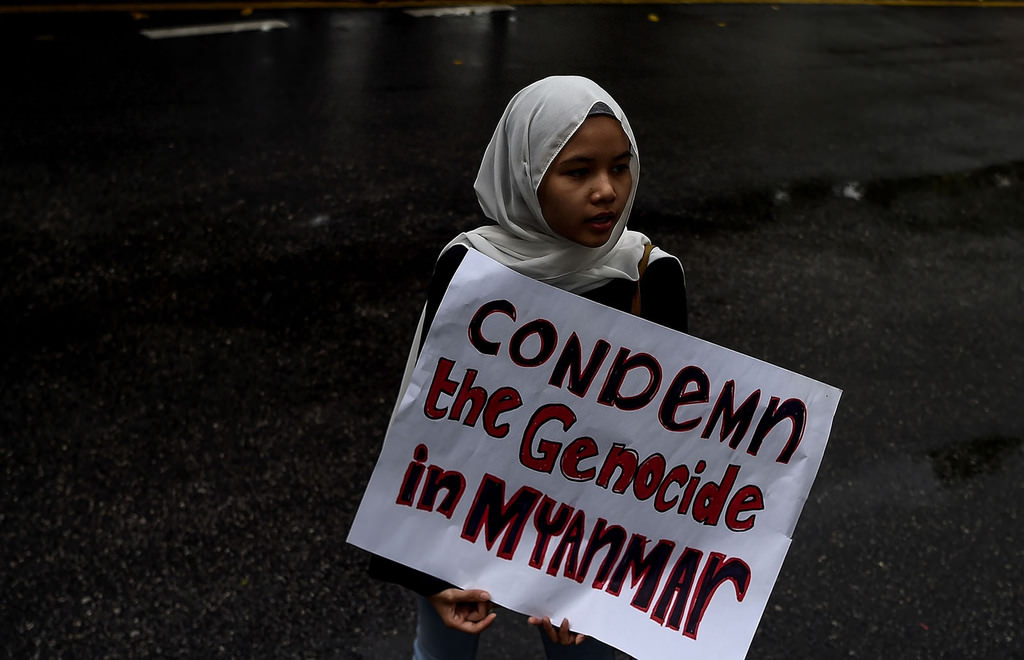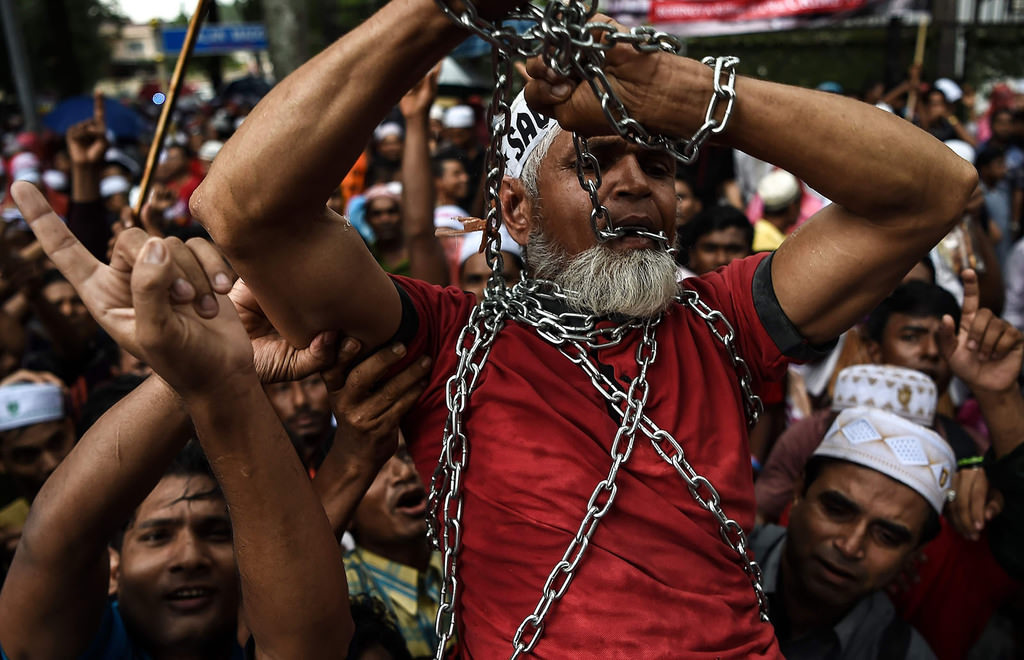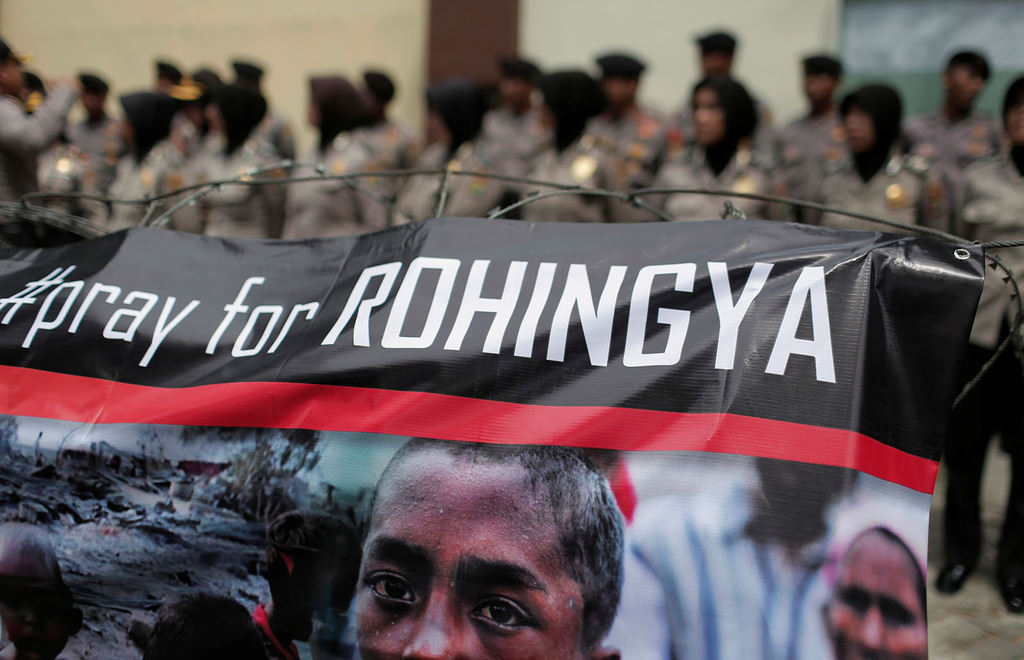 Over the past six weeks, rights groups have expressed concern over reports of killings, rapes, arbitrary arrests and other violations in villages predominantly occupied by Rohingya in troubled Rakhine amid military operations that followed the Oct. 9 attacks.
They have called for independent investigations into the initial attacks, the ongoing operations and reported rights abuses in the area.
The area has been placed under military lockdown, leaving rights groups and international reporters unable to enter.
A UN official has said that Myanmar is engaged in "ethnic cleansing" of Rohingya Muslims, as reports emerged Friday of troops shooting at villagers as they tried to flee.
John McKissick, head of the United Nations refugee agency in the Bangladeshi border town of Cox's Bazar, said troops in Myanmar were "killing men, shooting them, slaughtering children, raping women, burning and looting houses, forcing these people to cross the river" into Bangladesh.
According to the UN up to 30,000 Rohingya, have abandoned their homes in Myanmar, desperate to escape the soldiers that have poured into the strip of land where they live near the Bangladesh border.
The UN has also stated that around 150,000 vulnerable people have been without aid for more than a month, including around 3,000 children with severe malnutrition who are at risk of dying.