Two police officers who claimed they were the first Indian couple to conquer Mount Everest have been sacked after an investigation confirmed they had faked the ascent.
Dinesh and Tarakeshwari Rathod had claimed they had successfully reached the 8,848-meter summit in May last year. Their claim came under suspicion after fellow mountaineers pointed out inconsistencies in photos posted online.
Police in Maharashtra state's Pune city on Tuesday said that a departmental inquiry confirmed the couple had "morphed photographs" to show they successfully summitted the peak.
"Both of them were dismissed from police service this weekend as they supplied false information on reaching the top of Everest to us as well as the Nepalese government," senior city police officer Sahebrao Patil said over phone.
"We are not pressing any charges against them since we have already given very serious punishment in the matter," he added.
Soon after the climb, commentators had pointed out that the duo were wearing different boots in the alleged summit pictures than at other points in the ascent, where changing footwear is practically impossible.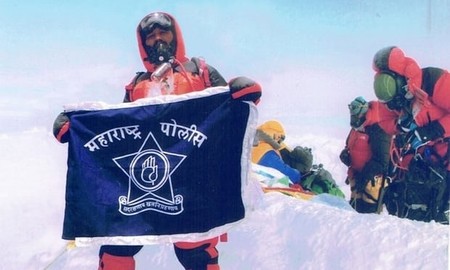 They also said that the date was too late in the season to complete the climb.
Nepalese authorities have banned the couple from mountaineering in the country for 10 years after concluding that they had doctored the images, and their summit certificates would be revoked.
The organizer of the so-called expedition, Makalu Adventure Travel, was exempt from punishment for cooperating in the investigation. Two Sherpas who supported the false claims failed to show up for questioning.
Nepal's tourism department initially awarded the Rathods a certificate after they said they had reached the top of the world's highest mountain on May 23, 2016.

The incident prompted a review of the procedure for certifying ascents, which currently demands photos and reports from team leaders and government liaison officers stationed at the base camp.
There has been a steady rise in the number of climbers attempting to scale Everest in the last decade as the cost has fallen.
Nearly 450 mountaineers reached the summit of the 8,848-metre (29,029-foot) peak from the Nepal side during the brief spring climbing season this year, according to official figures.