Satellite images showed that 700 buildings were burned in a single Rohingya Muslim village in Myanmar, Human Rights Watch said in a report.
"This new satellite imagery shows the total destruction of a Muslim village, and prompts serious concerns that the level of devastation in the northern Rakhine State may be far worse than originally thought," HRW Asia director Phil Robertson said, adding that this was only one of 17 such cases discovered by the rights group.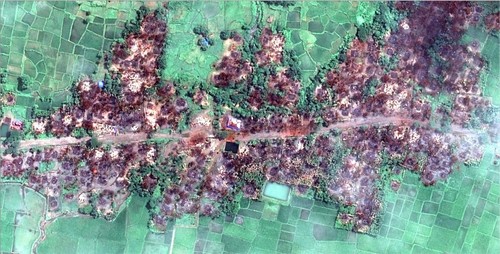 The imagery of nearly complete destruction of Chein Khar Li village was recorded Aug. 31. The data, collected by the HRW, indicated 17 separate arsons across northern Myanmar's Rakhine state between Aug. 25-30.
"Human Rights Watch analysis indicates that the large areas shown as burnt in the satellite imagery means it is very likely the burning was deliberate. Given the current monsoon weather conditions in the Rakhine State, it would have been very difficult to set fire to such a significant number of buildings," the report said.
The HRW added that such widespread degree of burnings required significant numbers of people and a significant period of time.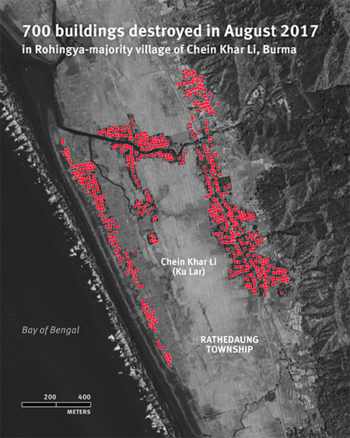 "These new satellite images show exactly why it is critical for international investigators to be allowed on the ground in the Rakhine State," Robertson said. "The U.N. Fact Finding Mission should get the full cooperation of the [Myanmar] government to fulfill their mandate to assess human rights abuses in Rakhine State and explore ways to end attacks and ensure accountability."
Meanwhile, 87,000 Rohingya refugees have arrived in Bangladesh since violence erupted in neighboring Myanmar on Aug. 25, the U.N. said Monday, amid growing international criticism of Aung San Suu Kyi.
Thousands of the stateless Muslim minority have fled the mainly Buddhist nation and poured over the border since the latest round of violence against them broke out, piling pressure on the already overcrowded camps in Bangladesh.
Around 20,000 more were massed on the border between Bangladesh and Myanmar's western state of Rakhine and waiting to enter, the U.N. said in a report.
Bangladesh was already home to an estimated 400,000 Rohingya before the latest influx and has made clear it does not want more coming in, while Turkey called on Bangladesh to open its doors to Rohingya people, promising to cover all of their expenses.