U.S. bombers flew off the coast of North Korea Saturday in a show of force designed to project American military power in the face of Pyongyang's weapons programs, the Pentagon said.
Defense Department spokesman Dana White says in a statement that the mission shows how seriously the U.S. takes what he calls North Korea's "reckless behavior."

"This is the farthest north of the Demilitarized Zone (DMZ) any U.S. fighter or bomber aircraft have flown off North Korea's coast in the 21st century, underscoring the seriousness with which we take the DPRK's reckless behavior," Pentagon spokesman Dana White said in a statement, using the acronym for North Korea.
White says "we are prepared to use the full range of military capabilities to defend the U.S. homeland and our allies."
Meanwhile, North Korean Foreign Minister assailed U.S. President Donald Trump at the opening of his address to the United Nations on Saturday, calling him a "mentally deranged person full of megalomania."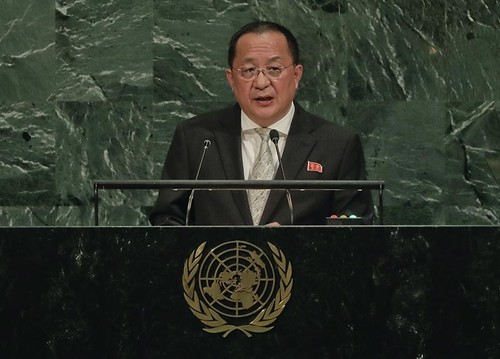 Ri Yong-ho told the National Assembly that Trump's threats to "totally destroy" his country had made "our rockets' visit to the entire U.S. mainland inevitable all the more."
He said that if innocent Americans are harmed by suicide attacks, "Trump will be held totally responsible."