Ivory worth 15 million baht ($469,800) smuggled from Nigeria has been seized in Thailand, customs officials said on Friday.
Three elephant tusks and 31 ivory pieces weighing a combined 148 kilograms were seized at Suvarnabhumi International Airport in Bangkok, Kulit Sombatsiri, director general of the customs department told a press conference.
The smuggled goods were shipped from the Nigeria's commercial centre of Lagos to Bangkok on an Ethiopian Airlines flight on December 20.
Two weeks later, as no one came to pick up the packages, airport officials opened them up to find the smuggled goods, Kulit said.
"The registered address in Thailand also doesn't exist," the director general said.
"The massive size of the tusks indicate that they did not belong to Thai elephants. We will need to conduct a DNA test to determine where they really come from," he added.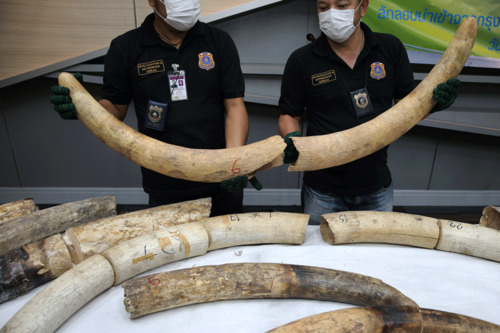 Ivory trade has been outlawed under the Convention on International Trade in Endangered Species (CITES), but smuggling from Africa into Asia persists.
Thai customs officials believe ivory smuggled through Thailand is intended for China, one of the world's biggest consumers of ivory products.
But as China's government-sanctioned ivory trade came to a close at the end of 2017, it remains unclear whether smuggling into China will drop.
Since October 2016, Thai customs agents have seized more than 1 billion dollars' worth of smuggled endangered species and their products in 52 separate cases.
Thailand serves as a popular transit for the smuggling of endangered species from Africa into other parts of Asia because many flights from the continent arrive in Bangkok.