The United Nations (UN) said Tuesday it was probing "disturbing reports of serious harm to civilians" in an Afghan airstrike on a religious school that Afghan security sources said killed dozens of children.
A village resident told German Press Agency (DPA) on Tuesday the number of civilian casualties has risen to more than 50 following the attack on an alleged Taliban gathering in northern Afghanistan's Kunduz province.
At least 65 others were also injured, Haji Mohammad Naim, a local tribal elder who witnessed the bombing in Dasht-e Archi district, told DPA.
Haji Naim said mostly civilians had gathered in the madrassa for a Koran recitation and memorization graduation ceremony that had attracted students and scholars from northern Samangan, Baghlan, Takhar and Kunduz provinces.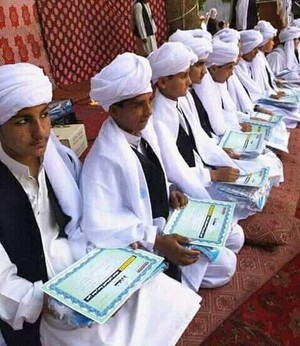 "Human Rights team on ground establishing facts. All parties reminded of obligations to protect civilians from impact of armed conflict," the United Nations Assistance Mission in Afghanistan said in a brief statement, as reported by Agence France-Press (AFP).
Afghan broadcaster Tolo TV, citing local sources, also reported that around 50 civilians had been killed.
The Afghan army, however, said no civilians were killed by the strikes and that the gathering was solely a Taliban meeting.
Ghulam Hazrat Karimi, a spokesman for the 20th Pamir Division operating in Kunduz, said more than 20 Taliban fighters were killed. They included Mullah Beryani, a high ranking commander from the Quetta Shura, and other key Taliban members.
Karimi said at least 30 Taliban members were injured.
Since Monday, Kunduz city hospitals have received at least 30 casualties, many of them children, said Abdul Matin Atifi, a medical doctor and head of the public health sector in Kunduz.
A police official in Kunduz who spoke on condition of anonymity said 84 Taliban militants were either killed or injured in the bombing, including high-ranking Taliban members from Samangan, Takhar, Baghlan and Badakhshan provinces had attended the meeting and were among the casualties.
The police official said a madrassa graduation ceremony had ended at 11 am (0630 GMT) at the site, after which there was a Taliban military meeting, which was bombed at 12:40 pm (0810 GMT).
"It was heartbreaking," Haji Naim, the witness of the incident, said. "People were screaming and running, bodies and injured scattered everywhere, smoke and dust covered the area."
The helicopters "fired eight rockets, the first two rockets hit the people sitting outside close to the mosque," Haji Naim said.
"Six others rockets hit the horrified and running-people who were seeking shelter in the area," Haji Naim said.
The event underlined the risks of greater use of air power under a new U.S. strategy announced last year to try to force the militant group to the negotiating table.
The number of civilian casualties from airstrikes by both forces has also increased, according to the annual civilian casualties report by the United Nations Assistance Mission in Afghanistan (UNAMA) in 2017.
The report said that at least 630 civilians were killed and injured in airstrikes conducted by U.S. and Afghan forces, accounting for 6 percent of all civilian casualties last year.
Kunduz city was seized briefly by the Taliban in 2015 and was overrun by the militants for a second time the following year but has since been considered relatively secure. However the Taliban controls much of the surrounding province, with government ground forces unable to reach many areas.