It has been eight months since the Rohingya minority of Myanmar had to flee their country and take refuge in Bangladesh due to a brutal military campaign against them. Although the crisis is still far away from ending with a solution that pleases all, Turkey is one of the countries that has dedicated itself to help both the Rohingya and Bangladeshi government in dealing with the crisis through several of its nongovernmental organizations.
The most recent and biggest project by a Turkish NGO that operates in Cox's Bazar, a southern city in Bangladesh that is home to refugees, is to build safer and more durable shelters for the Rohingya before monsoon season starts.
One of the biggest threats that the refugees in the camps might have to face in the near future is monsoon season bringing rain and floods. Shelters in the camps are quite vulnerable to such natural disasters, which could affect 400,000 refugees. This is why the Bangladeshi government asked Turkey to build stronger houses in a safer area in the camps. According to Ali Akgül, the head of the Turkish Red Crescent Delegation in Bangladesh, the reason behind this vulnerability of the shelters is that they are made out of bamboo.
"Since there is no clarity on whether these people are permanent, temporary or half-temporary, making a house for them is quite a challenge. If the government of Bangladesh builds very durable shelters, it might pave the way for these people to settle in Bangladesh permanently" Akgül said, citing that the government of Bangladesh has the expectation of repatriating the refugees.
However, despite Myanmar's claims of building two new camps in the country for the Rohingya to stay in when they return and the recent repatriation talks between the two states, since there is also strong evidence that Rohingya villages in Myanmar have been destroyed and burned by the country's military. In any case, repatriation does not seem likely to take place any time soon, according to Turkish humanitarian aid officials.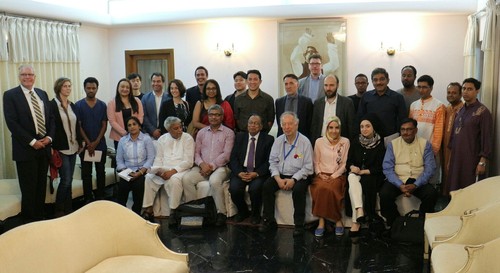 Bangladeshi Foreign Minister Hasan Mahmoud Ali met 25 journalists and academicians as part of the Visit Bangladesh 2018 program, April 18.
"The process is expected to start soon with 1,500 refugees going back each week initially. Momentum is expected to escalate with time, completing the return of about 800,000 people in two years," said Bangladesh's ambassador to Ankara M. Allama Siddiki in February, regarding the repatriation talks with Myanmar. However, he also reminded that since 1978, when the crisis first originated, Bangladesh has been accepting Rohingya, which is not an easy burden to bear for a country like Bangladesh due to economic and social reasons.
"Within these newly built areas, there'll be places like cultural centers, schools and laundries," said Ahmet Erbil, the operation manager of the Turkish Red Crescent. He added that the new shelters will include houses as well as a complex with many places to meet the diverse needs of the refugees.
Today, there are 30 refugee camps in Cox's Bazar. There are 300,000 people living in the camps that are located in the more southern areas of the city, which were the first camps to be built during the previous crisis. Another 300,000 refugees live outside the camps alongside locals. During the crisis that emerged last year, however, another 700,000 refugees came to the city, bringing the number of refugees in Bangladesh to 1.3 million.
Fifty-one percent of these people are women and 150,000 of these women are single mothers, who are the priority for Turkish NGO's while providing aid. There are also approximately 600,000 refugee Rohingya children.
The Turkish Red Crescent mostly distributes food and health products to approximately 4,000 families a week. So far, 100,000 food boxes have been distributed to almost 600,000 people. One box includes a variety of food that lasts a family for a month. Its cost is TL 56 ($14). "All of this aid and boxes are funded through donations from people in Turkey," Erbil said. He added that the total cost of the Turkish Red Crescent's activities so far is TL 8 million.
The Turkish Red Crescent has been active in Bangladesh since 2012, and has offices in both the capital city of Dhaka and Cox's Bazar.
"Our main aim is to prevent the Rohingya community from starving," Oğuzhan Atsız, the deputy expert of foreign humanitarian aid department of the Turkish Diyanet Foundation (TDV), said, adding that even reaching the basic living standards is a luxury for camp residents. "One of the main necessities of these camps is clean water. That is why we have projects to build wells here," he added.
According to Atsız, another big problem is that there is no continuing education programs in the camps. "We are building workshops in the Turkish area," Oğuzhan said, referring to the embroidery, sewing and soap wo
rkshops that are being built to the area named Turkish Hill, which is dominantly used by Turkish NGOs. Alongside the workshops, the TDV is also building a new area for refugees on Turkish Hill that includes schools, masjids and washrooms, with everything in one spot.
The aid group, connected to Turkey's Presidency of Religious Affairs (DİB), also sacrifices five animals on average per day, which are served as a food to 15,000 people and are distributed from the kitchen of another Turkish NGO, the Turkish Cooperation and Coordination Agency (TİKA). Another future project of the foundation is to distribute Qurans in Bengali to Rohingya, who are predominantly Muslim.
Following a military crackdown in Myanmar's Rakhine state on Aug. 25, an exodus of refugees sought shelter in Bangladesh. The number of refugees has reached 800,000 on the Bangladeshi border, and the government has been struggling to meet the basic needs of the refugees. During the ongoing crisis, more than 100,000 houses have been burned, and nearly 3,000 people have been killed. Rohingya, described by the U.N. as the world's most persecuted people, have faced heightened fears of attack since dozens were killed in communal violence in 2012. The U.N. has documented mass gang rapes, killings, including of infants and children, brutal beatings and disappearances committed by security personnel.