Malaysia's former prime minister, Najib Razak, will be charged in court on Wednesday under the anti-money laundering act, the anti-graft agency said in a statement.
The Malaysian Anti-Corruption Commission (MACC) said it had summoned Najib on Tuesday in connection with its investigation into SRC International, a former unit of state fund 1Malaysia Development Berhad (1MDB).
Meanwhile, $250 million superyacht, impounded as part of a hunt for assets linked to the multi-billion dollar investigation into 1MDB, arrived at a port in Malaysia on Tuesday about six months after it was seized.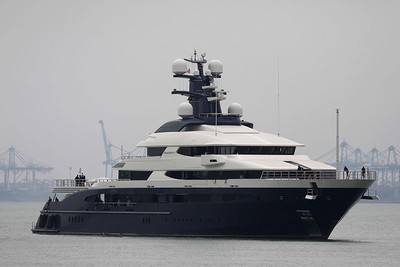 The Cayman Islands-flagged Equanimity was first seized in the Indonesian holiday venue of Bali in February at the request of U.S. authorities investigating 1MDB.
The Malaysian state fund is at the center of money-laundering probes in at least six countries, including the United States, Switzerland and Singapore. A total of $4.5 billion was misappropriated from 1MDB by high-level officials of the fund and their associates, according to the U.S. Department of Justice (DOJ).
The yacht is among assets that included real estate, jewellery and a Picasso painting that the DOJ says were bought with funds stolen from 1MDB.
The yacht cruised into Port Klang, near Kuala Lumpur, amid tight security, flanked by marine police boats, as media and onlookers gathered to catch a glimpse of the ship.
Once docked, dozens of Malaysian enforcement officers boarded to serve an arrest warrant on the vessel, inspect it and question the crew. Indonesia, which had impounded the yacht, handed it over to Malaysia on Monday.
Malaysian Attorney General Tommy Thomas said in a statement that the yacht was brought to Malaysia after legal treaties between Indonesia, the United States and Malaysia were activated.
"1MDB claims ownership to this vessel... as they believe that their money was misappropriated and used to purchase the vessel," said Sitpah Selvaratnam, a lawyer representing 1MDB.
Sitpah, part of the group inspecting the yacht, said the vessel carried 17 crew members and appeared to be in good condition.
The DOJ has alleged in lawsuits filed in the United States that the 300-ft (91-m) yacht was bought by Malaysian financier Low Taek Jho, or Jho Low, with funds diverted from 1MDB.
Malaysian authorities have issued an arrest warrant for Low, whose whereabouts are unknown. Low, whose Malaysia passport has been revoked, has previously denied any wrongdoing.
According to yachtcharterfleet.com, a website for luxury charters, the Equanimity has an interior clad in marble and gold leaf, a spa and sauna, a 20-metre (66-ft) swimming pool, a movie theater, a lift and a helipad.
Earlier on Tuesday, claimants to the ownership of the Equanimity filed a petition in a U.S. court contesting the handover of the vessel to Malaysia calling it an "unlawful and extrajudicial" seizure.
The petition also questioned the lawfulness of a warrant issued by the Indonesian police to turnover the vessel to Malaysia.
Malaysian Prime Minister Mahathir Mohamad ousted his predecessor Najib in an election in May. He immediately launched an investigation into 1MDB, which had been founded by Najib. Najib has denied any wrongdoing.