As word of John McCain's death hit Vietnam, the country he once bombed and in which he spent five years in a squalid prisoner-of-war camp, many mourned the loss of the former U.S. senator.
On the shores of a still and peaceful lake on the edge of downtown Hanoi, the inscription on a faded monument stands as a reminder of a violent event 51 years ago.
"On Oct 26, 1967, at Truc Bach Lake, the military and people of Hanoi arrested Major John Sidney McCain, a pilot of the American Navy's air force," it says on the sculpture, which depicts an airman with his hands above his head in front of a broken plane wing.
McCain, a U.S. senator who ran unsuccessfully for president as a self-styled maverick Republican in 2008 and became a prominent critic of President Donald Trump, died on Saturday, his office said. He was 81.
The naval aviator was flying one of 10 planes that were shot down by the North Vietnamese military on the same day, according to the inscription on the statue, which McCain himself visited on a return to Vietnam in 2009.
"I felt compelled to come out here and bring some flowers," said Robert Gibb, an American in Hanoi who placed a bouquet of yellow chrysanthemums at the foot of the monument after hearing the news of McCain's death on Sunday morning.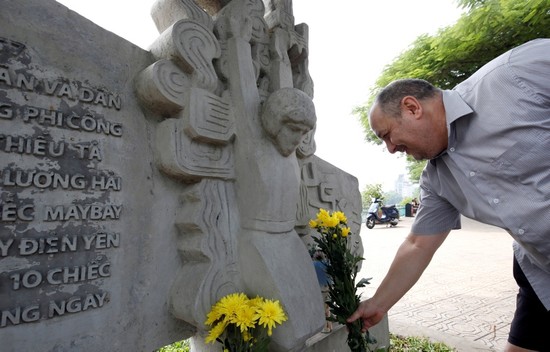 Gibb was one of several U.S. citizens living in the Vietnamese capital to visit the monument with tributes. Most brought flowers. One man offered a folded U.S. flag.
"He was the last guy I ever voted for president," said Gibb. "The moment he dropped in here changed his life forever."
McCain was dragged out of Truc Bach lake and spent the next five-and-a-half years as a high-profile prisoner of war in Hoa Lo prison - the infamous "Hanoi Hilton' - where he said he and others were tortured.
Vietnam says the American prisoners were treated well.
A statue marking the spot by the lake was erected in 1967, and renovated in the 1980s and 1990s.
The monument is easy to miss - the tree-lined street it stands on is now a popular tourist destination, dotted with cafes, ice cream parlors and vendors selling cotton candy from the back of bicycles.
McCain, whose Friday decision to stop cancer treatment made the front pages of most newspapers in Vietnam, had been known in the country for decades as a bridge-builder.
As a young congressman, he made his first visit back to Vietnam in 1985, a decade after the Vietnam War ended and a decade before Washington and Hanoi normalized relations.
He would return periodically for years, most recently in 2017, meeting with his Vietnamese counterparts and negotiating the end to the last remaining war-era U.S. arms embargo against the country, which was lifted in 2016.
Tran Hoan, who runs a ginseng company in Kon Tum province in the central highlands, told dpa that while he knew little of U.S. politics, he was familiar with McCain's work in Vietnam.
"I know he has made a great contribution to normalize the relations between the US and Vietnam, and is a good friend of Vietnam," he said, adding that he would have liked to donate some ginseng, which is thought locally to cure cancer, to McCain.
Nguyen Van Thanh, a 30-year-old taxi driver in Hanoi, said McCain had been a good friend to Vietnam in its geopolitical rivalry with China.
"The news of his death is sad for Vietnamese people but may be good news for China," he said, referring to the South China Sea dispute, in which Hanoi and Beijing have competing claims.
Pham Quynh Anh, a 16-year-old high school student in Hanoi, said she admired McCain's character compared to other American politicians.
"I know several U.S. politician have got involved in scandals, such as former president Bill Clinton with Monica Lewinsky, or Donald Trump's rapport with prostitution but there is no scandal record about him," she said.
Speaking to dpa last year, Vietnamese parliamentarian Duong Trung Quoc said McCain's participation in U.S. bombing campaigns against northern Vietnam, which killed thousands in the capital alone during the war, is no longer a cause for concern.
"He is an American citizen, he was a person in a war system, and he had to implement his citizenship's obligation to the country," he said, adding that McCain served as a "face of reconciliation."
The U.S. Embassy in Hanoi said on Sunday it planned to launch a fellowship to support a "young Vietnamese leader committed to public service" to travel to the United States on a study tour annually.
The program will be named the "McCain/Kerry Fellowship" in honor of McCain and John Kerry, another Vietnam War veteran who has promoted U.S.-Vietnam issues during his political career, the embassy said in a statement.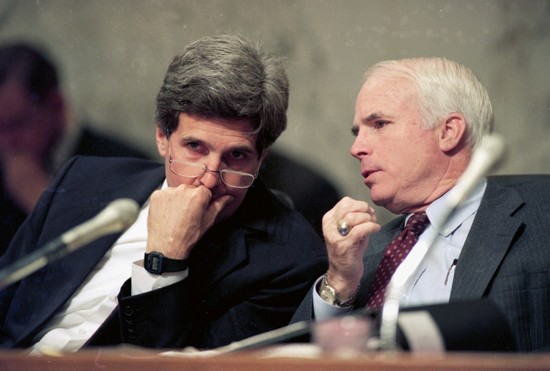 Le Ma Luong, the former director of the Vietnam Military History Museum in Hanoi who met McCain soon after 2010, told Reuters he remembered the late senator as an articulate and professional man who contributed greatly to building relations with Vietnam.
Luong said he felt sorry that in return Vietnam had been unable to locate the ring McCain was wearing on the day he was dragged out of the lake.
"That was the ring his wife gave him and it went missing after he was shot down and rescued. We have tried our best to find it but in vain," said Luong. "Anyone who lost a ring from their beloved would be devastated by it, not just him".
"His contribution to the Vietnam-U.S. relationship will be remembered."
As a prisoner of war in the "Hanoi Hilton", navy pilot McCain was known as uncompromising, frank and an avid reader who fiercely debated the war with his Vietnamese jailors.
One of them, the former director of the infamous Hoa Lo prison, recalls verbally sparring with the famous inmate and says McCain's refusal to budge on his views eventually earned his admiration.
"It was his stubbornness, his strong stance that I loved when arguing with him," retired colonel Tran Trong Duyet told AFP.
In the decades following the Vietnam War, McCain forgave the enemies who once held him captive, and helped reconcile the two countries that today enjoy strong ties.
His five and a half years in prison began in October 1967 when McCain was thrown into the French-built jail after his Skyhawk divebomber was shot down over Hanoi's Truc Bach lake.
Fished out with a broken leg and two broken arms he was shipped to the cold, crowded facility where some 500 prisoners of war were held.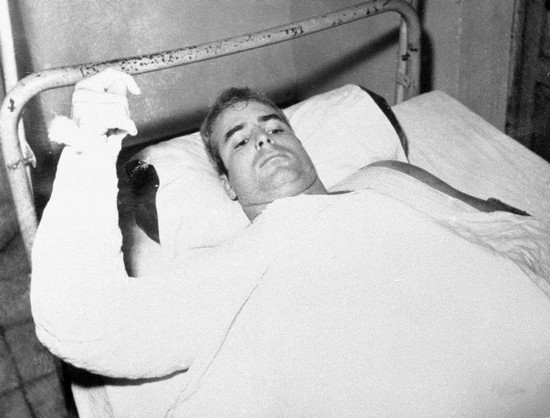 His captors quickly learned McCain's father was a navy admiral, and the young prisoner soon developed the nickname "Crown Prince".
The early years were grim.
McCain was held in solitary confinement and suffered from dysentery. For months on end, he was fed only bread and pumpkin soup. He communicated with fellow inmates by tapping codes on the thick concrete walls.
In his memoirs, McCain wrote that solitary "put me in a pretty surly mood" and that he would ward off depression by hollering insults at guards.
And then there were the interrogations and beatings.
"Ropes were put on me and I sat that night bound with ropes," McCain wrote after his 1973 release, recalling one brutal session.
"For the next four days, I was beaten every two to three hours by different guards. My left arm was broken again and my ribs were cracked."
Duyet denies McCain or others were mistreated and says he punished any fellow guards who stepped out of line.
"There was no torture, Vietnamese people saved him," Duyet said in an interview earlier this year at his home in the port city of Haiphong, where he displays both photos of American POWs and more recent images of himself in military uniform posing with U.S. officials.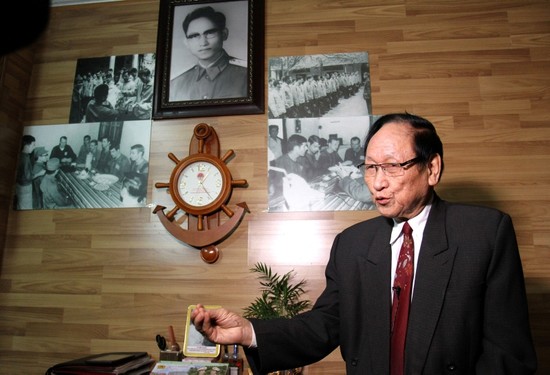 By the end of his long years in prison, Duyet said his relationship McCain started to warm.
"Out of working hours, we considered each other friends," he said. "He taught me English... he had good teaching skills."
In his post-prison writings, McCain said things got easier for him in the early 1970s, which he called the "coasting period".
He read propaganda texts about Vietnam communist revolutionary leader Ho Chi Minh, and was allowed to roam the prison yard with fellow Americans, who named different sections of the compound after Vegas hotels.
His former jailor preferred to focus on the rosier memories, recalling how they joked, shared stories about family and travel, and even dished about women.
"We laughed together and agreed that women are the same everywhere -- they like flattery, they like to sulk, and they're jealous," he told AFP, smiling.
McCain left the navy in 1981 for a long career in politics, most notably as Republican Senator for Arizona. But his "Hanoi Hilton" experience resonated throughout his life.
Donald Trump said during the campaign for the presidency that McCain was "not a war hero" because he was captured in Vietnam.
The controversial comments inflamed his throngs of supporters, many of whom saw his time as a POW as a defining experience.
"John McCain will always be America's prisoner of war, that experience is now inseparable from the name John McCain and the person that has been John McCain," said Alvin Townley, author of "Defiant" about American POWs held in Hoa Lo.
McCain was also celebrated for his role in reconciling the United States and Vietnam, which in the half century since the war's end have become close allies.
"(His) openness towards Vietnam and the willingness to revisit not only the country, but his experiences there have certainly helped heal a lot of wounds," Townley said.
McCain visited the Southeast Asian country several times after the restoration of diplomatic ties in 1995, even returning to the "Hanoi Hilton" -- now a popular tourist attraction -- for an emotional meeting with another former jailor.
Duyet never got a chance to reconnect with McCain, but imagined what he might say if he had.
"If he came to Vietnam, I would greet him, not as a former prisoner and a jailer, but as two veterans, from both sides of the battlefield, now meeting again in the spirit of reconciliation," he said.
When informed of McCain's death, Duyet said Sunday he was "so sad."
"Please if you can, convey my condolences to his family for me."