A violent mob rampaged through villages in northern India on Monday after the discovery of suspected cow carcasses, setting vehicles ablaze and murdering two people including a senior police officer.
Police fired shots in the air as hundreds of villagers, incensed over the death of the sacred animals, pelted stones at officers sent to quell the violence just 130 kilometres (80 miles) from New Delhi.
Anand Kumar, an additional director general of Uttar Pradesh state police, said word spread quickly in Bulandshahr district when carcasses believed to be cows were found dumped near a village.
India's Hindu majority regards the cow as holy and its slaughter is banned in several Indian states. There have been a string of attacks by hardline Hindu groups targeting Muslims and low-caste Dalits over cattle slaughter and beef consumption.
"These were suspected cow carcasses and the villagers were angry about it," Kumar told reporters.
"There were around 400 people from three neighboring villages. They indulged in heavy stone pelting and arson. Police baton-charged and tried to bring the situation under control.
"Police resorted to firing in the air to control the crowd."
"The area police chief [Subodh Kumar Singh] died due to injuries he suffered in stone pelting. A local resident was also killed in firing, it is not clear this was firing from the crowds or the police," district official Anuj Kumar Jha said by phone.
Police are investigating whether the violence was incited by radical Hindu outfits and are likely to make arrests soon, officials said.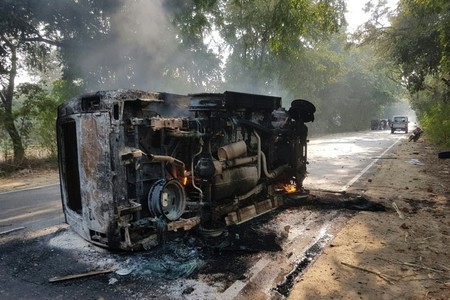 According to data analytics site India Spend, almost 80 cases of cow-related violence were reported between 2012 and 2017. 97 percent of these occurred after the Hindu nationalist Bharatiya Janata Party came to power in 2014.
Premier Narendra Modi has condemned the attacks and promised tough action against perpetrators, but opposition leaders accuse the government of indirectly supporting Hindu radicals.
Footage shared online showed vehicles on fire and huge crowds of men hurling objects at police. Kumar said more than a dozen cars were set alight.
It is illegal to slaughter cows or even possess beef in many Indian states. Some carry life sentences for transgressions.
Uttar Pradesh, the scene of Monday's violence, prohibits cow slaughter.
Its chief minister Yogi Adityanath, a firebrand Hindu priest turned politician, has pushed for slaughterhouses to be closed and cow shelters to be constructed.
In two prominent cases last year, a dairy farmer was murdered on a highway for transporting cows and a Muslim teenager accused of carrying beef was stabbed to death on a crowded train.
Critics say vigilantes have been emboldened by the 2014 election of Prime Minister Narendra Modi's Hindu nationalist Bharatiya Janata Party.
Modi, who will seek a second term in office in elections by May, last year condemned murder in the name of protecting cows after a string of vigilante killings sparked protests.
The troubled district of Bulandshahr has seen many vioelent attacks in the past.
Back in May, a Hindu mob killed an elderly Muslim man who had helped an interfaith couple elope.
Two years ago 15 suspects were detained after a woman and her 14-year-old daughter were gang-raped off a busy highway, the latest incident of sexual violence to shock the country. The incident sparked outcry and protests across the whole country.