German prosecutors said they had searched carmaker Audi's headquarters and one of its plants on Tuesday as they widened their inquiry into the manipulation of diesel emissions tests.
Audi, which is the biggest contributor to Volkswagen's profit, admitted in November 2015 that its 3.0 liter V6 diesel engines were fitted with a device deemed illegal in the United States that allowed cars to evade emissions limits.
Fourteen people are under investigation, including current and former members of the upmarket carmaker's executive board.
German media had earlier reported the raids at the headquarters in Ingolstadt in Bavaria and at the plant in Neckarsulm in the neighboring state of Baden-Wuerttemberg
Prosecutors allege that Audi sold at least 210,000 diesel-engined cars fitted with cheat software in the U.S. and Europe from 2009 onwards and have been investigating allegations of fraud and illegal product promotion for the past year.
On Tuesday morning, 18 prosecutors accompanied by officials from the state criminal investigation departments, searched the two premises, as well as a private home in Baden-Wuerttemberg.
Last week, prosecutors searched the homes of six Audi technical staff and engineers, seizing documents.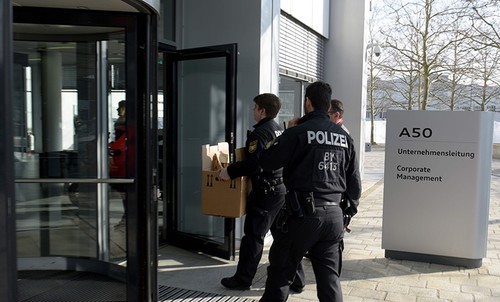 Thus far the only person charged is the former head of Audi engine development and member of the Porsche executive.
The man, who is not being named in the media under German law, has been held in custody since his arrest in September. His appeal against detention is currently before the Munich state court.
Another senior employee at Audi's Neckarsulm plant was released in November after several months in detention.
The focus in the diesel emissions scandal shifted to the VW subsidiary in dramatic fashion on March 15 last year, when Munich state prosecutors searched the Ingolstadt headquarters as Audi chief executive Rupert Stadler was holding the company's annual press conference.
Prosecutors are continuing their investigations into other unnamed members of the Audi executive and into the company itself, with a view to imposing fines.
VW first admitted to cheating pollution standards in more than 11 million diesel vehicles sold around the world in September 2015.