A prototype of Turkey's first domestic flying car, called the "Cezeri," is nearing completion, Baykar Technical Director Selçuk Bayraktar announced Tuesday.
Bayraktar – who is also the founding chairman of the Turkey Technology Team Foundation (T3 Foundation) – shared photos on Twitter of the prototype's eight-month-long design process, from the initial sketches to its construction.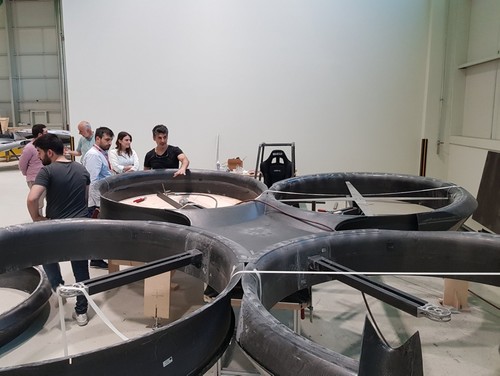 Bayraktar said the design team aims to complete the prototype in time for a debut at Turkey's biggest aerospace and technology festival Teknofest, which begins on Sept. 17 at Istanbul Airport.
He said hardware, software and engine propulsion system development continues "uninterrupted" alongside the construction of the prototype's frame.
The research and development process for the flying car will last years, he said.
He also shared images of four design alternatives for the paint design of the car, asking Twitter users to vote on their favorite by liking the posts.
The car gets its name from Ismail al-Jazari, one of the great Muslim inventors and engineers of the Islamic Golden Age who lived during the 12th century in eastern Anatolia.
Established in 1984, Baykar is engaged in the development of armed and unarmed unmanned aerial vehicles (UAVs), avionics systems, control systems and simulators.
PROTOTYPE OF TURKEY'S FIRST INDIGENOUS CAR UNVEILED
On the other hand, the first 3-D prototype of Turkey's first domestically produced car was showcased on Monday during a council meeting of the joint venture formed to develop the automobile.
The model of the car, based on a 1:4 scale, was unveiled at the meeting of Turkey's Automobile Joint Venture Group (TOGG), formed by five of the largest Turkish industrialists that will develop the country's first domestically manufactured automobile, and was also attended by Industry and Technology Minister Mustafa Varank.
Rifat Hisarcıklıoğlu, the chairman of the Union of Chambers and Commodity Exchanges of Turkey (TOOB) and coordinator of the project, confirmed over his social media account that members had a change to examine the prototype and features of the car.
The prototype of an electric SUV, the first vehicle that will be available for sale, is expected to be officially unveiled in December.
It is projected to be ready for mass production by 2022, with exports expected to begin two years later, Gürcan Karakaş, CEO of TOGG, said earlier last month.
In November 2017, Turkey rolled up its sleeves to design and manufacture its first indigenous automobile in a joint venture formed by the largest Turkish industrialists, all experienced in their own areas of operation.
Five domestic firms – Anadolu Group, BMC, Kök Group, Türkcell and Zorlu Holding – with 19% shares each, and TOBB with 5% of the share lead the joint venture TOGG.