After rocking the NBA last year with his decision to leave Oklahoma City as a free agent and sign with the Golden State Warriors, Kevin Durant's dream came true Monday when Golden State beat Cleveland 129-120 to win the best-of-seven NBA Finals four games to one.
"To have teammates that encourage you, that lift you up, that's what we all need in life," he said. "It was amazing to just see that all year, and right now just to be here with these guys, it's amazing."
Durant was named NBA Finals Most Valuable Player after averaging 35.2 points and 8.4 rebounds a game, and he became the first player since Shaquille O'Neal in 2000 to make 30 or more points in five finals games.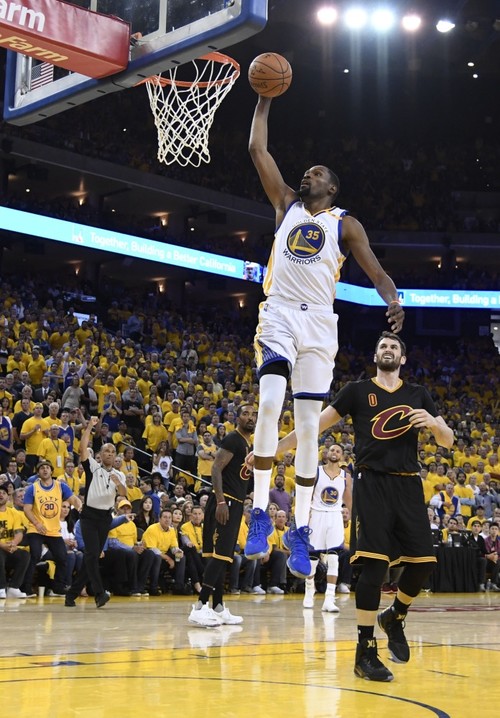 Kevin Durant's 28.8-point playoff career scoring average ranks fourth all-time, trailing only Michael Jordan, Allen Iverson and Jerry West and ranking just ahead of LeBron James at 28.4.
"You've got to call Kevin Durant a champion now," Warriors guard and two-time NBA MVP Stephen Curry said. "I'm just so happy for him to be able to realize his goal and be my teammate."
"The way he embraced the opportunity in the finals was unbelievable," he added. "Crazy to think about the conversations we had this summer and going into the year about how we can both mesh and do what we do and see it come to life in this series. It was unbelievable."
Curry embraced Durant's arrival after the Warriors dropped last year's finals to Cleveland in seven games, an unselfish attitude that reflected Durant's desires and created an inside-outside pairing that was nearly unstoppable.
"Just the camaraderie, the togetherness of the whole organization, that's what it was about. I kept building on that from day one," Durant said. "So a championship is just a cherry on top."
It validated the notion of Warriors general manager Bob Myers, who risked what he had built counting on Durant to be the final piece in building a juggernaut.
"Kevin's journey, our team embraced him," Myers said. "Some teams wouldn't embrace a guy who came into a situation like ours. Guys like Steph Curry welcoming him and kind of let him shine, it worked out like it should."
Durant took heat from critics saying he should have stayed with the Thunder and built a powerhouse team around himself and Russell Westbrook. But such comments made the moment of triumph only sweeter.
Dismissing haters is not such a big deal to Durant as they might imagine.
"The toughest challenge was to come in here and see how I can help this team get better," Durant said. "Proving haters wrong, that's cool for me to talk about on Instagram or Twitter. But you don't concern me. I'm working every day, seeing how I can be the best teammate, the best player I can be. I just tried to stay with those principles and keep grinding."
Cleveland star LeBron James, who won his first title in 2012 by beating Durant's Thunder in the finals, sees how the journey has made Durant into a champion over the past five years.
"Experience is the best teacher in life, and he's just experiencing and experiencing," he said. "He felt like he needed to reassemble and reassess his career and come here."
"Getting that first championship for me was like having my first son," he added. "It was just a proud moment, something that you never, ever forget. And at the end of the day, no matter what anybody says from now on, they can never take away from you being a champion."