Published by Istanbul Kültür A.Ş. and penned by Professor Mustafa Duman, the new book titled "Traditional Quilting Art in Istanbul" aims to transfer the accumulation of knowledge on quilting art to next generations. The book, which has four main chapters, starts with the chapter titled "On Quilt, Pillow and Bed," explaining the etymologic origins, history, past use and mutations and changes of these words over the years.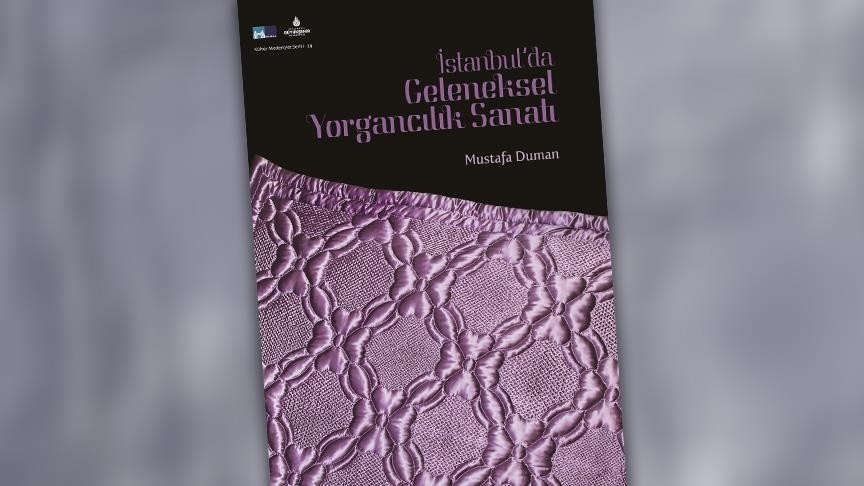 In the second chapter, titled "Development of Quilting Art in the Ottoman Empire," the spotlight is on quilts, quilt makers and wool sellers that are mentioned in the travel books of Evliya Çelebi, other foreign travelers and old Ottoman books as well as seen in the bedrooms of sultans and sultanas in Topkapı Palace, the Grand Bazaar and Kandilli.
Quilt makers as designers, essential materials, stitching techniques, experts and labor unions have been examined in the third chapter titled "Quilting Art in Istanbul Today." The last chapter "Quilt in Istanbul Culture," includes sayings and idioms, rhymes, lullabies, cantos, folk songs, legends, stories, memories and narratives about quilting arts. Kültür A.Ş. published the book, including various quilt samples from different times, for those who are interested in learning about quilting with the aim of presenting quilting's ignored past and of bringing this traditional art into today's world.
Here are passages from "Traditional Quilting Art in Istanbul":
80 quilts just for a dowry
Trousseau traditions in rich families, who were generally high-ranking officials in the Ottoman Empire, were unbelievably rich and diverse. The wealth of a family was measured by the trousseau of their daughters back then.
Brocaded quilts covered with fur
Salomon Schweigger lived in Istanbul between 1578 and 1582, during the reign of Murad III and wrote his impressions on the city and the Ottoman Empire in his travel book. Schweigger also wrote about beds and quilts of the sultan in his book titled "Travel to Sultans City."
"Room servants are responsible for all materials related to the bed such as the mattress and ground cloth, and for preparing the sleeping area. Beds are composed of many mattresses filled with cotton. Cottons are spread evenly by stitching the quilt at long intervals. Mattresses are rolled and added up one on the other. Quilts are also filled with cotton and covered with brocaded clothes, precious Stones and pearls. In winter, these quilts are covered with fur," he wrote, describing the process.
Schweigger also tells about objects at the Ottoman houses at that time. Saying that people elaborate on clothing but not on household goods, Schweigger says:
"Cushions and pillows are covered with beautiful fabrics. Quilts are generally made of a silky fabric, filled with cotton and covered with brocade. Mattresses are put on a low rostrum rather than on a bedstead."
Better sleep with Turkish quilts
We spend one third of our life sleeping. In ancient times, individuals started to produce beds or quilts using fur, straw, wool or different plants. Today, they use cotton, as there are many reasons to choose it as a material in terms of health and usefulness. First of all, cotton is a cheap organic material, which can be easily shaped. It is also beneficial for body heat. There should be a constant flow of air between the mattress and quilts in order to get a peaceful and better sleep. Moving cotton fibers are useful for body heat and provide comfort during sleeping. Such a balance for body heat can't be found with other materials for quilts or filling materials for mattresses.
Cotton quilts and mattresses produced in Turkey maintain their heat retention for a long time. If quilts didn't have such a feature, quilt makers wouldn't put so much effort into developing this art. Quilting art would make no headway like some handicrafts. Quilt makers are idealist people who protect their traditional art branch from industrial effects. Like painters with their brushes, quilt makers continue their arts with needle and thread. All quilt makers in Turkey are male and come from the Eastern Black Sea region.