ISTANBUL
— Hundreds of Turks queued the night before the opening at Istanbul's Zorlu Center. Apple's CEO did not attend the event but did offer well wishes via Twitter as the ultra-modern shop greeted customers for the first time.
World-famous technology brand Apple opened its first retail store in Turkey at Istanbul's Zorlu Center. President Abdullah Gül and Apple CEO Tim Cook did not join the grand opening, as some had hoped. However, Cook took to Twitter to announce the opening and posted: "Teşekkür ederim to our customers in Istanbul and all the people of Turkey."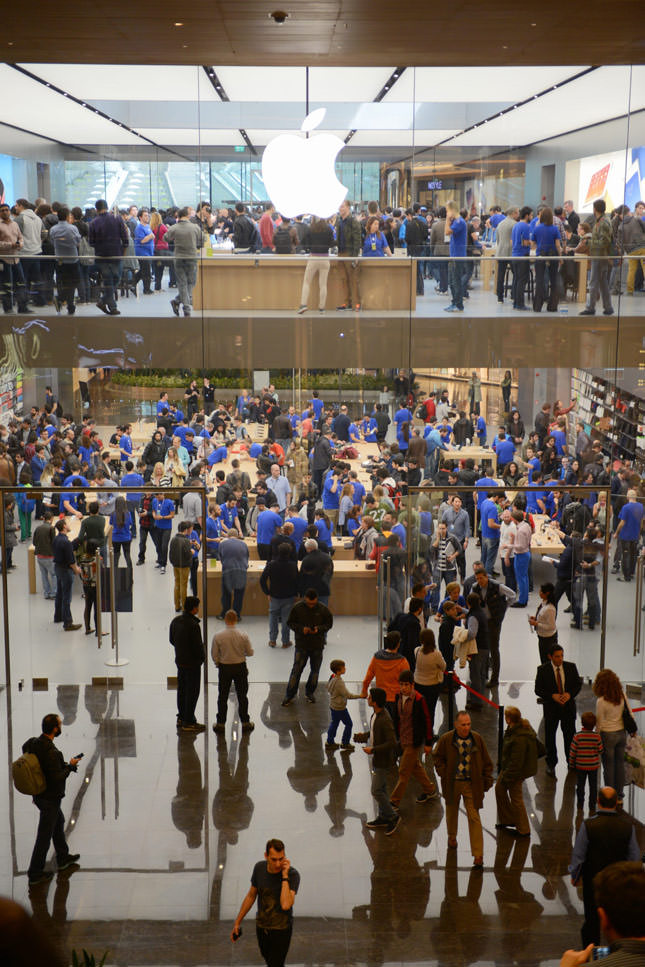 Hundreds of Turkish citizen queued up in front of the store 13 hours before the opening. In addition to Istanbulites, many Turks from the other cities rushed into the Zorlu Center. Mustafa Çayırpınar became the first Turkish client of the Apple Turkey store. He waited 13 hours for the opening. Entering the store, Mustafa Çayırpınar said, "I spent the night here with my friends. We brought our coffee pot and food. The Apple Store is in a very important position in the world. It was fun for us to wait for the opening here."
Another Turkish customer Asla İrem Aytaç said, "We were very excited. We have been waiting for the opening since 05:00 in the morning. I think everybody is happy here."
The 20,000 square foot store features a unique cubic design with a glass ceiling and glass sides. The store uses more glass than any previous Apple Store and contains special glass materials that take full advantage of the sun light in the open area of the mall.
Similar to other retail openings, store employees gave away Apple t-shirts to the first 4,500 customers who entered the store on Saturday.
The Istanbul location is Apple's 424th retail store to open worldwide. It not only combines the shop's global and domestic elements in its décor, utilizing glass, metal, wood and lighting effects, but also has a captivating view of the Bosphorus Bridge. A creative barricade, surrounding the store, was inspired by the alternating system of colors and shapes utilized on the Bosphorus Bridge.
Turkey's new Apple Store will be bringing the corporation's global service standards to Istanbul, including offering a number of free educational seminars as well as configuration and technical support.