Turkey's project to supply drinking and irrigation water to Turkish Cyprus was finalized and launched on Saturday with a ceremony taking place both in Turkish Cyprus and Anamur district of southern Mersin province.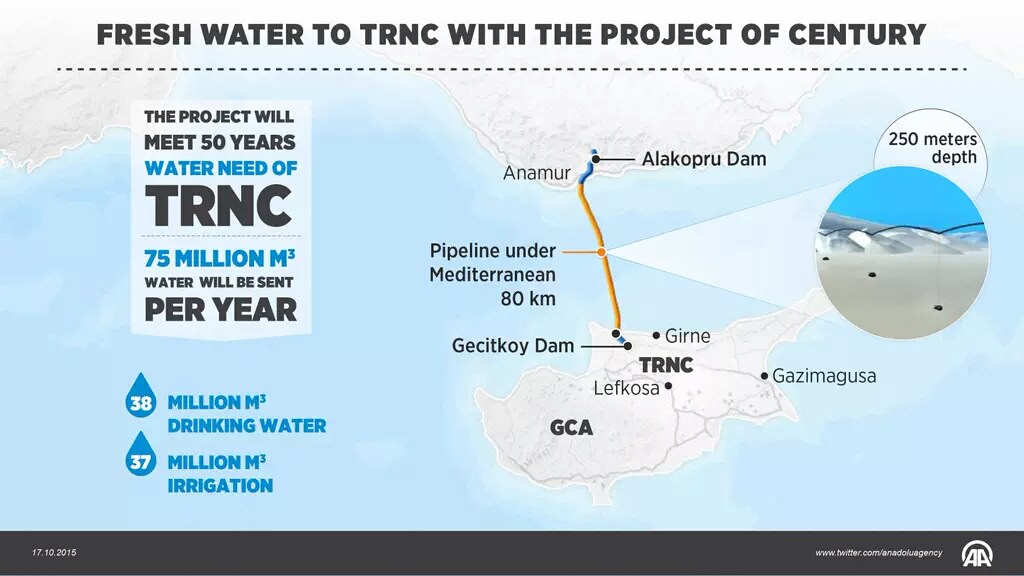 Having been on Turkey's agenda since the 1990s, the project, which kicked off in 2011, will provide water sufficient for 30 years. To transfer water, an underwater pipeline was established to connect Turkey to Turkish Cyprus. Annually, 75 million cubic meters of water will be supplied from Anamur's Dragon Stream to the Geçitköy Dam located near Girne. Half of the supplied water will be used as drinking water, while the other half will be used for irrigation.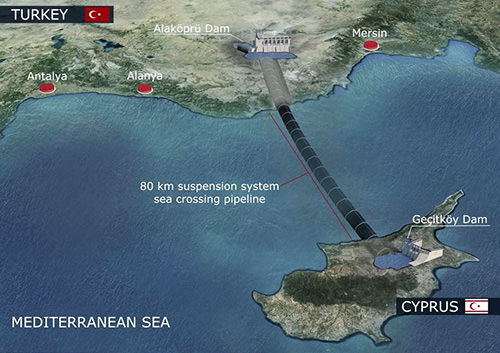 Through the project, irrigated farming will be available on a 48-hectare area. Water will be transferred through an 80 kilometer-long undersea pipeline that is 250-meters-deep. The pipeline has sensors and transmitters placed to signal any possible faults for urgent repair.
Speaking at the opening ceremony of Alaköprü Dam, which is part of a project that aims to carry fresh water from Turkey to the TRNC via a pipeline, Erdoğan said: "The Turkish Republic of Northern Cyprus will no longer experience shortages of drinking water and agricultural irrigation for a half a century."
Turkish Prime Minister Ahmet Davutoğlu, also speaking at the ceremony, said that the project had cost 1.6 billion Turkish liras ($576.3 million).
"We built a magnificent water bridge. This time, we are linking Girne [also known as Kyrenia, city in Northern Cyprus] with Anatolia via water," said Davutoğlu.
He also said the water will bring "peace" to the island.
Turkish Cypriot President Mustafa Akıncı and Prime Minister Ömer Kalyoncu were also in attendance.
"This will lead in a growth [...] in the economy of the TRNC," said Akıncı during his speech at the ceremony.
"Today is a milestone. We have to use this water effectively," he added at another opening ceremony of another dam in Geçitköy (also known as Panagra) on Saturday in Girne,
Erdoğan called the project a "proud investment".
"If the South [Southern Cyprus] says 'We also want to utilize this water', we will carry them water, calling it peace water," said Erdoğan.
Adopting a method used for the first time in the world, the project costs TL 1.6 billion ($550 million). For the first half of 2016, the supplied water will be transmitted to all pipelines around the country. Following the launch, Nicosia is expected to be the first city to receive water from Turkey. Until 2045, drinking and irrigation water will not be a significant problem for Turkish Cyprus.
Upon request from Greek Cypriots, also suffering from a lack of water, their inclusion to the water supply project might be put under consideration.