Following the assignment of fully-authorized trustees to 22 subsidiaries of Koza Holding, the conglomerate has been found to have a seemingly legal structure that launders money through an international method known as "Smurfs." This method includes hierarchical structuring and division of labor among employees. The Koza İpek Group has been found to inflate its production and efficiency, particularly in gold mining, change stock values and generate extraordinary amounts of money that pretends to be obtained through legal activities. The conglomerate then moves this illicit money into a system under the guise of donations and charities through foundations established by the same partners.
Koza İpek Holding also inflated production and productivity amounts, especially in its gold operations. It had changed stock values, which resulted in the accumulation of extreme amounts that appear to have been gained through legal operations. Furthermore, such amounts were directed to foundations and other nongovernmental organizations (NGOs) established by the same partners that were allegedly for "donations and aid," which made such payments appear as legal monetary transactions.
The holding is suspected of providing financial support and distributing propaganda of what government officials call the Gülenist Terror Organization (FETÖ), police sources said, which is led by U.S.-based Turkish imam Fethullah Gülen who lives in self-imposed exile in rural Pennsylvania.
The experts's report, which said such transfers are another type of money laundering scheme, also stressed that the funds were collected at NGOs to which easier and less strict auditing rules apply, Moreover, since how and what such funds were spend on could not be determined, a grey economic area appeared due to such donations' inability to be controlled or audited.
Experts provided details about this type of money laundering scheme, stressing: "As everything in Smurf Village is small and every person has their own title and duties, in this type of money laundering, duties have been distributed among institutions and individuals; therefore, everyone believed they were performing legal duties. Yet this type of organization is set up solely for money laundering, and while it can be detected as these units are linked internally, they appear separate on the outside."
They further underlined that despite the complex appearance, all institutions and individuals are interconnected and their duties have been specifically defined. Many companies with the same addresses but separate activities have been established, yet they work together in the internal organization. "What happens in such a village can only be known and detected by those who are in charge of the internal organization or who are at very high levels in such an organization," added the experts.
Moreover, through this method, all transactions were made to appear legal even though they were camouflaged from the related government authorities, and the economic figures provided to the private sector institutions did not reflect the actual figures. All payments were made in person, and only notes of expenses were issued without proper explanations. Therefore, the large amount of payments was divided to smaller parts and through legal notes. While one company showed such payments as expenses, funds were legally transferred to the other institution and reported as income. The most striking claim in the report was that the amount of donations was higher than profits. Experts said in the report that Koza İpek Holding reported donations by adding new amounts to the profits. Moreover, the amount of donations was even higher than the total of the amounts and profits.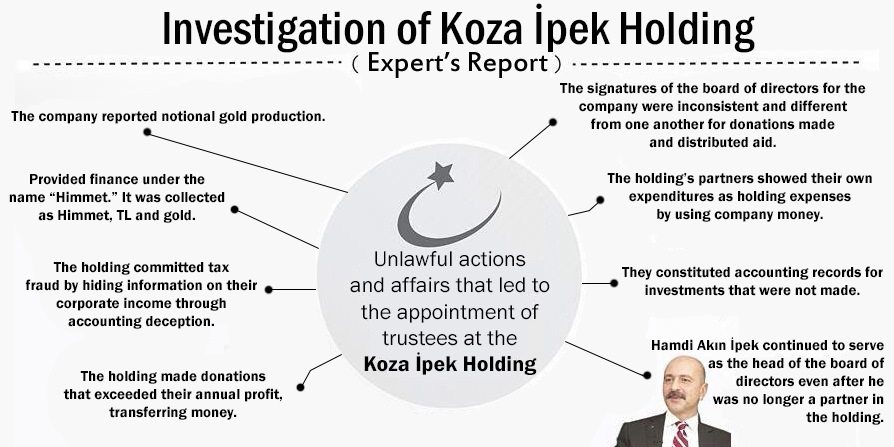 Double-entry bookkeeping
The report said a parallel accounting system, which would not be deemed legal and is not the current accounting system imposed in Turkey, had been established. The attached digital records show that deals had been made between the expense items and the individuals who made such expenses in the books, and records ceased.
Since many transactions and exchanges took place between companies with similar partnership structures, no deficits would be revealed even if the companies on the other side of the trade are examined. "In other words, since account transactions with high figures took place between related individuals and institutions, there are no legal or private objections, or complaint petitions filed," read the report. Another crucial detail stressed by experts is that no audits or inspections took place by the Treasury or by other public institutions at the time the transactions in question were taking place, which were between dubious individuals and institutions or individuals and institutions that are related to each other.
Furthermore, all foreign companies or partnerships established by the group after Dec. 17 and Dec. 25, 2013 - the alleged coup attempt to overthrow the government - is another interesting point highlighted in the report. The experts could also not find any explicit information or data about the mining activities the company founded in the U.K. or had undertaken to this date. The digital data and internal correspondences, gathered during the search at Koza Altın İşletmeleri A.Ş., revealed that the group was manipulating the Borsa Istanbul stock exchange, especially through misinformation and speculative news disseminated through various media and that they were warning each other against the changes in the stock market.