The tender for the North Marmara Highway, which will connect Turkey's Asian and European lands via Istanbul's 3rd bridge while providing an alternative transit route bypassing the city's clogged traffic, was awarded to a a joint venture of Turkish companies for 7.2 billion Turkish liras ($2.43 billion).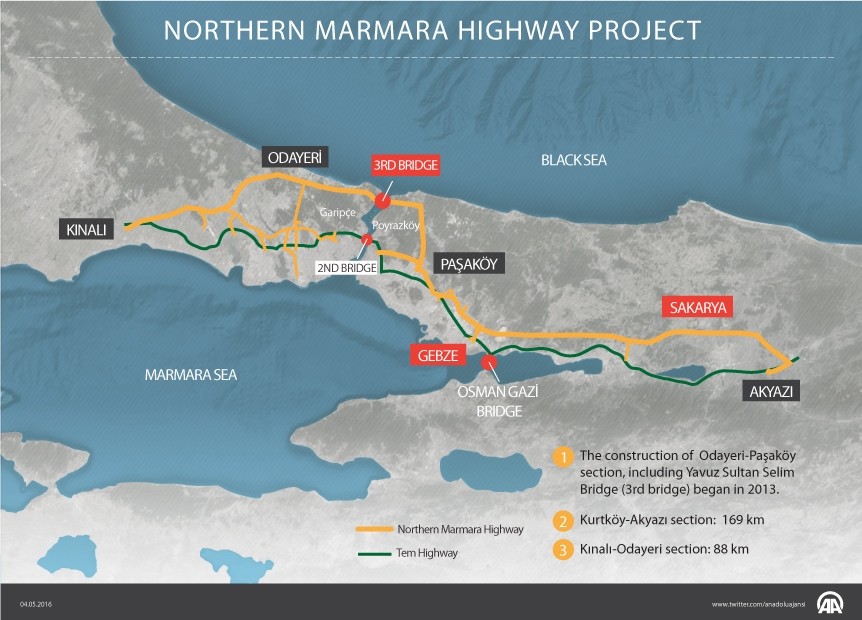 The 169-kilometer long Asian part of the project located between Istanbul's eastern Kurtköy district and Akyazı district northwestern Sakarya province was awarded to Limak-Cengiz construction consortium for TL 4.5 billion ($1.52 billion). The consortium won the tender conducted through a build-operate-transfer method with a bid of six years, nine months and 12 days.
Speaking at the tender ceremony, Transport, Maritime Affairs and Communications Minister Binali Yıldırım said that excluding the construction period of three years, the highway will be operated by the consortium for approximately three years and then will be transferred to the state.
Yıldırım said that the 88 kilometer-long European part of the project located between Kınalı and Odayeri villages, which will connect the TEM highway with Istanbul's third airport and third bridge, was awarded to Kolin-Kalyon-Hasen consortium for TL 2.7 billion ($910 million). The bid for the build-operate-transfer was seven years, nine months and 12 days, while the consortium will own its operating rights for four years, excluding the construction period.
All four companies also take part in the consortium that builds Istanbul's 3rd airport, which will be the world's largest in terms of passenger capacity when completed. A total of six consortium-placed bids to undertake the construction in two separate packages in early May.
Passage fees will be TL 19 and VAT on the 169-kilometer Kurtköy-Akyazı highway and TL 10.5 and VAT on the 88-kilometer Kınalı-Odayeri highway. When the project is completed, transit and heavy vehicles traffic will move to the North Marmara Highway and the third Bosporus bridge, known as the Yavuz Sultan Selim Bridge, in order to alleviate intense traffic on the TEM motorway and Fatih Sultan Mehmet Bridge.