As the Gallipoli naval victory, which changed the course of World War I and the world's history, was marked in ceremonies throughout Turkey, top Turkish officials gathered in the western province of Çanakkale to attend official ceremonies both to commemorate the victory and the groundbreaking event of the world's longest suspension bridge planned to cross the Dardanelles Strait by 2023.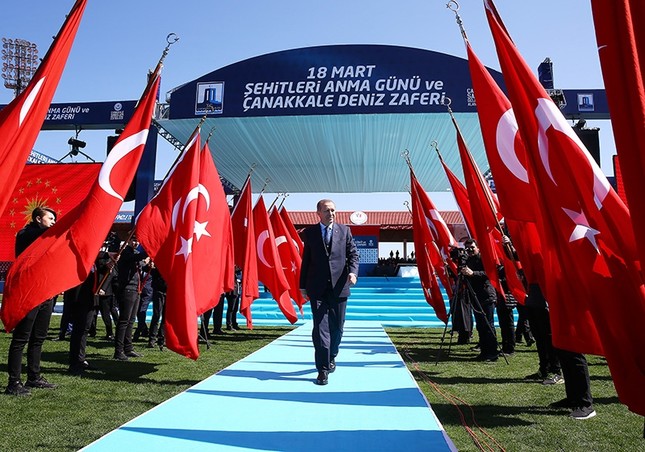 President Recep Tayyip Erdoğan attended to the official March 18 ceremony in Çanakkale, where he mentioned the efforts of 249 people killed during the July 15 coup attempt to defend democracy. He said that the parliament would do what is necessary on death sentence demands by the public after the upcoming presidential system referendum on April 16, and he would approve it without hesitation.
Erdoğan also slammed the recent bans imposed by Germany and the Netherlands against Turkish ministers.
Noting that the parties to the "No" campaign objected to the mega projects in transportation sector undertaken by Turkey, Erdoğan asked for a "Yes" vote in the upcoming presidential system referendum.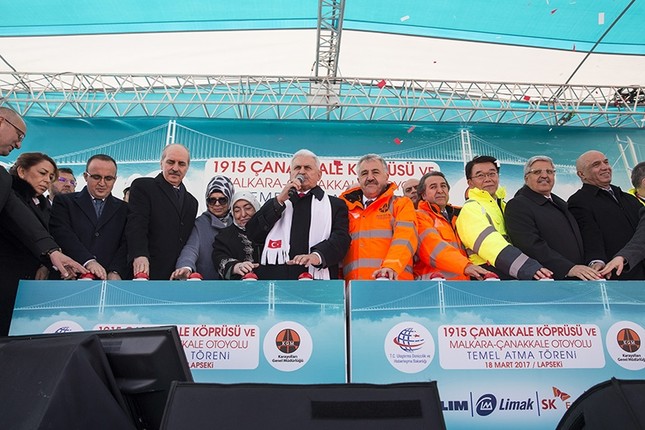 Erdoğan's address was also presented live to a crowd gathered some 30 kilometers (18.6 miles) northeast in the Lapseki district, where Prime Minister Binali Yıldırım was in attendance for the groundbreaking ceremony of the 1915 Çanakkale Bridge.
Yıldırım said the bridge will be the sixth connection between Europe and Asia and it will also build a bridge between history, as its groundbreaking ceremony coincides with March 18, and the future, which is planned to be completed on the centenary of the Republic of Turkey.
"With this huge project, we are proclaiming the reality of Turkey's strength and Turkey's greatness from Çanakkale to the world," Yıldırım said.
On Jan. 26, a consortium of Turkish and South Korean companies Daelim, SK E&C and Limak and Yapı Merkezi OGG won a tender to construct the bridge with a 192-month lease.
South Korea's Minister of Land, Infrastructure and Transport Kang Ho-In also attended the ceremony, where he marked the 60 years of cordial relations between the two countries.
Set to be built between Lapseki's Şekerkaya region on the Asian side and Gallipoli's Sütlüce region on the European side, the project, which will be completed with an investment of over TL 10 billion ($2.7 billion), will be the first for the Dardanelles Strait and the fifth suspension bridge in the Marmara region.
The bridge will be the longest suspension bridge in the world, with a central span of 2,023 meters in accordance with the centenary of the Republic. It will be 32 meters longer than the world's longest bridge – the Akashi-Kaikyo Bridge between Kobe and Awaji Island in Japan. The bridge is expected to be fully operational in 2023, the centennial anniversary of the foundation of the Republic of Turkey.