Haşim Süngü came to Istanbul to study history but banking on the city's touristic allure, he started his tourism career with only $50, which he earned after accidentally guiding a tourist he met in Sultanahmet in Istanbul. Over the years, Süngü has branched out to a wide range of businesses related to the tourism sector but is most proud of his luxury car design service, which has also contributed to Turkey's exports to the Gulf and Europe.
In an exclusive interview with Daily Sabah, Haşim Süngü, the chairman of the Hashim Group, which operates in tourism, real estate, investment, yachting, and trade, talked about his company and the group's car design business, TopVip Design.
"I came to Istanbul back in 2000 to study history at Istanbul University. During my university years, I used to visit Sultan Ahmet a lot since it was very close to my campus. One day, I saw a group of Arab tourists and people trying to explain something to them. I had some basic knowledge of Arabic so I approached them and suddenly found myself talking with an elder tourist. We had a long conversation. Eventually, I showed him around Istanbul and Bursa," he explained.
"On our return to Istanbul, even though I didn't expect to get paid, the man reached for his wallet and gave me $50. Since I was a student at the time, it made me really happy. Soon after, I started applying to travel agencies and began working as a guide and as an interpreter. I suddenly found myself working in the tourism sector," Süngü added.
"After a while, I obtained a guide's license from the Ministry of Tourism and Culture and started taking the job seriously. I also received heads of states and ministers, talking to them about Turkey's history, culture, and traditions. That's how I started to get in touch with VIP guests," he said. "I established my own tourism company in 2010. As more and more VIP tourists kept coming to Turkey, I realized that they were more and more interested in the real estate sector. So I established my own real estate company and I started selling apartments."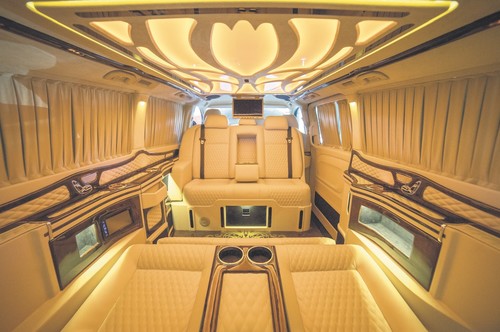 "But it didn't end there. Many clients were looking for VIP car services. So, I entered the car design sector too. But, the workshops we were doing business with were not able to meet our demands after some time. So we established our own workshop and car design company, TopVip Design. We were addressing a certain client base, and they wanted certain things," Süngü continued. "We also have a yacht company in southern Turkey. We mainly offer yacht services to our guests from the Middle East and other countries."
Süngü said everything started with a tourism company. They used luxury cars to host important guests. But, as the demand went up, the company needed its own workshop.
"We built a 2,000-square-meter workshop and employed 20 people. We design luxury car interiors. Now, we even export cars after designing them in our workshop," Süngü said.
"For instance, we buy cars from Germany, design them in Turkey and send them back to Germany. Every part of the production is done by hand," he added.
Turkey is currently one of world's leading countries in car interior design and work, he noted and underscored that they were one of the handful of Turkish companies that have a European certificate of competency, meaning cars produced by TopVip can be exhibited and used in Europe.
"We basically work in line with the customers' choice. We design according to their demands and needs, and deliver no matter where they are," he said.
He said the company currently exports to around 20 countries, including Qatar, Saudi Arabia, Dubai and a number of other countries in Europe.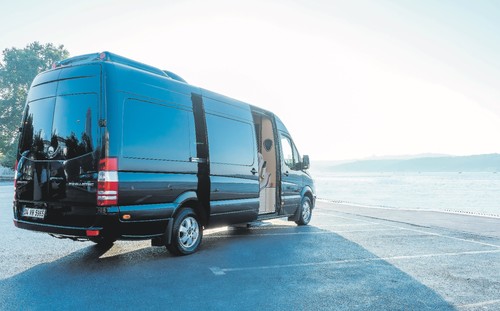 "Turkey is one of the leading countries in the sector. There is a high demand for Turkish car designers because of the relatively low costs, and high quality," he said. "What sets us apart from others is that we produce everything ourselves. We paint the car in our workshop and produce the seats. We source parts and materials only from Turkey and do not import."
"In terms of timing, we are able to finish the jobs faster than any other company. This is another reason why customers prefer us. A customer can ask for any design, and we can do it. For us, saying 'no' is not an option," Süngü added.
He explained that for the first time, they were going to design an interior using crocodile skin, one of the most expensive materials in the world.
Süngü said that they have received offers for partnership from a number of foreign companies but rejected in order to stay 100 percent domestic.
When asked about customer preferences, he said most customers ask for cars that they can use as a traveling office while some prefer cars with a partition that separates the front from the back of the car or a seat that can transform into a bed, telephone connections and a table.
"Most of our customers actually use the car as an office on wheels. They save a lot of time on long trips," he said.
Talking about his tourism company, Süngü said they were not just another tourism company.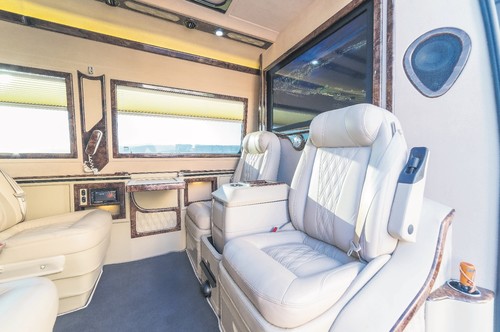 "We mostly provide services to certain families, business people, and royals. We arrange VIP transport for them. Some of them enjoy the car during their stay and decide to order one for personal use. So ultimately all our companies are connected to each other," the entrepreneur said.
He added that they also received offers to expand their design work and take it to a factory-like facility but decided not to do so to maintain the exclusivity of their work.
"We also provide tourism and transport services for foreign guest during big events. We were one of the partners during the G20 Summit that took place in Antalya in 2015," Süngü said, adding that his company also organized the International Investment Summit, which first took place in Istanbul in 2013.
The summit was attended by the wealthiest 150 people from the Middle East and so far has been held twice. The first summit was attended by a number of business people and funds with a combined capital of $500 billion.
"The second event brought together investors with around $1.5 trillion in the capital," Süngü said. "We are planning to organize another summit in Istanbul in April 2018."
Speaking of his future plans, the businessman said his aim was to expand their facilities, branch out in a number of different sectors and open up agencies abroad, while he said he was always looking to raise the number of institutions they work with.
Süngü said that Turkey was experiencing an upward trend in the number of tourists from Arab countries and the Gulf, which meant Turkey was increasingly being preferred by a group of tourists with high-income. "This trend has helped our business," he said.