Governments from around the world on Wednesday pledged billions of dollars in loans and investment for the reconstruction of Iraq, a nation reeling from a three-year war against Daesh terrorist group.
Iraq secured nearly $25 billion in the first few hours of the final day of an international donors' conference in Kuwait City, which was still ongoing.
Baghdad says it needs nearly $90 billion to rebuild after a grisly war with Daesh terrorists which devastated homes, schools, hospitals and economic infrastructure, displacing millions of people.
Foreign Minister Mevlüt Çavuşoğlu said Turkey pledged $5 billion in loans and investment, making the country one of the top contributors.
Turkey will help redevelop the cities of Kirkuk, Mosul, Tal Afar, Baghdad, Irbil and Sulaymaniyah through the Turkish International Cooperation and Development Agency (TIKA) to help Iraqis return to their homes.
As a result of the implementation of projects Turkey will propose, many Iraqis will have jobs and be able to return home. According to the report, "Iraq: Reconstruction and Investment," released by Kuwait's Chamber of Commerce and Industry in January, more than 200 projects in 10 sectors, including education, health, transportation and agriculture, are ready to receive financing.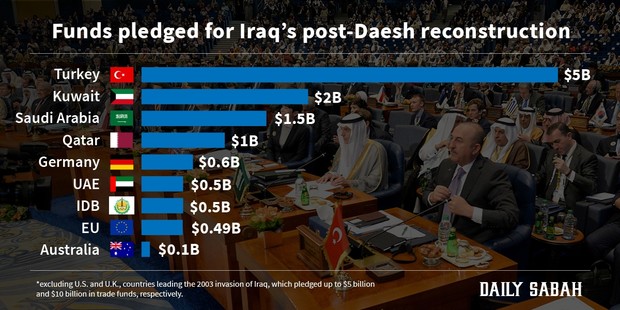 Meanwhile, rebuilding Iraq after three years of war with Daesh is estimated to cost $88.2 billion, with housing a particularly urgent priority, Iraqi officials say.
Kuwait, which is hosting an international donors' conference to raise funds for Iraq, pledged $1 billion in loans and $1 billion in direct investments.
Saudi Arabia said it would allocate $1 billion for investment projects in Iraq and $500 million to support Iraqi exports.
Qatar said it would allocate $1 billion in loans and investments, while the United Arab Emirates pledged $500 million in investment.
Those sums — together with $495 million from the European Union and $100 million from Australia — bring the total pledged so far to over $10 billion on the third and final day of the donors' conference, still in progress.
The U.S. and the U.K. — countries leading the 2003 invasion of Iraq — also said they would allocate funds for the reconstruction of Iraq.
The U.S. did not directly give at the conference, but it plans to offer over $3 billion in loans and other financing to help American firms invest in Iraq, while Britain said it would grant Iraq export credit of up to $1 billion per year for a decade.